New Packaging: illy Limited Edition Coffee Tin
Posted: October 28, 2011
Filed under: Food and Drink, Packaging Reviews
| Tags: Coffee Design, Design News, Design Reviews, Italian Design, Packaging Design, Packaging Design Blog, Packaging News
Leave a comment »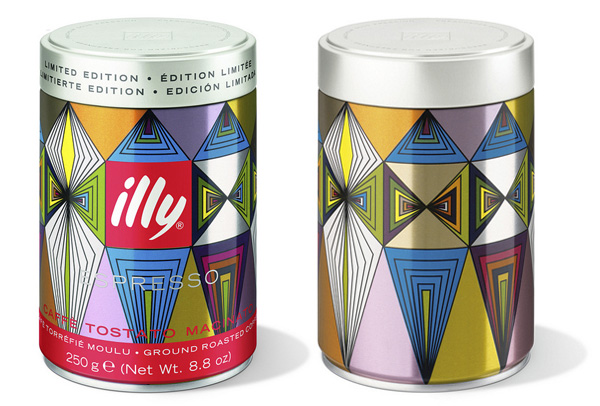 illy is an Italian coffee brand produced in Trieste and exported globally. As part of the continuing art collection series (two each year), illy comissioned Cameroon based artist and graphic designer Alioum Moussa to create the artwork for their limited edition coffee tins. The piece, titled 'All Create Together', was "inspired by his [Alioum Moussa's] experience at Cittadellarte – Pistoletto Foundation in Biella."
"The second can of the illy Art Collection 2011 represents the contrast between Cameroon, the home of the artist, and Piedmont: the result is an energetic, lively décor, with warm colors typical of Africablended with colder colors, representing the European continent."
- Taken from the illy website
I love the simple, colourful and geometric forms that contrast well with the cylindrical nature of the tin. The artwork appears energetic and diverse, resolving the ideas of creative expression a multi-disciplined approach and the fusion of European and African design cultures, characterising Alioums background and his inspiration, Italy's Cittadellarte.
There is more about this edition and Michelangelo Pistoletto design on the illy website.
Richard Baird

Richard is a British freelance designer and writer who specialises in visual identities and packaging. He's written for Brand New, Design Week and 

The Dieline

, featured in Computer Arts magazine and also runs the resource 

Design Survival

.
---