Posted: February 6, 2015
Filed under: Food and Drink, Logo Reviews, Packaging Reviews
| Tags: Best Packaging Designs, Brand Identity, Brand Identity Blog, Brand Identity Reviews, Branding, Branding Blog, Branding News, Colour in Use: Orange, Creative Packaging, Design For Print, Design News, Design Opinion, Design Reviews, Designed by BVD, Food Logos and Packaging Design, Food Packaging, From Scandinavian, Frozen Yoghurt & Ice Cream, Geometric Pattern, Graphic Design Blog, Logo Design Inspiration, Logo Design Resource, Logo News, Logo Opinion, Logotypes, New Logo, Packaging Company, Packaging Design, Packaging Design Blog, Packaging Design Resource, Packaging News, Sans-serif Logotypes, Snack Packaging Design, The Best Brand Identities of 2015, The Best Logo Designs of 2015, The Best Packaging of 2015, Visual Identity Design Blog
2 Comments »
Opinion by Richard Baird.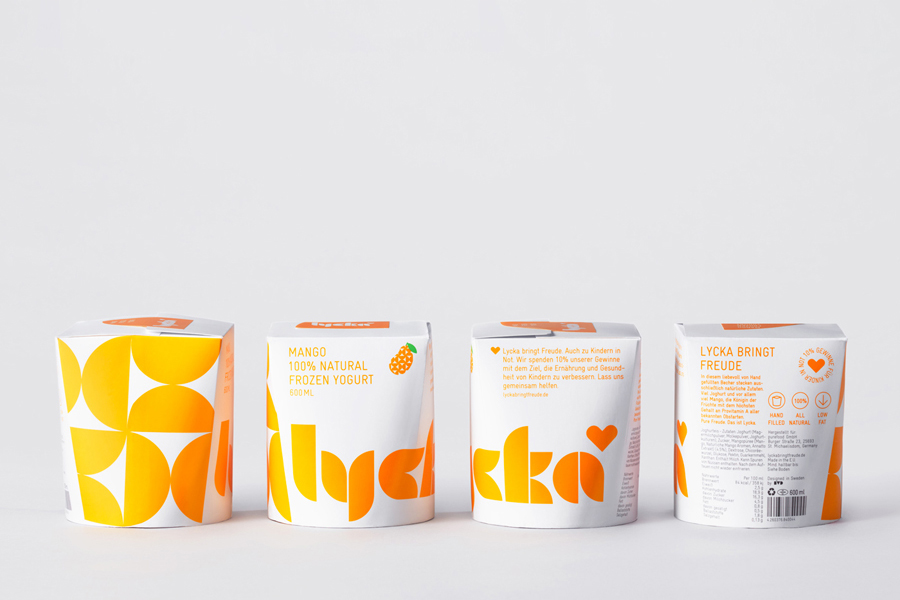 Lycka is a 100% nat­ural hand filled frozen yoghurt brand from Germany that donates 11 cents from each sale to Welthunger­hilfe, a humanitarian aid project tackling issues such as world hunger, land grabbing in Cambodia and displacement across Syria and Iraq, amongst many other issues. Lycka's brand identity and packaging, a mix of bright geometric forms which appears to draw some of its visual cues from the Welthunger­hilfe logo, was created by Swedish graphic design studio BVD.
---
Posted: February 3, 2015
Filed under: Fashion, Logo Reviews, Retail
| Tags: Black Block Foil, Brand Identity, Brand Identity Blog, Brand Identity Reviews, Branding, Branding Blog, Branding News, British Design, Design For Print, Design News, Design Opinion, Design Reviews, Label Design, Logo Design Inspiration, Logo Design Resource, Logo Opinion, Luxury Logos and Packaging Design, Stencil Cut Logotypes, Stencil Cut Serif Logotypes, The Best Brand Identities of 2015, The Best Logo Designs of 2015, Uncoated Papers & Cards, Visual Identity Design Blog
2 Comments »
Opinion by Richard Baird.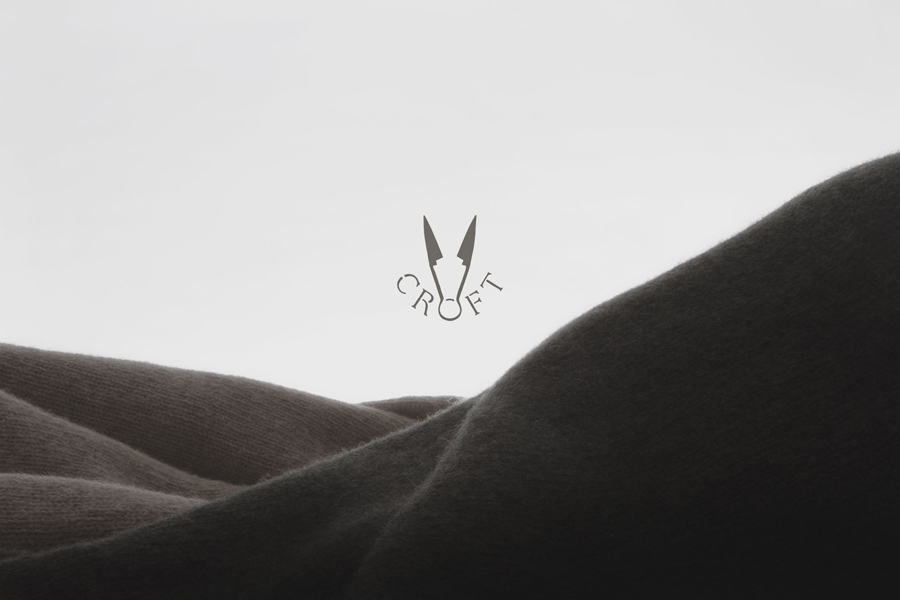 Croft is a contemporary men's knitwear brand that specialises in high quality cashmere and soft wool garments. These are available exclusively through online retailer Superdemin. Each garment is hand knitted on Scotland's Shetland Islands by crofters, a name given to those using traditional small-scale production processes within small communities unique to the Highlands. Alongside a new logo, design studio Commission worked with photographer Luke Evans to create a range of campaign imagery that would avoid heritage pastiche, and instead, favours a contemporary simplicity.
---