Posted: September 3, 2014
Filed under: Art and Design, Fonts in Use, Logo Reviews
| Tags: Brand Identity, Brand Identity Reviews, Branding, Branding Blog, Branding News, Business Card Design, Canadian Design, Colorplan Papers and Boards, Colour in Use: Black, Colour in Use: White, Copper Block Foil, Design For Print, Design News, Design Opinion, Design Reviews, Designed by Savvy, Duplex Business Cards, Envelope Design, Foil Blocking, Fonts in Use: Calibre, Fonts in Use: Palatino, Furniture Design Logos, Gold Foil, Graphic Design, Logo Design & Branding Blog, Logo Design Inspiration, Logo Opinion, Mexican Design, Minimal Design, Stationery Design, Stickers, The Best Brand Identities of 2014, The Best Logo Designs of 2014, Type Foundry: Klim Type Foundry, Uncoated Papers & Cards, Visual Identity Design Blog
3 Comments »
Shaun Ford & Co. is a Canadian bespoke furniture an interiors business that creates tailored environments for the sophisticated, style conscious consumer, and whose work revolves around a timeless approach to space. Each piece of furniture is designed with careful consideration given to the years that it will have to coexist within a particular environment and with the intention that each acquires further value over time. These ideas informed the development of its new brand identity, designed by Savvy, and visualised through type, material, layout and print finish.
---
Posted: June 13, 2014
Filed under: Fonts in Use, Logo Reviews, Television and Radio
| Tags: Brand Identity, Brand Identity Reviews, Branding, Branding Blog, Branding Reviews, Business Card Design, Canadian Design, Coloured Paper, Design For Print, Design News, Designed by Blok, Film Production Logos, Fonts In Use: Simplon, Graphic Design, Letterhead Design, Logo Design & Branding Blog, Logo Designs, Logo Opinion, Logos, Logotypes, Sans-serif Logotypes, Spot Colours, The Best Business Cards of 2014, Tote Bag Design, Type Foundry: Swiss Typefaces
3 Comments »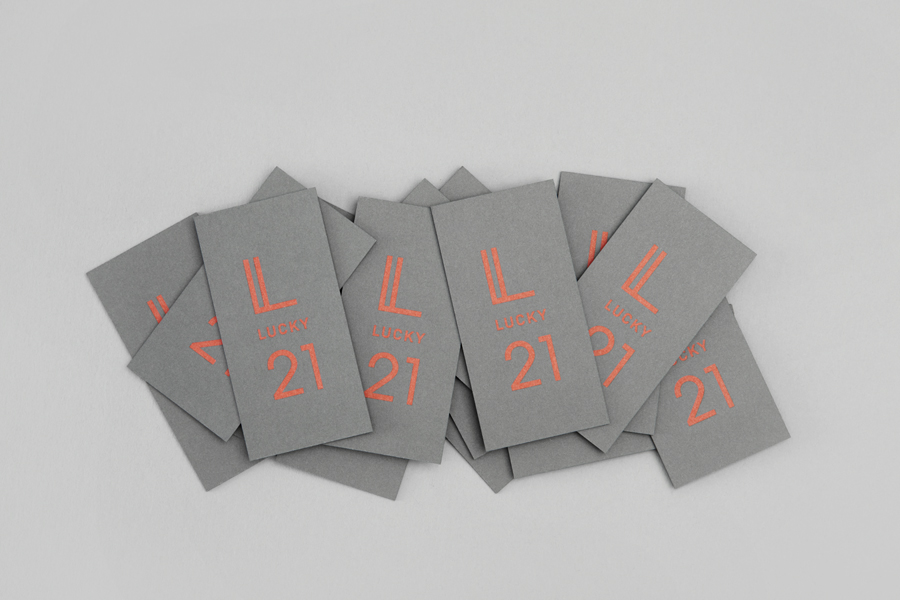 Lucky 21 is a film production company, located in the US city of Dallas, who bring a "contagious energy and tireless drive" to the industry and have a production team and director roster that includes the talents of Jeff Bednarz, The Chartrands, and Tom Ryan, some of whom have worked for big brands such as TGI Fridays, AIG and Home Depot. Lucky 21 recently commissioned design studio Blok to develop a new visual identity solution, which included type, pattern, material and language choices, that would help the company to establish a strong brand personality and better position them to move into and take on the competitive Los Angeles market.
---