Posted: December 2, 2016
Filed under: Graphic Design Reviews, Logo Reviews, Technology
| Tags: Brand Identity, Brand Identity Blog, Brand Identity Reviews, Branding, Branding Agency, Branding Blog, Branding News, Branding Reviews, British Design, Business Card Design, Corporate Identity Design, Design For Print, Design News, Design Opinion, Design Reviews, Designed by Bunch, Emboss Detail, Fonts in Use: Founders Grotesk, Graphic Design, Graphic Design Blog, Logo Design Inspiration, Logo Design Resource, Logo Designs, Logo Opinion, Logotypes, Technology Logos, The Best Brand Identities of 2016, The Best Business Cards of 2016, The Best Graphic Design Work of 2016, Type Foundry: Klim Type Foundry, Typography, Uncoated Papers & Cards, Visual Identity Design Blog, Wordmark Design
1 Comment »
Opinion by Richard Baird.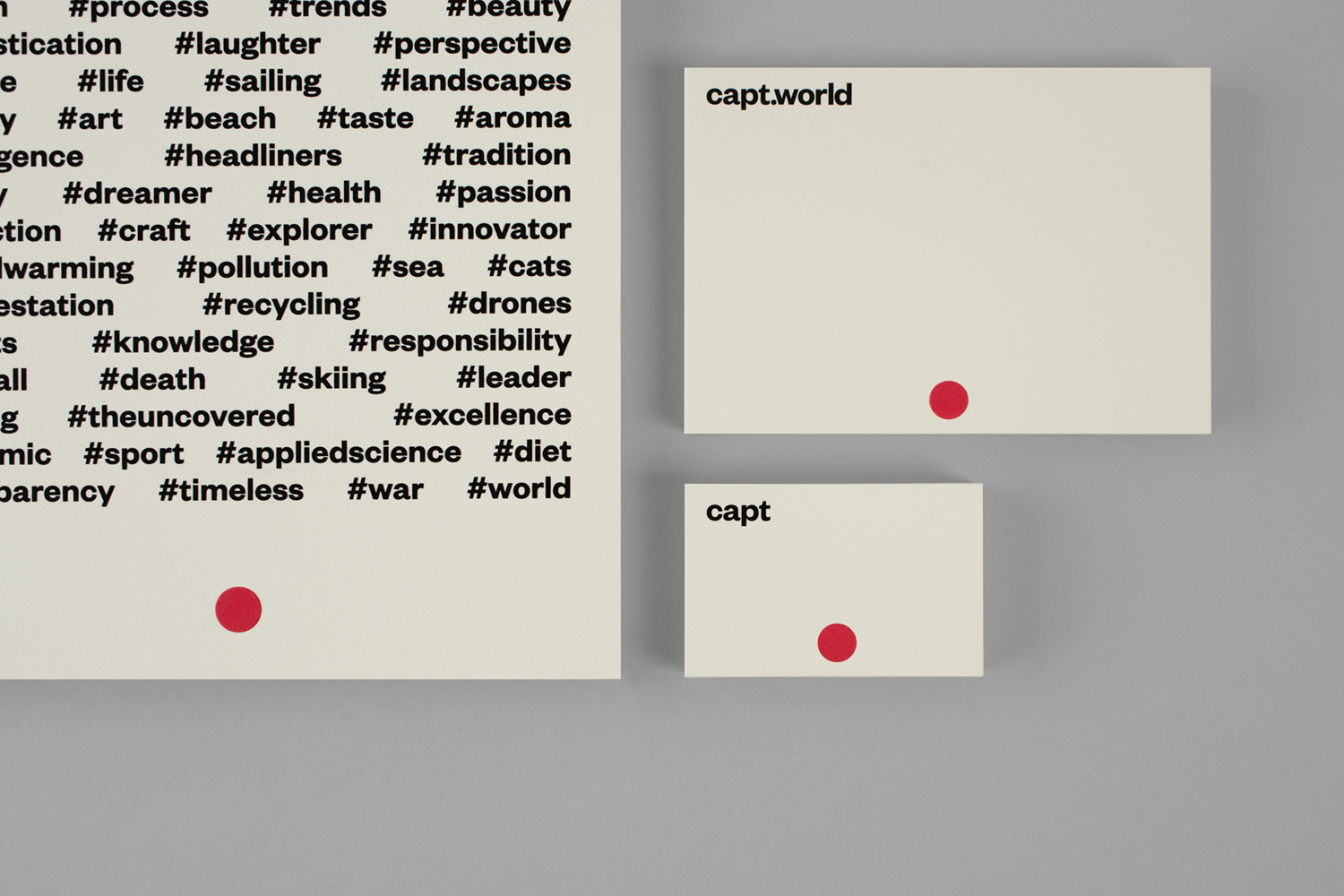 Capt is a San Francisco-based start-up that connects creators wanting to monetize their videos with brands looking for new content and talent. The platform is made up of an app that allows creators to shoot, upload and license their videos, and a website that acts as a market place for buyers. This website also serves as a place to connect creatives with those who want to develop specific video content, as a tool to push assignments to qualified Capt creators by location and creator level, and provide access to and licenses for both global and hyperlocal video content.
Bunch worked with Capt on developing brand identity, mobile app and website. This takes the universal visual language of mobile recording and the lexicon of social media, and draws these into a simple but effective visual expression. This links folders, headed paper, business cards and branded hoodie, and runs across app and website.
---
Posted: November 24, 2016
Filed under: Business, Banking, Law and Finance, Graphic Design Reviews, Logo Reviews
| Tags: Austrian Design, Brand Guidelines, Brand Identity, Brand Identity Blog, Brand Identity Reviews, Branding, Branding Agency, Branding Blog, Branding News, Branding Reviews, Business Card Design, Colour in Use: Orange, Corporate Identity Design, Design For Print, Design News, Design Opinion, Design Reviews, Designed by Re:, Designed in Sydney, Foil Blocking, Fonts in Use: Brown, Fonts in Use: GT Sectra, Graphic Design, Graphic Design Blog, Logo Design Inspiration, Logo Design Resource, Logo Designs, Logo Opinion, Logotypes, PR Logos, Public Relations Logos, The Best Brand Identities of 2016, The Best Business Cards of 2016, The Best Graphic Design Work of 2016, Typography, Uncoated Papers & Cards, Visual Identity Design Blog, Wordmark Design
5 Comments »
Opinion by Richard Baird.
Hidden Characters is the latest PR offering from international advertising agency network M&CSaatchi. It replaces/is an evolution of Bang PR, developed in response to the changing public relations landscape.
With the advent of social media and the subsequent growth of non-traditional influencers and an increase in inauthentic product placement, Hidden Characters intends to make sure that their client's reach is handled in an ethical and authentic way.
Sydney-based graphic design studio RE worked to created a brand identity for Hidden Characters that articulates this intention with a concept that makes a connection between the hidden characters that shape how text appears and the creative behind the scenes shaping of a brand's public perception. The idea of the seen and unseen plays out in a number of ways in print, and links business cards, headed paper, stationery and brochure.
---