Posted: November 7, 2014
Filed under: Food and Drink, Logo Reviews
| Tags: Brand Identity Reviews, Branding, Branding Blog, Colour in Use: Fluorescent, Colour in Use: Green, Custom Typography, Design For Print, Design Reviews, Designed by Kokoro & Moi, Designed in Helsinki, Festival and Event Brand Identities, Finnish Design, Fluorescent Ink, From Scandinavia, Graphic Design, Graphic Design Blog, Illustration, Logo Design & Branding Blog, Logo Design Inspiration, Logo Designs, Logotypes, New Logo, Poster Design, The Best Brand Identities of 2014, The Best Logo Designs of 2014, Tote Bag Design, Typography, Uncoated Papers & Cards, Visual Identity Design Blog
4 Comments »
Opinion by Richard Baird.
Streat Helsinki is a festival that looks to explore and question what street food can and should be. It began this year with three events — a series of talks, opportunities to eat and time to party — held at different venues across the city. Eats, the largest of the three, was held in the Tori Quarters and included 40 food truck and restaurant experiences from across Scandinavia and drew crowds of over 20,000.
The festival's brand identity, which included logotype, typeface and print, was developed by Finnish graphic design studio Kokoro & Moi. Using bold color choices, busy layouts, custom typography, rough materials, illustrations and what the studio describe as a DIY attitude and a 90s vibe, their solution reflects the authentic ingredients and experimental spirit of Streat Helsinki. The project extended to posters, flyers, menus and bags.
---
Posted: June 2, 2014
Filed under: Home and Garden, Logo Reviews
| Tags: Brand Identity, Brand Identity Design, Brand Identity Reviews, Branding, Branding Blog, Branding Reviews, Condensed Typography, Corporate Identity Design, Design For Print, Designed by Bond, Designed in Helsinki, Exhibition Design, Finnish Design, From Scandinavia, Homeware, Ink Stamps, Logo Design & Branding Blog, Logo News, Logos, Minimal Logos, Sans-serif Logotypes, The Best Business Cards of 2014, Unbleached Materials
1 Comment »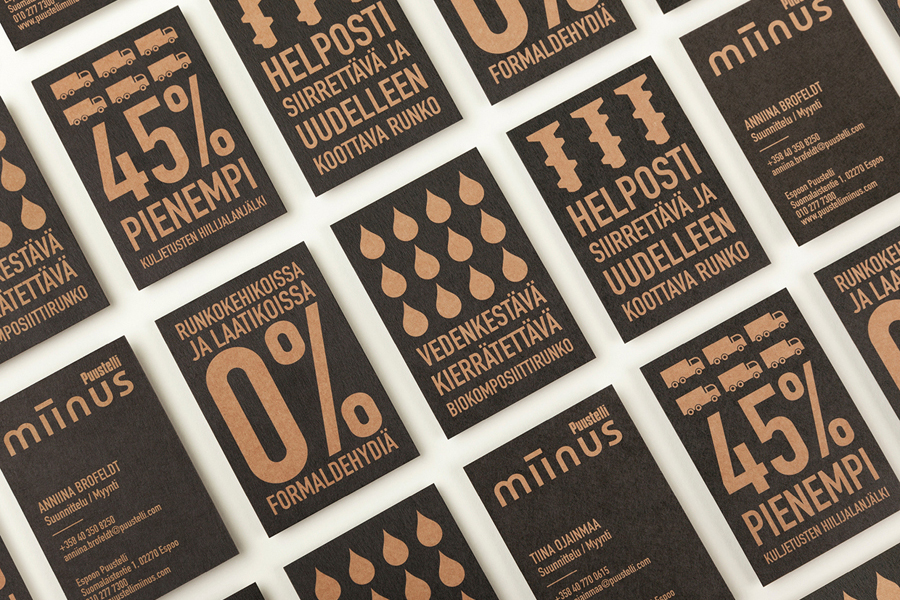 Miinus is kitchen created by Finnish furniture manufacture Puustelli. As the name suggests, Miinus was developed around the philosophy of reduction, the process of removing superfluous elements to leave only the minimum, most functional aspects intact. Helsinki based design studio Bond where commissioned by Puustelli to develop a brand identity for the kitchen that would extend across stationery, print, retail and exhibition spaces. By utilising uncoated and unbleached materials, an ink economy, a bold fact based typographic and iconographic approach alongside a more personal hand written script and photography, Bond's solution effectively conveys the themes of robustness, lifestyle, high quality, natural material use and functionality with a communicative precision.
See more work by Bond here.
---