Posted: September 15, 2016
Filed under: Architecture and The Built Environment, Fonts in Use, Graphic Design Reviews, Logo Reviews
| Tags: Animated Logos, Brand Identity, Brand Identity Blog, Brand Identity Reviews, Branding, Branding Agency, Branding Blog, Branding Reviews, Business Card Design, Colorplan Papers and Boards, Coloured Paper, Design For Print, Design News, Design Opinion, Design Reviews, Designed by Socio Design, Foil Blocking, Folder Design, Fonts in Use: Maison, From the United Kingdom, G.F Smith Papers & Boards, Graphic Design, Graphic Design Blog, Letterhead Design, Logotypes, Serif Logotypes, Stationery Design, The Best Brand Identities of 2016, The Best Business Cards of 2016, The Best Graphic Design Work of 2016, Type Foundry: Milieu Grotesque, Typography, Uncoated Papers & Cards, Website Design
1 Comment »
Opinion by Richard Baird.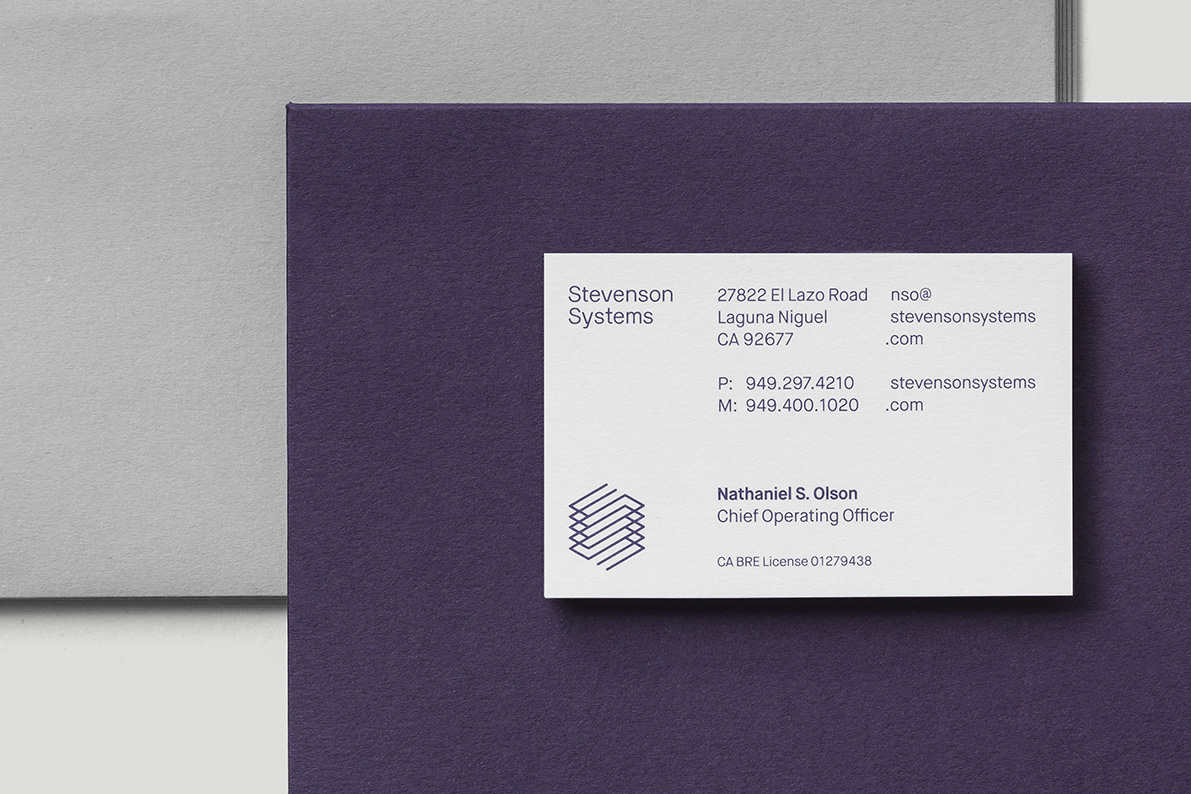 Stevenson Systems is an American business that specialises in 'space accounting', an industry that measures architectural spaces using a variety of laser scanning and measuring devices, goes on to classify areas within larger spaces and produces reports and offers consultation on how to draw the most value from these.
Stevenson Systems pride themselves on their ability to add value, rather than just delivering data, and providing their clients with an array of services that look at the complete lifecycle of a building, from purchase through development and finally to sale. The company is a leader in its field, a position it has held since its foundation in 1986, however, its brand identity fell short articulating this authority amongst a crowd of newer competitors.
London-based Socio Design recently worked with Stevenson Systems to develop a brand identity that would counter the perception that they just measured buildings and would communicate an authority. The studio was responsible for strategy, logo and iconography design, stationery, brand guidelines, art direction and website, both design and build. Underpinning this rebrand is a new mission statement "Discovering Hidden Value".
---
Posted: September 14, 2016
Filed under: Business, Banking, Law and Finance, Fonts in Use, Graphic Design Reviews, Logo Reviews
| Tags: American Design, Brand Identity, Brand Identity Blog, Brand Identity Reviews, Branding, Branding Agency, Branding Blog, Branding Reviews, Brochure Design, Business Card Design, Creative, Design For Print, Design News, Design Opinion, Design Reviews, Designed by DIA, Designed in New York, Graphic Design, Graphic Design Blog, Logo Design Inspiration, Logo Design Resource, Logo Design Trends – Dynamic Brand Identities, Logo Design Trends – Dynamic Logos, Logo Design Trends – Flexible Logos, Logo Designs, Logo Opinion, Logotypes, Minimal Design, Minimal Logos, Minimalist Brand Identities, Sans-serif Typography, The Best Brand Identities of 2016, The Best Business Cards of 2016, The Best Graphic Design Work of 2016, Type Foundry: Optimo, Typography
4 Comments »
Opinion by Richard Baird.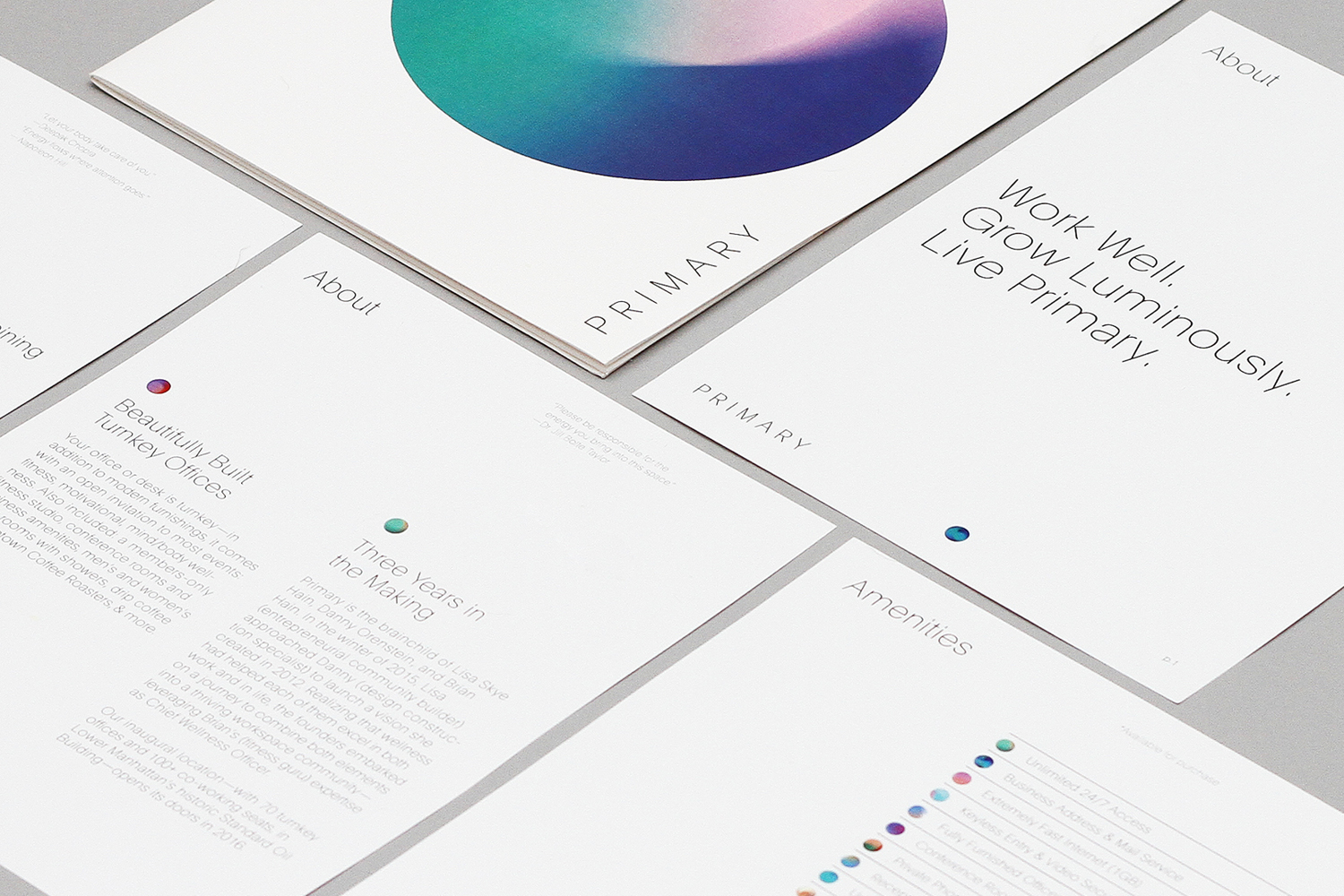 Primary is a new co-working space in New York that introduces health and wellness into the workplace. This can be seen in the approach to interior design; a mix of wood, contemporary soft furnishings and greenery, experienced in the fusion of office space, business events and relaxation classes, and expressed throughout Primary's brand identity, created by graphic design studio DIA.
DIA were tasked with establishing a sophisticated and approachable system that would appeal to a health conscious and savvy entrepreneurial audience. This is achieved in the simplicity of form, both in type and mark, a generative component that adds a breadth of colour, and the way that this then reaches across lighting, signage, website, scheduling tool, social media, business cards and brochure.
---