Posted: April 12, 2016
Filed under: Food and Drink, Packaging Reviews
| Tags: Best Packaging Designs, Creative Packaging, Design For Print, Design Opinion, Design Reviews, Designed in Auckland, From New Zealand, Graphic Design, Graphic Design Blog, Hand Drawn Typography, Hand Lettering, Health Food Packaging, Illustration, Packaging Company, Packaging Design, Packaging Design Blog, Packaging Design Resource, Packaging News, Raw Food Packaging, Sans-serif Logotypes, Snack Packaging Design, The Best Packaging of 2016, Typography, Uncoated Papers & Cards
1 Comment »
Opinion by Richard Baird.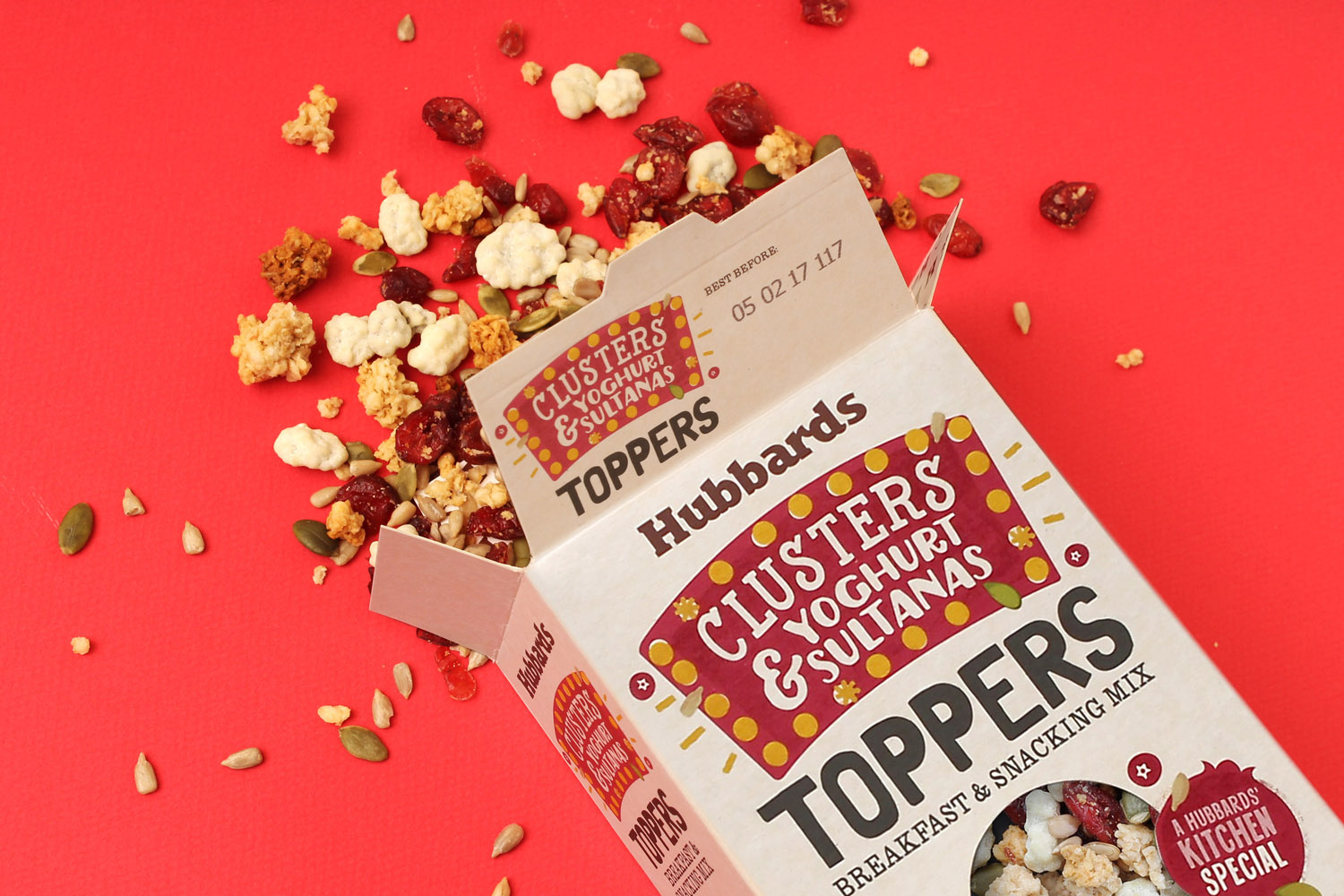 New Zealand health food business Hubbards have launched Toppers, a family of 4 mixes to add to muesli and yoghurt, aimed at the growing market of  'tinkerers', a consumer group that want to customise their breakfast and snacking experience. Hubbards worked with Auckland based graphic design studio Coats to convey the promise of each mix in a compelling manner and in a way that would comfortably sit within a brand language described as quirky, engaging, honest and down-to-earth. This is achieved through bold custom lettering, illustrative detail, bright colours, visual and material texture.
---
Posted: March 21, 2016
Filed under: Food and Drink, Logo Reviews, Packaging Reviews
| Tags: Alcohol Packaging, American Design, Best Packaging Designs, Brand Identity Blog, Brand Identity Reviews, Branding Agency, Branding Blog, Branding Reviews, Coaster Design & Beer Mats, Craft Beer Logos, Craft Beer Packaging, Craft Brewery Logos, Craft Brewery Packaging, Creative Packaging, Design For Print, Design Opinion, Design Reviews, Designed by Perky Bros, Drinks Packaging, Fonts In Use: Hawthorn, Fonts in Use: Verlag, Graphic Design, Graphic Design Blog, Illustration, Letterpress, Letterpress Business Cards, Microbrewery, Minimal Design, Monolinear Typography, Packaging Company, Packaging Design, Packaging Design Blog, Packaging Design Resource, Packaging News, Sans-serif Typography, Spot Colours, Swedish Design, The Best Packaging of 2016, The Very Best of BP&O, Typography, Uncoated Papers & Cards
Leave a comment »
Opinion by Richard Baird.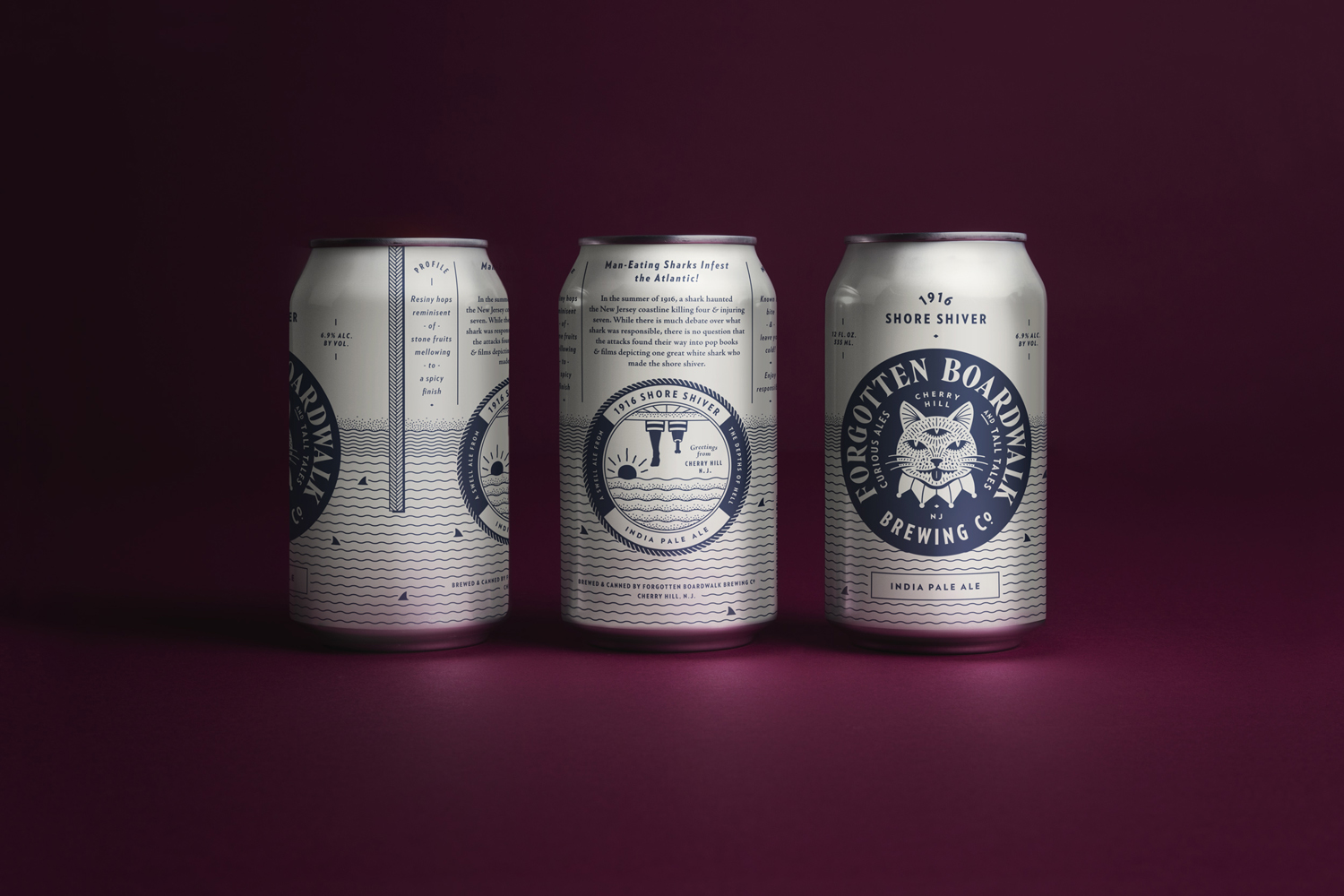 Forgotten Boardwalk is a New Jersey microbrewery producing uniquely flavoured, year-round and seasonal craft beers. It was set up by Jamie Queli, one of the youngest female brewery owners in the US, and draws its name from the folklore of the Jersey Shore Boardwalk. This is the foundation of an extensive new brand identity, designed by Tennessee based Perky Bros, which brings to life the sideshow oddities, historic events and darker side of the boardwalk's past through quirky and well-realised illustrative detail and storytelling component. This runs across cans and growlers, business cards, coasters and tap handles.
---