Posted: June 2, 2014
Filed under: Home and Garden, Logo Reviews
| Tags: Brand Identity, Brand Identity Design, Brand Identity Reviews, Branding, Branding Blog, Branding Reviews, Condensed Typography, Corporate Identity Design, Design For Print, Designed by Bond, Designed in Helsinki, Exhibition Design, Finnish Design, From Scandinavia, Homeware, Ink Stamps, Logo Design & Branding Blog, Logo News, Logos, Minimal Logos, Sans-serif Logotypes, The Best Business Cards of 2014, Unbleached Materials
1 Comment »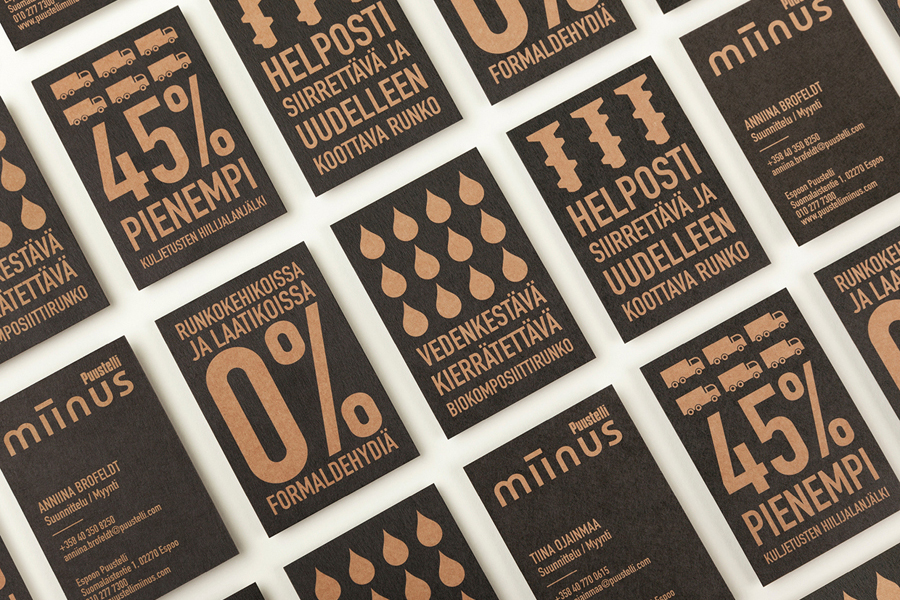 Miinus is kitchen created by Finnish furniture manufacture Puustelli. As the name suggests, Miinus was developed around the philosophy of reduction, the process of removing superfluous elements to leave only the minimum, most functional aspects intact. Helsinki based design studio Bond where commissioned by Puustelli to develop a brand identity for the kitchen that would extend across stationery, print, retail and exhibition spaces. By utilising uncoated and unbleached materials, an ink economy, a bold fact based typographic and iconographic approach alongside a more personal hand written script and photography, Bond's solution effectively conveys the themes of robustness, lifestyle, high quality, natural material use and functionality with a communicative precision.
See more work by Bond here.
---
Posted: May 26, 2014
Filed under: Home and Garden, Logo Reviews
| Tags: Brand Identity, Brand Identity Design, Brand Identity Reviews, Branding, Branding Blog, Branding Reviews, Brochure Design, Business Card Design, Catalogue Design, Design For Print, Designed by Moffitt.Moffitt, From Australia, Homeware, Label Design, Laid Paper, Logo Design & Branding Blog, Logo News, Logos, Minimal Design, Minimal Logos, Sans-serif Logotypes, Stationery Design, The Best Brand Identities of 2014, The Best Logo Designs of 2014
7 Comments »
In Bed is an online store that is a celebration of almost everything we love to do in bed. It has a generous yet tightly curated collection of homeware items that include handmade ceramic and wood saucers, bowls and mugs created by Japanese and American designers, as well as a range of high-quality linens. In Bed worked with Australian design studio Moffitt.Moffitt to develop an identity that would reflect the effortless personality of the brand and its product range through a graphic, material and language system.
---