Posted: April 20, 2015
Filed under: Architecture and The Built Environment, Art and Design, Logo Reviews
| Tags: Box Tape Design, Brand Identity Blog, Brand Identity Reviews, Branding Blog, Branding Reviews, British Design, Business Card Design, Colour in Use: Brown, Coloured Paper, Colourful Business Cards, Design For Print, Design Opinion, Design Reviews, Designed by Spin, Fluorescent Paper, From Europe, From the United Kingdom, Furniture Design Logos, Graphic Design, Graphic Design Blog, Homeware, Letterhead Design, Logo Design Inspiration, Logo Design Resource, Logo Designs, Minimal Logos, Sans-serif Logotypes, Stationery Design, The Best Business Cards of 2015, The Best Logo Designs of 2015, Typography, Uncoated Papers & Cards
Leave a comment »
Opinion by Richard Baird.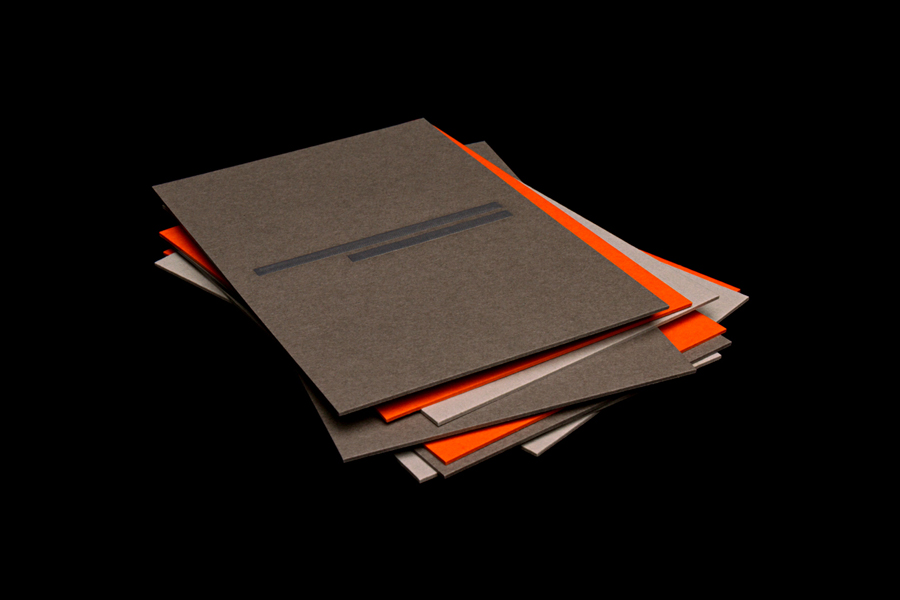 Pengelly Design is a British furniture and product design studio, founded by Simon Pengelly in 1993, that embraces a material and process led approach to problem solving, and an aesthetic that has a lightness, simplicity and timelessness. Since its foundation the studio has gone on to secure and complete a variety of national and international furniture, transport and product design projects in collaboration with businesses and manufacturers such as Lapalma, Habitat and Modus, Virgin Atlantic and Joseph Joseph.
Pengelly's new brand identity, created by UK based graphic design studio Spin and based around a symbol of vertical and consistently weighted strokes, draws its inspiration from the profile of one of Simon's chairs, constructed from plywood, and set within the context of an earthy, urban and vivid colour palette of brown, grey and bright orange boards. The project included stationery, box tape, business cards and website design.
---
Posted: April 8, 2015
Filed under: Art and Design, Fonts in Use, Home and Garden, Logo Reviews
| Tags: Black Block Foil, Brand Identity Blog, Brand Identity Reviews, Branding Blog, Branding Reviews, British Design, Business Card Design, Coloured Paper, Design For Print, Design Opinion, Design Reviews, Designed by Post, Designed in London, Fonts in Use: Raisonne, From the United Kingdom, Graphic Design, Graphic Design Blog, Homeware, Ink Stamps, Logo Design Inspiration, Logo Design Resource, Logo Designs, Logotypes, Pastel Coloured Papers, Pastel Colours, Patterns, Postcard Design, Retail Logos, Sans-serif Logotypes, The Best Brand Identities of 2015, The Best Business Cards of 2015, Type Foundry: Colophon, Typography, Unbleached Materials, Uncoated Papers & Cards, White Ink
2 Comments »
Opinion by Richard Baird.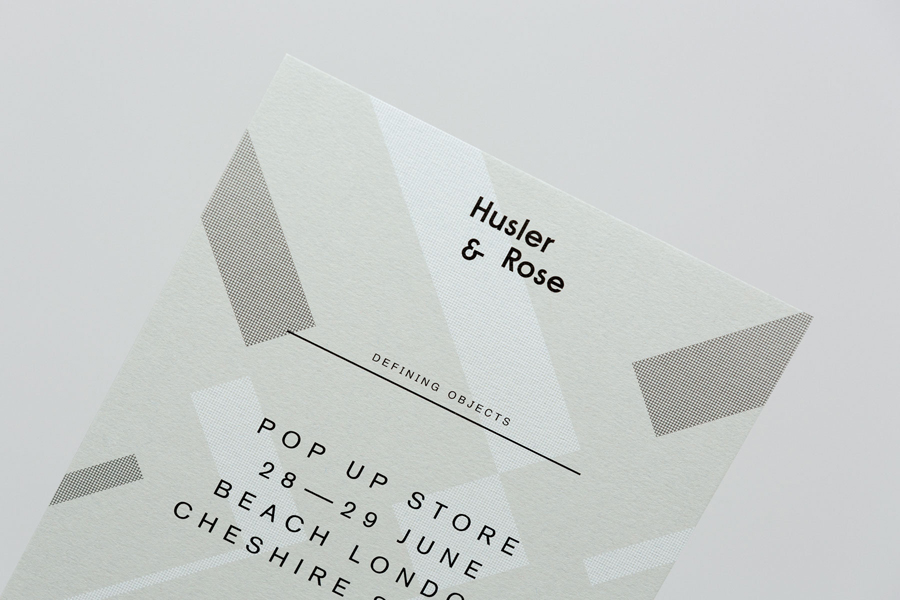 Husler & Rose is an online boutique and occasional pop-up store that retails thoughtfully designed, carefully constructed and long-lasting furniture, homeware and lifestyle objects sourced from across the UK and Europe, professionally and sensitively restored by owner and furniture maker Ben Rowland.
Inspired by Herbert Bayer's Bauhaus posters and the jazz record sleeves of Duke Ellington, London based graphic design studio Post created a new brand identity treatment for Husler & Rose that included logotype, postcards, business cards and promotional pieces. These capture the crafted and considerately designed nature of the store's curated catalogue through the high quality finishes of white ink and black block foil, hand stamped detail, geometric patterns and a contrast of serif, script and sans-serif typography, across dyed papers and unbleached boards.
---