Posted: October 5, 2016
Filed under: Fonts in Use, Graphic Design Reviews, Leisure and Tourism, Logo Reviews
| Tags: Brand Identity, Brand Identity Blog, Brand Identity Reviews, Branding, Branding Agency, Branding Blog, Branding Reviews, Creative, Design For Print, Design News, Design Opinion, Design Reviews, Designed by Mucho, Designed in Barcelona, Fonts in Use: Brown, Fonts in Use: Grouch, From Europe, Graphic Design, Graphic Design Blog, Hotel Logos, Spanish Design, The Best Brand Identities of 2016, The Best Business Cards of 2016, The Best Graphic Design Work of 2016, Type Foundry: Lineto, Typography, Wordmark Design
2 Comments »
Opinion by Richard Baird.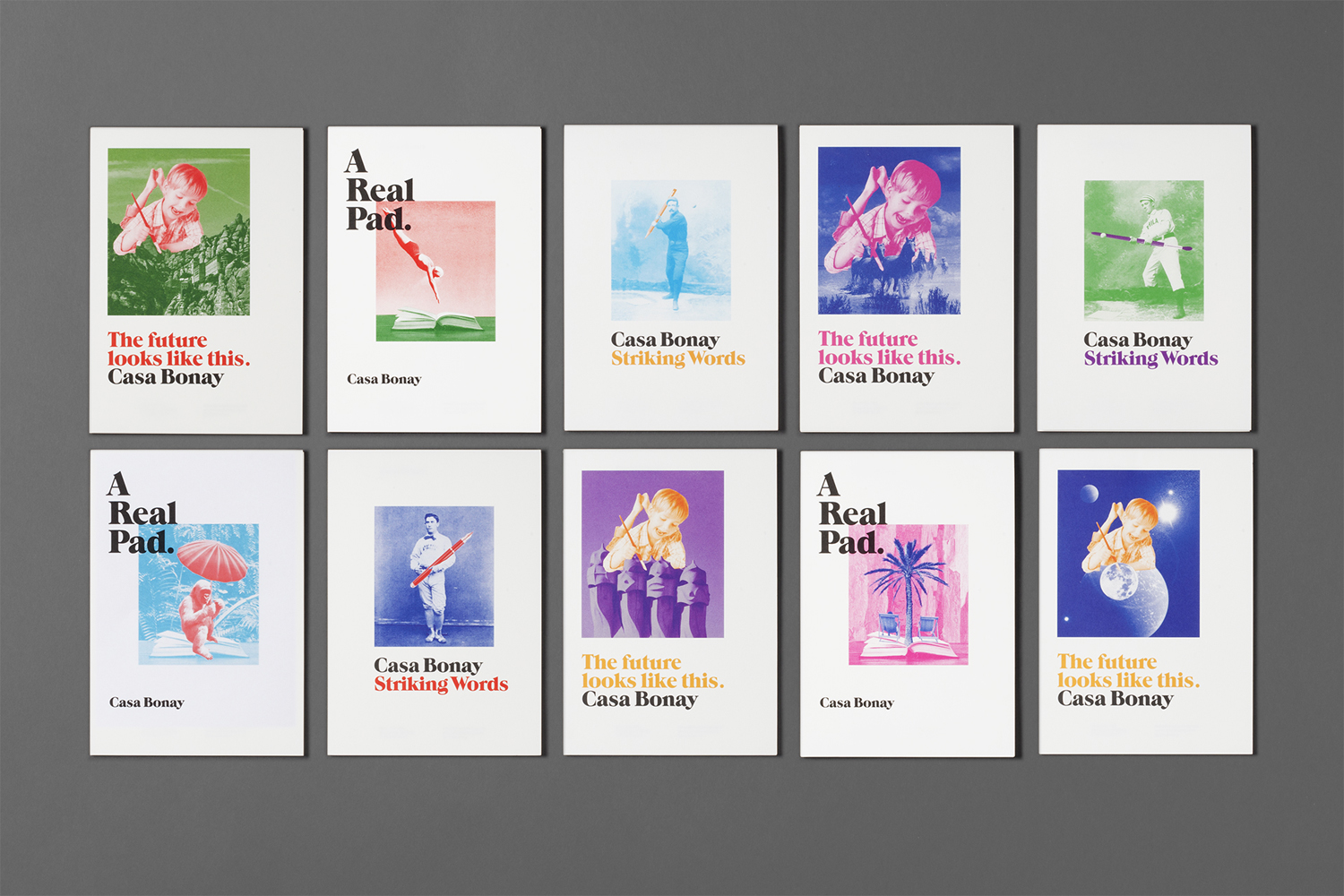 Casa Bonay is a unique hotel destination in the neighbourhood of Eixample Dret, Barcelona, housed within a historic nineteenth century building with a neo-classical façade. Although the setting has a strong historical value, inside and out, the hotel experience makes a connection with the creative talent that populates the city today. This is achieved through collaboration with pioneering chefs, young designers, renowned furniture brands and an independent publisher to create menus, interiors and books.
Casa Boney's brand identity, created by graphic design studio Mucho, is a visual articulation of the hotel's free-spirited attitude and the coexistence of disparate personalities and styles. Where the hotel's interior features classical masonry, period furnishings and darker hues alongside areas of modern restraint, utility and light, Mucho's brand identity is colourful, eccentric and playful. This reaches across coasters, packaging and a variety of other printed materials.
---
Posted: February 16, 2016
Filed under: Graphic Design Reviews, Leisure and Tourism, Logo Reviews
| Tags: Black Paper, Brand Identity Blog, Brand Identity Reviews, Branding, Branding Agency, Branding Blog, Branding Reviews, British Design, Brochure Design, Business Card Design, Catalogue Design, Coloured Paper, Custom Typefaces & Logotypes, Custom Typography, Design For Print, Design News, Design Opinion, Design Reviews, Designed by Construct, Designed in London, Embossed Paper, Foil Blocking, From Europe, From the United Kingdom, Gold Foil, Graphic Design, Graphic Design Blog, Hotel Logos, Logotypes, Luxury Logos and Packaging Design, Minimalist Brand Identities, Sans-serif Typography, The Best Brand Identities of 2016, The Best Graphic Design Work of 2016, The Best Logo Designs of 2016, Typography, Uncoated Papers & Cards
1 Comment »
Opinion by Richard Baird. Aman is a collection of resorts, hotels and luxury residencies that offer access to a wide variety of remote and urban destinations. Its first resort, Amanpuri, was opened in Thailand in 1988. Since then it has expanded across the world, seeking out transformative experiences and awe-inspiring locations throughout Asia, Indonesia, China, Japan, the Americas, North Africa, Europe and the Mediterranean.
Inspired by the earliest forms of alphabets and mark-making, London based graphic design studio Construct developed a new brand identity for Aman that would reflect its values and the high quality of its experiences. This is expressed through custom typography, earthy colour palette, tactile material texture and high quality print finish that links press-pack, business cards and menus.
---