Posted: October 30, 2013
Filed under: Food and Drink, Packaging Reviews
| Tags: Bottles, Foil Blocking, Fruit Juice and Smoothie Packaging, Labels, Packaging Design, Packaging Design Blog, Packaging Opinion, Script Logotypes
5 Comments »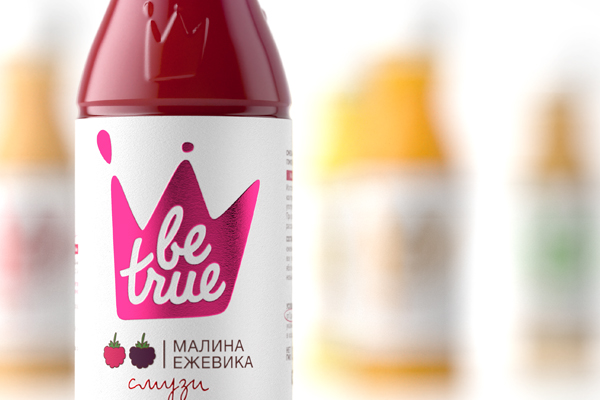 Studio In have recently completed the rebranding and repackaging of Russian smoothie brand Be True. The new design solution rightfully drops the Innocent-esque sketch and similar bottle choice in favour of a coloured foil splash and crown logo executed across a textured paper and a plastic structural design with raised surface detail. This combination of paper, print and structure, a union typically seen in the spirit category where spend is higher, is fused with the established and communicative industry conventions of organic form, a well rendered script logotype, hand drawn illustrative detail, bright contemporary colour and energy – enhanced by plenty of white space – as well as a neat, playful, die cut tree element to effectively convey honesty, natural ingredients and premium quality with a more proprietary finish.
---
Posted: October 23, 2013
Filed under: Food and Drink, Packaging Reviews
| Tags: Bottles, Etched Illustration, Illustration, Labels, Marx Design, Packaging Design, Packaging Design Blog, Packaging Opinion
4 Comments »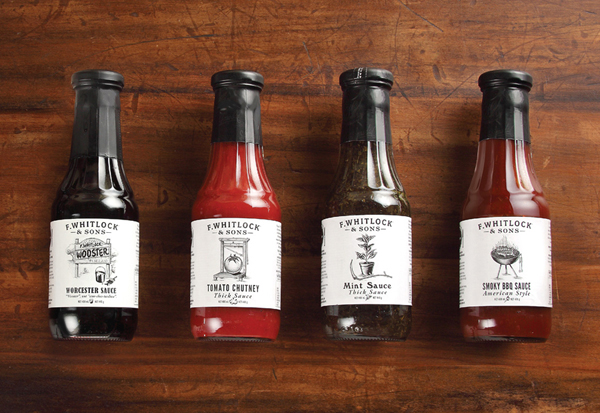 F. Whitlock & Sons is a New Zealand based producer of pickles and sauces with a heritage that dates back to 1877, a heritage that over the last century had disappeared from the packaging. Design studio Marx, working in collaboration with running with scissors, sort to bring back and celebrate this with a mix of copywriting wit and illustrative authenticity based around Fred Whitlock's love of hunting, an approach taken to tap into the 'dormant frontier huntsman and mischievous child within', and establish a more contemporary and emotive brand character set within the context of a significant history.
---