Posted: February 4, 2013
Filed under: Food and Drink, Logo Reviews, Packaging Reviews
| Tags: Alcohol Packaging, Best Packaging Designs, Bottle Packaging, Brand Identity Reviews, Branding, Business Card Design, Design Reviews, Designed in Melbourne, Drinks Packaging, Graphic Design, Handcraft, Illustration, Label Design, Logo Design & Branding Blog, Logo Opinion, Packaging Design, Packaging Design Blog, Packaging News, The Best Brand Identities of 2013, The Best Logo Designs of 2013, The Best Packaging of 2013, Typography, Visual Identity Design Blog, Wine Design, Wine Label Design, Wine Packaging
1 Comment »
Melbourne-based design studio Cloudy Co. have recently developed the labels and visual identity for Yarra Valley boutique wine label Jamsheed, 'named after a Persian king who according to ancient writings had a fondness for storing fresh grapes in jars, thus leading to the discovery of wine'. The packaging solution expands on the name and communicates a sense of bold flavour and craft through geometric, Persian pattern work executed with a heavy, contemporary, single and consistent line weight, the high quality and tactile detail of a lovely thermographic ink treatment and a simple variation in crop and colour dividing each variety.
---
Posted: February 4, 2013
Filed under: Fashion, Logo Reviews
| Tags: Brand Identity Reviews, Branding, Business Card Design, Design News, Foil Blocking, Graphic Design, Holographic Block Foil, Logo Design & Branding Blog, Logo Designs, Logo Opinion, Logos, Sans-serif Logotypes, The Best Brand Identities of 2013, The Best Logo Designs of 2013, Typography
Comments Off

on 254 Forest designed by Codefrisko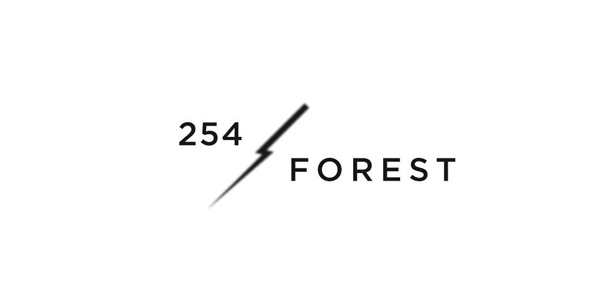 254 Forest is a Brussels-based creative studio – run by Claire Silva Moreira, Frederic Ameel, Jean-Stéphane Garbe, Ismael Moumin and international videographer Pierre Debusschere – that works within the fields of photography, film, music production and post production. Their visual identity, developed by graphic design agency Codefrisko, utilises a distinctive combination of a pearlesque substrate and holographic block foil treatment across the studio's business card, the contrast of a sharp logo-type and blurred, 45 degree lightning strike – perhaps the flash of a bulb, the energy necessary for creative endeavour or the presentation of perspective -, and the website's clear sense of foreground and background, to neatly resolve the depth of focus and changing light of still and moving images. Avoiding the more obvious and literal visualisations of the industry.
---