Posted: June 25, 2015
Filed under: Art and Design, Education, Fonts in Use, Graphic Design Reviews
| Tags: Branding, British Design, Brochure Design, Campaign Design, Catalogue Design, Design For Print, Design for University, Design Reviews, Designed by Spy, Designed in London, Fonts in Use: Helvetica, From Europe, From the United Kingdom, Graphic Design, Graphic Design Blog, Magazine Design, Overprint, Prospectus Design, The Best Graphic Design Work of 2015
Leave a comment »
Opinion by Richard Baird.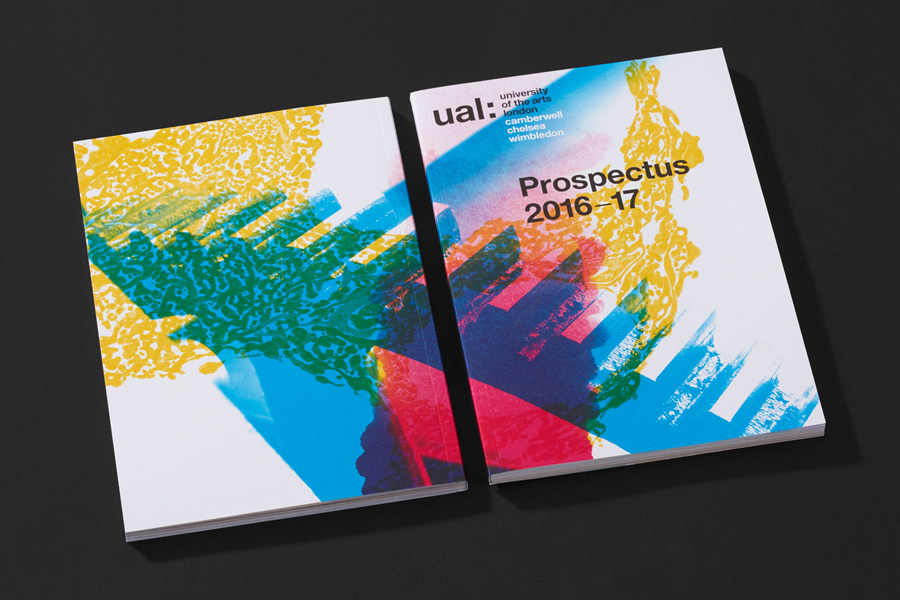 The University of the Arts London is Europe's largest specialist arts and design university. It is made up of six colleges, each with its own unique character and programme, yet unified in their effort to deliver a high quality creative eduction. This united position is expressed through a visual identity system developed by Pentagram partner Domenic Lippa. Based around a robust, black and white typographic system, UAL's visual identity affords each college the opportunity to experiment with its own approach to visual communication.
This month sees the launch of the UAL 2015 campaign, developed by London based graphic design studio Spy, for Camberwell, Chelsea and Wimbledon. Spy were commissioned to develop a vibrant, engaging brand campaign to launch in the summer that would drive student recruitment and brand awareness. The campaign included ads, posters, digital banners, brochures, prospectus, e-flyers and way finding around each campus.
---
Posted: June 24, 2015
Filed under: Fonts in Use, Food and Drink, Logo Reviews
| Tags: Brand Identity, Brand Identity Blog, Brand Identity Reviews, Branding, Branding Blog, Branding News, Branding Reviews, British Design, Brochure Design, Business Card Design, Catalogue Design, Colour in Use: Pastels, Colourful Business Cards, Design For Print, Design News, Design Opinion, Design Reviews, Designed by Salad Creative, Designed in London, Etched Illustration, Fonts in Use: Brandon, From Europe, From the United Kingdom, Gold Foil, Graphic Design, Graphic Design Blog, Heritage, Illustration, Logo Design Inspiration, Logo Design Resource, Logo Designs, Logotypes, Monolinear Typography, Pastel Colours, Stationery Design, The Best Logo Designs of 2015, Typography
3 Comments »
Opinion by Richard Baird.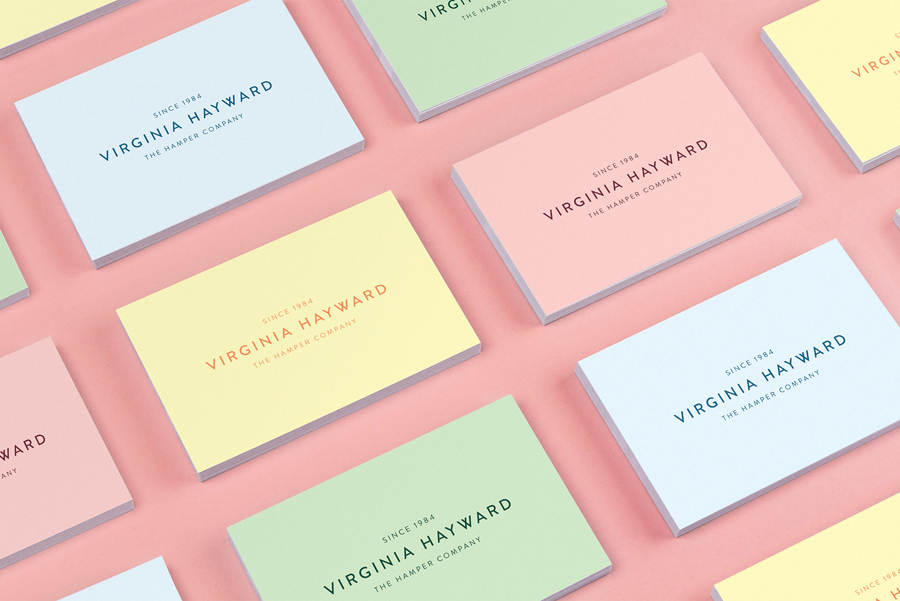 Virginia Hayward is a family run business that creates hampers and gifts for both the retail and wholesale markets. It began life 30 years ago, from home, on a kitchen table, and has developed into one of the largest hamper companies working in the UK today.
With ambitious plans for growth, Virginia Hayward worked with Bournemouth and London based graphic design studio Salad to reimagine and resolve what had become a diluted set of assets across a variety of touch points with a new brand identity system. This system went on to include a new logotype, colour palette, campaign brochure, seasonal photography, business card design and website.
---