Posted: September 18, 2014
Filed under: Architecture and The Built Environment, Fonts in Use, Logo Reviews
| Tags: Architecture Logos, Brand Identity, Brand Identity Blog, Brand Identity Reviews, Branding, Branding Blog, Branding News, Colour in Use: Grey, Coloured Paper, Design For Print, Design News, Design Opinion, Design Reviews, Designed by Hunt & Co., Designed in Melbourne, Fonts in Use: Founders Grotesk, From Australia, Graphic Design, Logo Opinion, Logotypes, Material Thinking, Minimal Design, Minimal Logos, Sans-serif Logotypes, The Best Architecture Logos, The Best Brand Identities of 2014, The Best Business Cards of 2014, The Best Logo Designs of 2014, Type Foundry: Klim Type Foundry, Typography, Visual Identity Design Blog, White Ink
1 Comment »
Mitsuori Architects is an architectural design studio that creates high quality structures and spaces that merge aesthetic beauty with careful planning and thoughtful detailing. Their large scale project experience is combined with the flexibility of a smaller practice allowing them to provide big clients with a personalised service.
Mitsuori's visual identity, designed by Melbourne based Hunt & Co. and informed by a name that translates from Japanese as three-fold, does not speak of individuality or differentiation, but of neutrality and common architectural principles and considerations such as light and shade, structure, materials, processes and form within three-dimensional space. These are effectively delivered through few but well designed assets that include type and material choice, fold and finish across the studio's stationery, website and signage.
---
Posted: July 28, 2014
Filed under: Cafes, Bars and Restaurants, Logo Reviews
| Tags: Brand Identity, Brand Identity Blog, Brand Identity Reviews, Branding, Branding & Interior Design, Branding Blog, Business Card Design, Cafe Logos, Coffee Cup Designs, Copper Block Foil, Design For Print, Designed by A Friend Of Mine, Designed in Melbourne, From Australia, Graphic Design, Illustration, Logo Designs, Logo Opinion, Logos, Logotypes, Sans-serif Logotypes, Sign Design, The Best Brand Identities of 2014, Typography, Visual Identity Design Blog
1 Comment »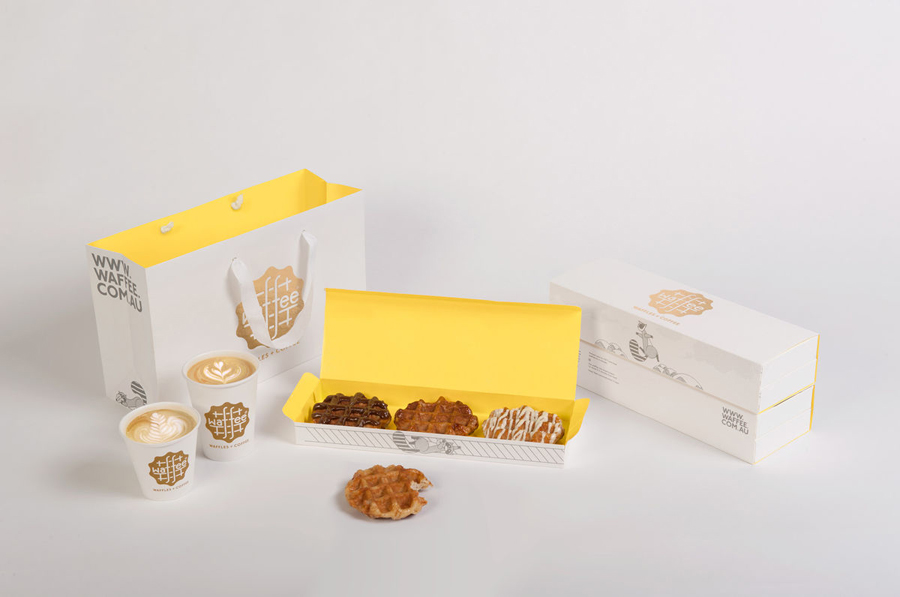 Waffee is an authentic Belgian waffle and coffee chain with locations across Melbourne and Altona. Developed by holistic design practice A Friend Of Mine, Waffee's brand identity, which included logo and packaging design, menu boards and a signage system created in collaboration with architects Hecker Guthrie and Foolscap Studio, mixes a typographically adventurous logotype with an illustrated character to establish a rich communicative duality and contrast of literal and subtle narrative detail that binds print and interior space.
---