Posted: October 25, 2016
Filed under: Fashion, Graphic Design Reviews, Logo Reviews
| Tags: Art Direction, Brand Identity, Brand Identity Blog, Brand Identity Reviews, Branding, Branding & Interior Design, Branding Agency, Branding Blog, Branding Reviews, Business Card Design, Colour in Use: Blue, Coloured Paper, Copper Block Foil, Custom Typefaces & Logotypes, Custom Typography, Design For Print, Design News, Design Opinion, Design Reviews, Designed by Snøhetta, Designed in Oslo, From Scandinavian, Graphic Design, Graphic Design Blog, Logo Design Inspiration, Logo Design Resource, Logo Designs, Logo Opinion, Logotypes, Luxury Logos and Packaging Design, Minimal Design, Minimalist Brand Identities, Norwegian Design, The Best Brand Identities of 2016, The Best Custom Logotypes, The Best Graphic Design Work of 2016, The Very Best of 2016, The Very Best of BP&O, Typography, Uncoated Papers & Cards, Wordmark Design
4 Comments »
Opinion by Richard Baird.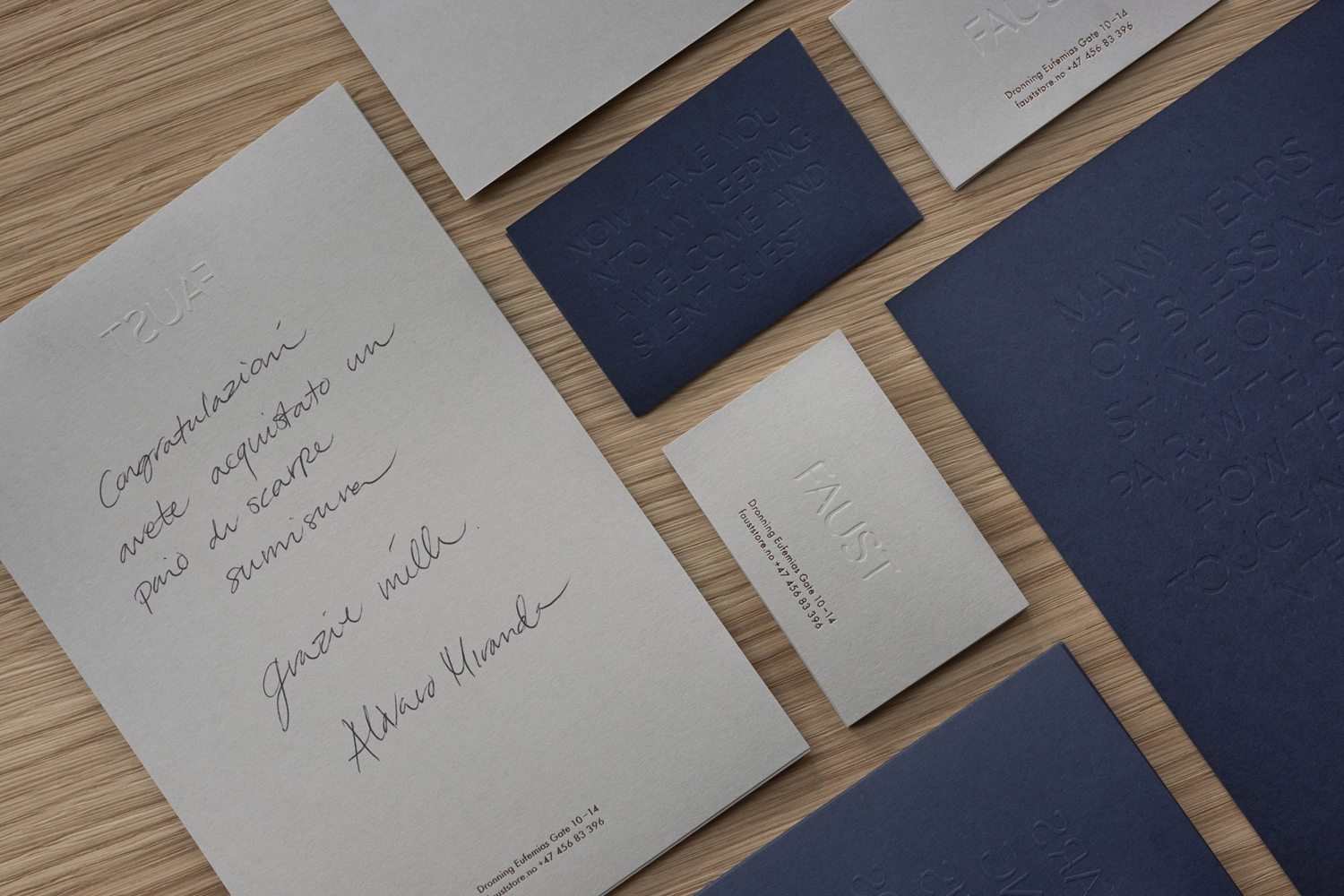 Faust is a high-end shoemaker with its first signature store located in Oslo's Barcode area. The shop is a small but impressive space consisting of five concrete niches and large carved wooden doors. Faust worked with Scandinavian studio Snøhetta to create both interior and brand identity. This was based around the The legend of Faust from the Renaissance, its basis for many literary, artistic, cinematic and musical works through the ages, and Faust as an ambitious person who surrenders moral integrity in order to achieve power and success. These served as historical reference points, taking a look back at a period where all shoes were handmade and bespoke. This then informed the calligraphic strokes of signage, wordmark and custom typography, is seen in the materiality of identity across stationery, business cards and packaging, and in the wood and vaulted forms of interior design.
---
Posted: October 7, 2016
Filed under: Architecture and The Built Environment, Graphic Design Reviews, Logo Reviews
| Tags: American Design, Brand Identity, Brand Identity Blog, Brand Identity Reviews, Branding, Branding Agency, Branding Blog, Branding Reviews, Design For Print, Design News, Design Opinion, Design Reviews, Designed by Triboro, Designed in New York, Graphic Design, Graphic Design Blog, Logo Design Inspiration, Logo Design Resource, Logo Designs, Logo Opinion, Logotypes, Material Thinking, Minimal Design, Minimal Logos, Minimalist Brand Identities, Sans-serif Typography, The Best Brand Identities of 2016, The Best Graphic Design Work of 2016, The Best Logo Designs of 2016, Typography, Uncoated Papers & Cards, White Ink
2 Comments »
Opinion by Richard Baird.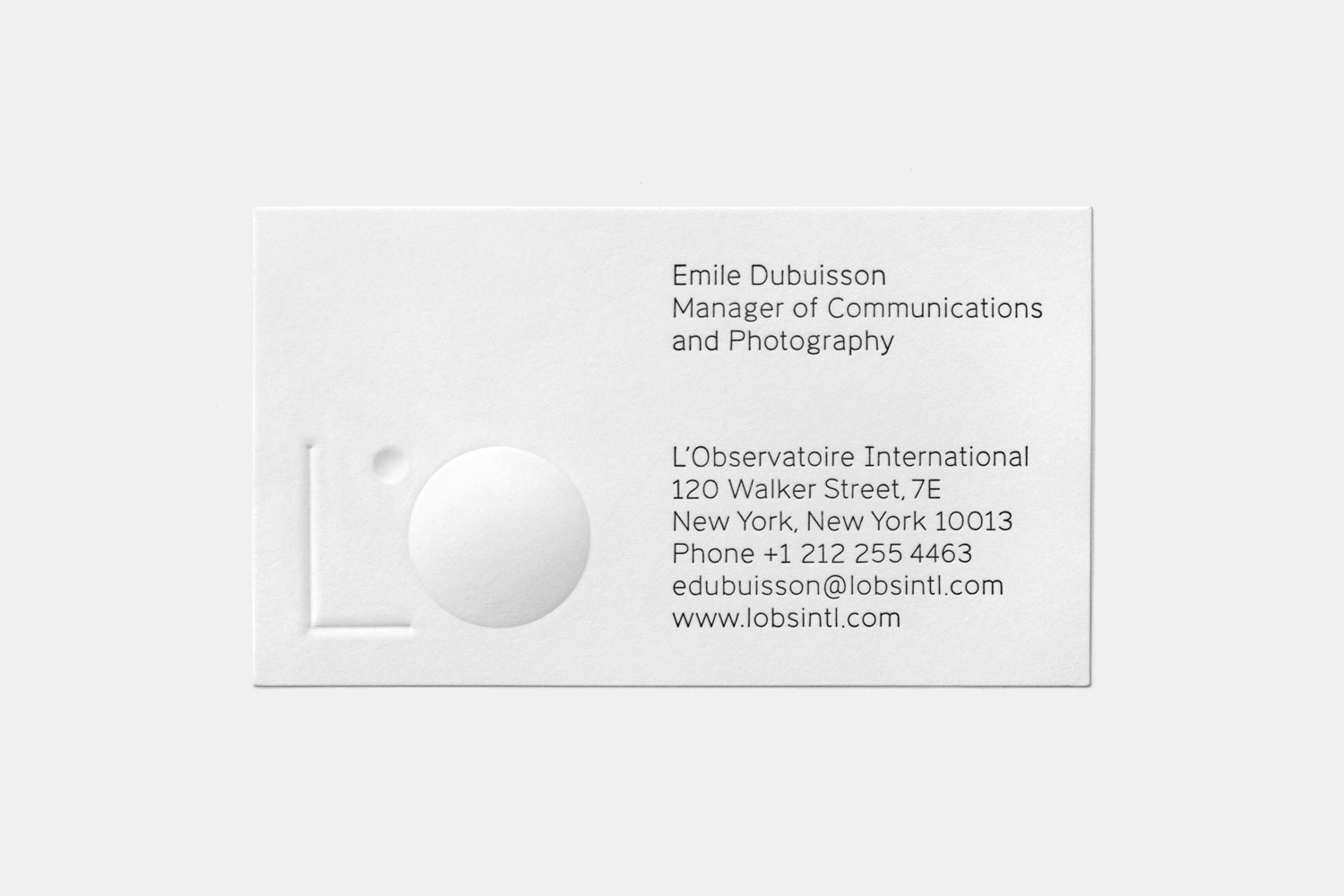 L'Observatoire International is a American lighting design studio co-founded in 1993 by Hervé Descottes. The studio is made up of architects, interior designers, engineers, artists and lighting designers working on a variety of projects, illuminating and accentuating both modern and classical architecture and spaces. These include retail premises and museums, airports, landscapes and concert halls. L'Observatoire International worked with New York-based design studio Triboro to develop a new visual identity. This runs across printed assets that included business cards and a new website.
---