Posted: January 20, 2015
Filed under: Food and Drink, Logo Reviews, Packaging Reviews
| Tags: Back of Pack Design, Best Packaging Designs, Colour in Use: Grey, Coloured Paper, Creative Packaging, Custom Typography, Designed by lg2boutique, Designed in Montreal, Designed in Québec, Display Typography, Envelope Design, Extended Logotypes, Extended Typography, Gold Foil, Graphic Design Blog, Heritage, Logo Design Inspiration, Logo Design Resource, Logo News, Logotypes, Monolinear Typography, New Logo, Packaging Company, Packaging Design, Packaging Design Blog, Packaging Design Resource, Packaging News, Sans-serif Logotypes, Sans-serif Typography, Shield Logos, Spot Colours, Surface Texture, The Best Brand Identities of 2015, The Best Logo Designs of 2015, The Best Packaging of 2015, Uncoated Papers & Cards, Wine Design, Wine Label Design, Wine Packaging
1 Comment »
Opinion by Richard Baird.
Léon Courville is a Canadian vintner growing grapes and producing wine from a 18 hector vineyard surrounding his home near Ville de Lac-Brome, Quebec. The uniquely rocky, chalky and clay soil, the region's later farming seasons and the warmth from Lac-Brome gives Léon Courville's wine a distinctive flavour profile, one that has secured international recognition. As well as being interested in the craft of viticulture, Léon Courville is also known for his large collection of antique corkscrews that are now on display at Domaine de Brome.
Léon Courville Vigneron's brand identity was redesigned by Montréal based studio lg2 boutique. The studio looked to convey the history of the vineyard and the tradition it proudly upholds, the experience of grape growing and the craft of wine making, as well as family, passion and the pedigree of the region through a variety of assets. These included crest and custom typography, business cards, stationery set, postcards and wine labels that feature high quality material detail, die cut labels, foil, spot colour and illustration.
---
Posted: July 18, 2014
Filed under: Art and Design, Fonts in Use, Logo Reviews
| Tags: Black and White, Blind Emboss, Brand Identity, Brand Identity Blog, Brand Identity Design, Brand Identity Reviews, Branding, Branding Blog, Branding Reviews, Business Card Design, Custom Typefaces & Logotypes, Custom Typography, Design For Print, Designed by Demian Conrad Design, Edge Painted Detail, Fonts in Use: OCR, Fonts in Use: OCR-B, Furniture Design Logos, Homeware, Industrial Design, Logo News, Logotypes, Manufacturing Logos, Minimal Design, Minimal Logos, Monochromatic Brand Identities, Monolinear Typography, Monospaced Logotypes, Monospaced Typography, New Logo, Sans-serif Typography, Stationery Design, Swiss Design, The Best Brand Identities of 2014, The Best Business Cards of 2014, The Best Logo Designs of 2014
2 Comments »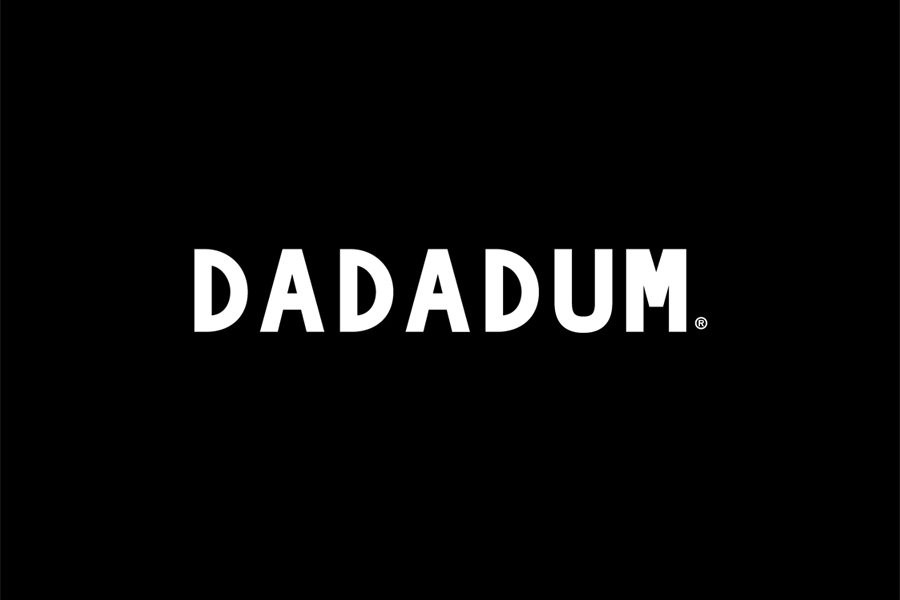 Dadadum is a Swiss contemporary furniture brand created out of respect for and in homage to the functionality, technical expertise and minimalism associated with Swiss design, and that strives to bring out the beauty of each raw material. The brand draws on the 'talents of local designers who have made an international name for themselves and whose specifications are to re-establish the notion of Gute Forme as espoused by Max Bill'. Developed by design studio and co-founder Demian Conrad Design, Dadadum's new brand identity uses Swiss sans-serif typography and a grid based approach that plays with letter space to convey the core values of modularity, playfulness and origin.
---