Posted: December 17, 2013
Filed under: Architecture and The Built Environment, Interior Design, Logo Reviews
| Tags: Architecture Logos, Blind Emboss, Brand Identity Design, Brand Identity Reviews, Branding, Business Card Design, Coloured Paper, Designed by Heydays, Designed in Oslo, Die Cut Design Detail, Embossed Business Cards, Letterhead Design, Logo Design & Branding Blog, Logo News, Logo Opinion, Logotypes, Norwegian Design, Notebook Design, Sans-serif Logotypes, Stationery Design, Stencil Cut Logotypes, The Best Architecture Logos
Comments Off

on Mellbye designed by Heydays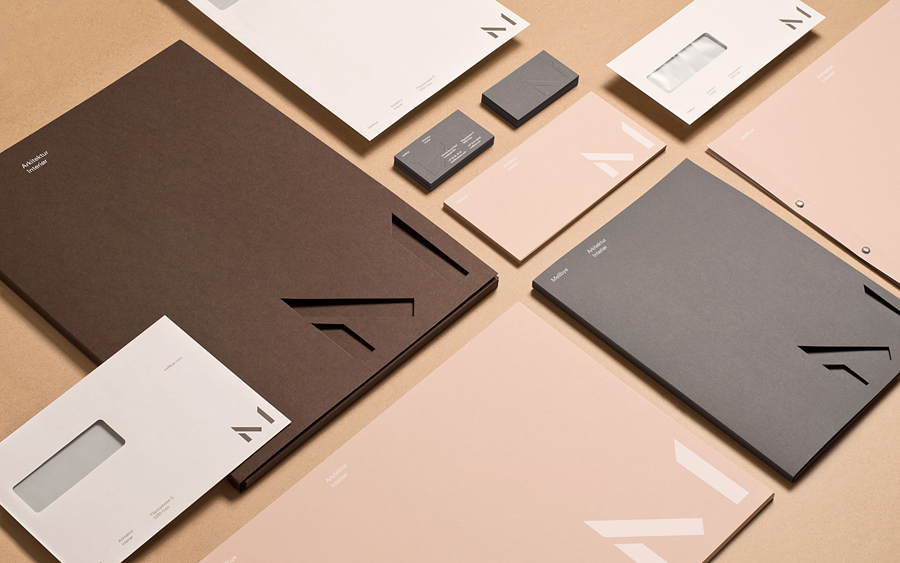 Mellbye is a Norwegian architecture firm founded in 1954 with a "mindset anchored in modernism". Design studio Heydays created a new brand identity for the firm based around a geometric M symbol built from the initials of their two main services, architecture and interiors. Executed as a combination of blind deboss and die cut detail across a earthy and urban mix of brown and warm grey uncoated boards and fabric, and alongside a contemporary white ink print finish and grid-based layouts, the result is a modernistic reduction of form but expansion of meaning surrounded by a familiar architectural utility, form and texture.
---
Posted: December 16, 2013
Filed under: Architecture and The Built Environment, Logo Reviews
| Tags: Architecture Logos, Black Block Foil, Blind Emboss, Brand Identity, Brand Identity Design, Brand Identity Reviews, Branding, Business Card Design, Designed by Heydays, Designed in Oslo, Foil Blocking, Logo Design & Branding Blog, Logo Design Trends: Flexible Logos, Logo Opinion, Minimal Design, Minimal Logos, Norwegian Design, Stationery Design, The Best Architecture Logos, The Best Brand Identities of 2013, The Best Logo Designs of 2013
Comments Off

on Goa Arkitektkontor by Heydays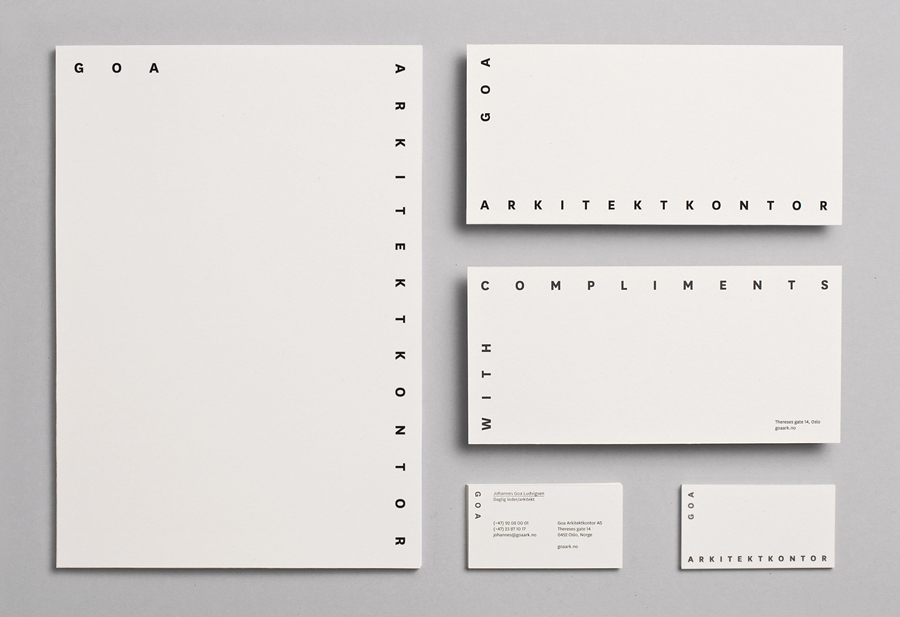 Goa Arkitektkontor is an Oslo based architecture studio, established in 2012 by Johannes Ludvigsen Goa, that provides planning, regulation and architectural design services. The studio has a philosophy that sees restrictions such as economy, building regulations and social attitudes as opportunities, believes in simplicity and, a little unusually, is not afraid to be banal. These ideas are neatly resolved through a new brand identity, which included a new logo, stationery set and leather folder, created by Heydays.
---