Posted: September 8, 2014
Filed under: Fonts in Use, Home and Garden, Logo Reviews
| Tags: Brand Identity, Brand Identity Reviews, Branding, Branding Blog, Branding News, Brochure Design, Business Card Design, Catalogue Design, Colour in Use: Red, Design For Print, Design News, Design Opinion, Design Reviews, Designed by Heydays, Designed in Oslo, Die Cut Design Detail, Fonts in Use: Proxima Nova, From Scandinavia, Graphic Design, Logo Design & Branding Blog, Logo Design Inspiration, Logo Opinion, Material Thinking, Stationery Design, Stickers, The Best Brand Identities of 2013, Uncoated Papers & Cards, Visual Identity Design Blog, Wood Textures in Brand Identity and Packaging Design
Comments Off

on Skovin designed by Heydays
Skovin is Norwegian, high-end, solid wood floor specialist that combines ancient craftsmanship with modern technologies. By mixing a wood veneer business card and a traditional name drawn from the old word Skøyen, the area in Oslo where the company was founded, with geometric shapes and die cuts, panels of flat colour and sans-serif typography, Skovin's identity, designed by Heydays, intends to express the company's fusion of past and present process.
---
Posted: April 24, 2014
Filed under: Cafes, Bars and Restaurants, Logo Reviews
| Tags: Brand Identity, Brand Identity Design, Brand Identity Reviews, Branding, Branding Blog, Branding Reviews, Colourful Business Cards, Design For Print, Designed by Bielke & Yang, Designed in Oslo, From Scandinavia, Illustration, Logo Design & Branding Blog, Logo Designs, Logo News, Logo Opinion, Logotypes, New Logo, Norwegian Design, Restaurant Logos, Sans-serif Logotypes, The Best Brand Identities of 2014, The Best Business Cards of 2014, The Best Logo Designs of 2014, Type Foundry: Klim Type Foundry
Comments Off

on Taco República designed by Bielke&Yang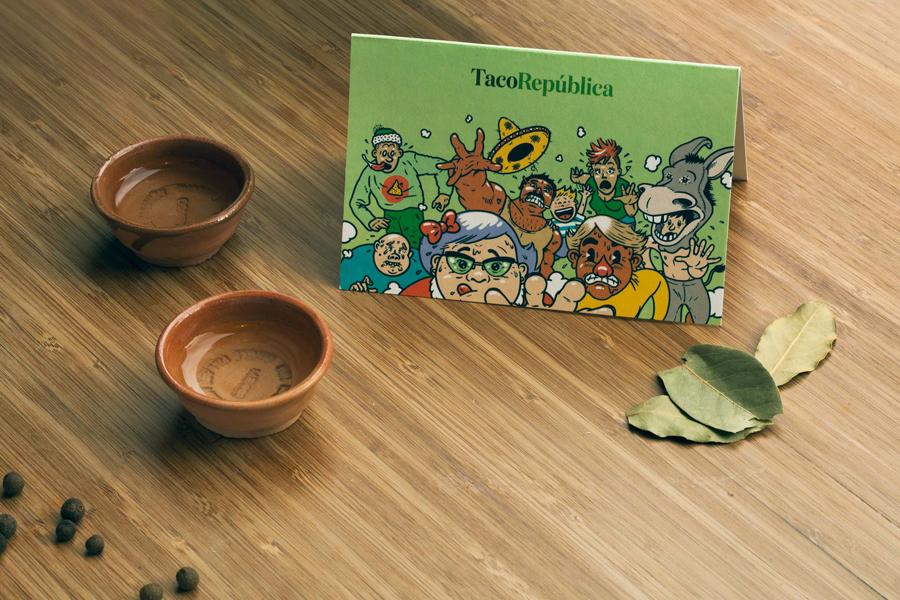 Taco República is described by Bielke&Yang, the design studio behind its visual identity, as Norway's very first genuine taqueria. Wanting to avoid some of the Mexican restaurant clichés, Bielke&Yang juxtaposed classic typography and a guacamole based color scheme with a colourful and contemporary illustrative panel created by Uglylogo, which offers a humorous take on the "enthusiasm and craziness" of the local community prior to opening, to convey traditional quality and a contemporary experience.
---