Posted: February 3, 2017
Filed under: Food and Drink, Graphic Design Reviews, Packaging Reviews
| Tags: Best Packaging Designs, Brand Identity Blog, Brand Identity Reviews, Branding Blog, Branding Reviews, Business Card Design, Coffee Logos and Packaging Design, Creative Packaging, Design For Print, Design Opinion, Design Reviews, Designed by Bielke & Yang, Designed in Oslo, Drinks Packaging, From Norway, Graphic Design, Graphic Design Blog, Illustration, Norwegian Design, Packaging Company, Packaging Design, Packaging Design Blog, Packaging Design Resource, Packaging News, Sans-serif Logotypes, The Very Best Packaging of 2017
1 Comment »
Opinion by Richard Baird.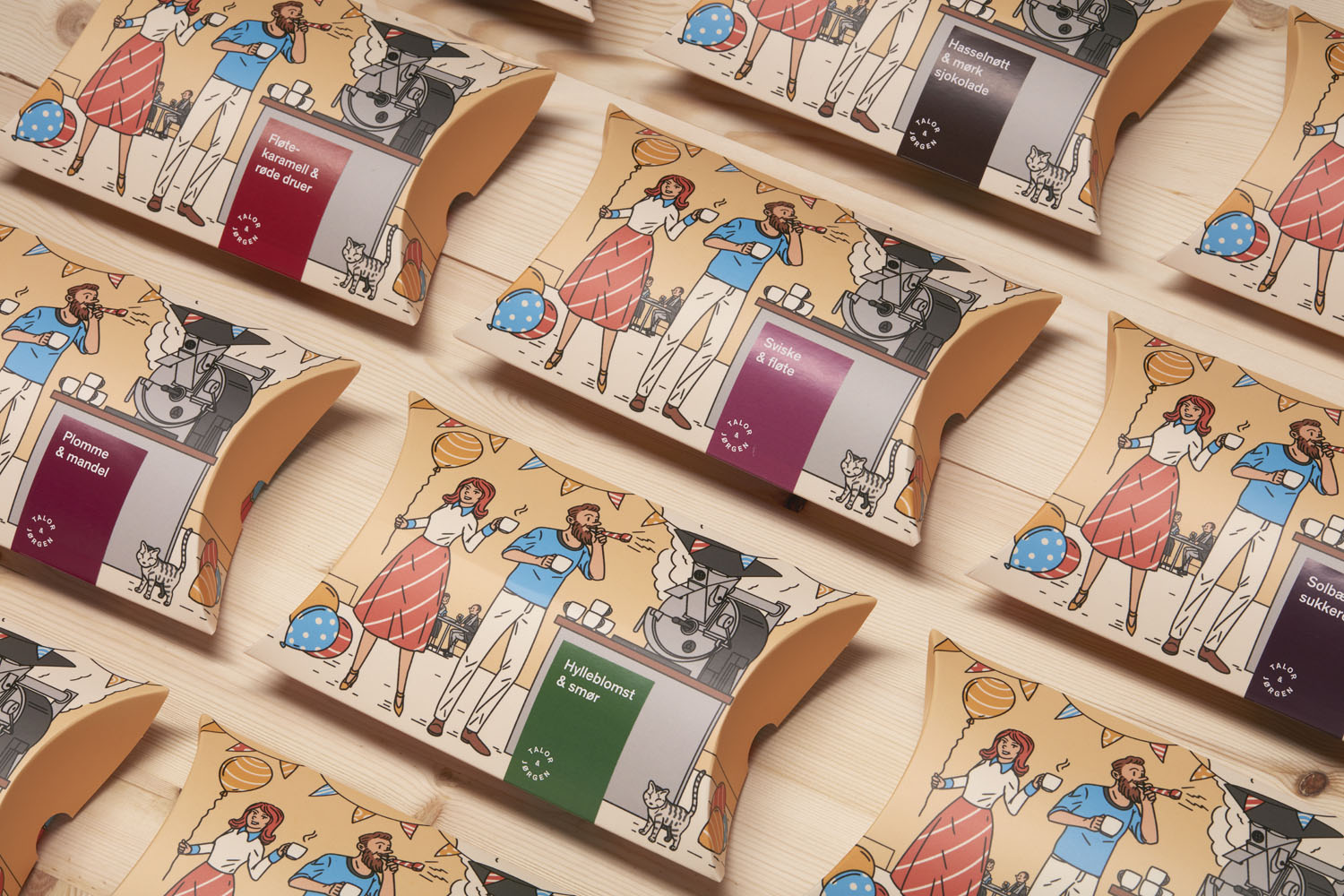 Talor&Jørgen is a Norwegian speciality coffee roastery and coffee subscription service delivering small boxes of freshly roasted beans, sourced from across the globe, to subscribers based on their drinking habits rather than to a schedule. Product naming focuses on bringing to the forefront flavour notes rather than bean provenance, variety and preparation (although this is online and on pack) with the intention of making speciality coffee far more accessible and addressing the divide that exists within the Norwegian market. The range changes seasonally and currently includes Apricot & Black Tea, Blackcurrant & Sugar Snap Pea and Elderflower & Butter, sourced from Kenya and Ethiopia. Talor&Jørgen's packaging, developed by Oslo-based graphic design studio Bielke & Yang, expresses the accessible intentions of brand and freshness of its coffee in the distinctive pairing of small robust structural choice that holds 250g and the tone and content of Janne Iivonen's illustrative work.
---
Posted: February 2, 2017
Filed under: Art and Design, Fonts in Use, Graphic Design Reviews, Logo Reviews
| Tags: Art Gallery Logos and Brand Identities, Black and White, Brand Identity Blog, Brand Identity Reviews, Branding Blog, Branding Reviews, Design For Print, Design Opinion, Design Reviews, Designed by Bielke & Yang, Designed in Oslo, From Scandinavian, Graphic Design, Graphic Design Blog, Homeware, Label Design, nor, Norwegian Design, Poster Design, Sans-serif Typography, The Very Best Brand Identities of 2017, The Very Best of BP&O, Typography, Uncoated Papers & Cards
1 Comment »
Opinion by Richard Baird.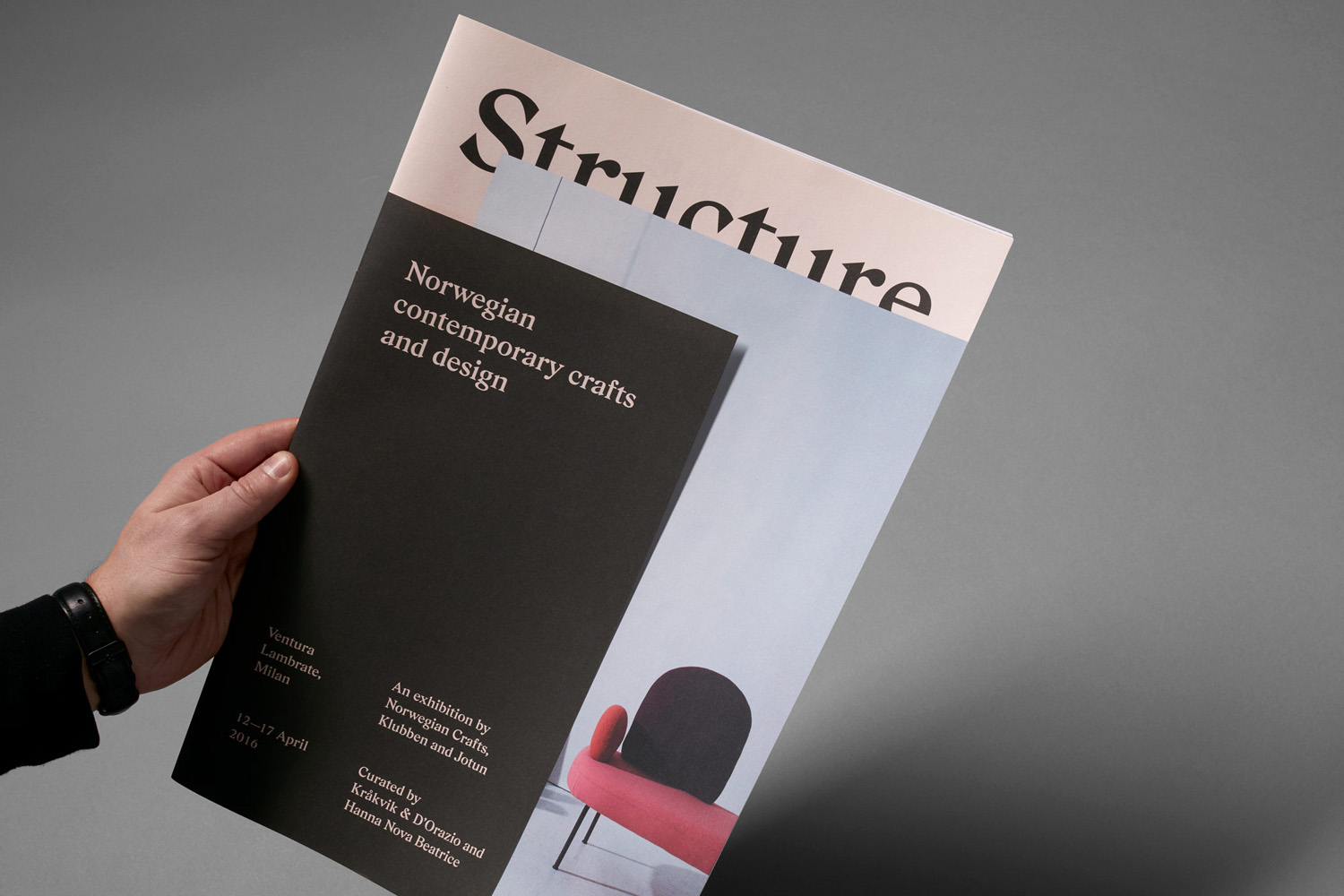 Structure is an exhibition of Norwegian contemporary crafts and design that began its European journey at Milan Design Week in April 2017 and is currently being held at Norwegische Botschaft in Berlin until April 2017. The exhibition features the work of 26 designers and studios, and covers a variety of products and prototypes; from furniture to lighting, to ceramics, textiles and home accessories. Structure intends to bring to the light the designer and manufacturing partnerships, and the intersection of craft and design, artistry and innovation that characterises the Norwegian creative scene. This intersection is expressed by the exhibition's brand identity, created by Oslo-based graphic design studio Bielke & Yang, through type and typesetting, illustrative texture and art direction, proportionality, layering and materiality.
---