Posted: July 3, 2013
Filed under: Business, Banking, Law and Finance, Logo Reviews
| Tags: Brand Identity, Brand Identity Reviews, Branding, Business Card Design, Design For Print, Design News, Design Opinion, Design Reviews, Designed by Work In Progress, Embossed Business Cards, Graphic Design, Letterpress, Logo Design & Branding Blog, Logo Designs, Logo Opinion, Logos, Notebook Design, Sans-serif Logotypes, Stationery Design, The Best Brand Identities of 2013, The Best Logo Designs of 2013, Typography
4 Comments »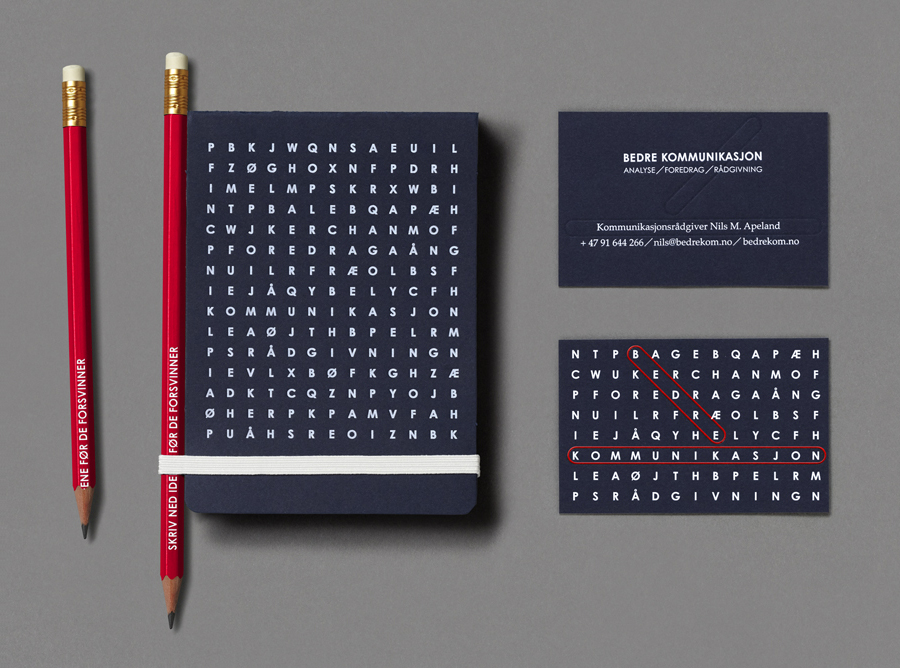 Bedre Kommunikasjon is a oslo-based consulting firm, run by communication specialist Nils M. Apeland, that offers personal, professional and independent advice to business, drawn from 20 years of analysis, strategy, promotion, media relations and crisis management experience.
Multidisciplinary design agency Work In Progress recently worked with Nils to develop a new visual identity solution which included a logo, business card and stationery design that, through a concept that plays on the name Bedre Kommunikasjon, Norwegian for "better communication", and visualised through a word-puzzle device with hidden messages highlighted by the recipient across a notebook and business card, conveys the themes of communication and analysis in a distinctive way.
---
Posted: June 26, 2013
Filed under: Business, Banking, Law and Finance, Logo Reviews
| Tags: Brand Identity, Brand Identity Reviews, Branding, Design For Print, Design News, Design Opinion, Design Reviews, Designed by Bunch, Fedrigoni Papers & Boards, Fonts in Use: GT Walsheim, Graphic Design, Logo Design & Branding Blog, Logo Designs, Logo Opinion, Logos, Monogram Design, Notebook Design, Printed by Cerovski, Sans-serif Logotypes, Stationery Design, The Best Brand Identities of 2013, Type Foundry: Grilli Type, Typography
2 Comments »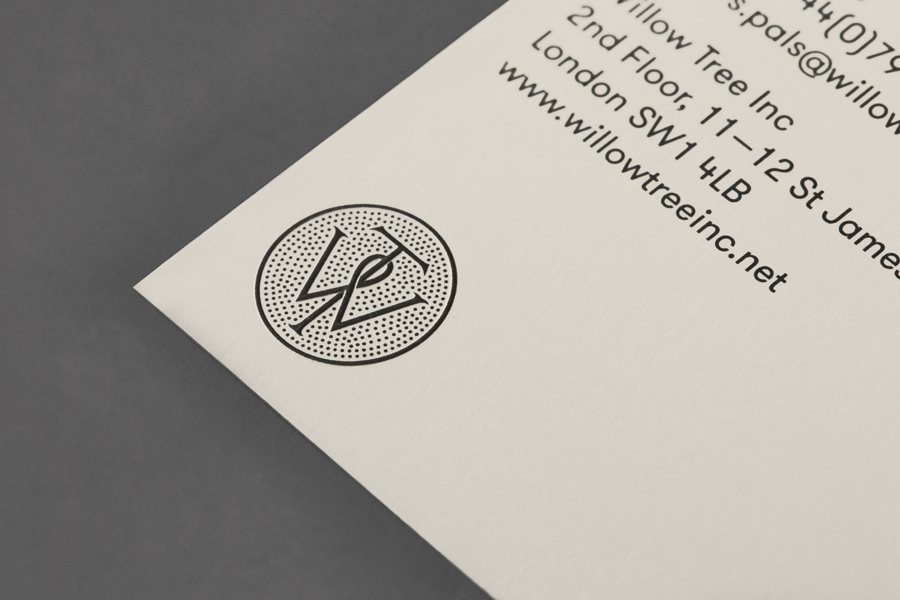 Willow Tree, one of London's leading business consultancies, worked with graphic design studio Bunch to develop a new but traditional-looking visual identity with an attention to detail.
Based around a WT monogram, created by typographer Spencer Charles, utilised as a mix of embosses, carved in seals and simulated watermark, and using purple cloth, black leather, cream paper and handmade coffee pottery, Bunch's solution embraces a strong crafted quality alongside a more contemporary use of space and type.
---