Posted: February 27, 2017
Filed under: Art and Design, Graphic Design Reviews, Logo Reviews, Packaging Reviews, Retail
| Tags: American Design, Brand Identity Blog, Brand Identity Reviews, Branding Blog, Branding Reviews, Colour in Use: Yellow, Creative Packaging, Design For Print, Design Opinion, Design Reviews, Designed by Collins, Designed in New York, Fonts in Use: Milo Serif, Furniture Design Logos, Graphic Design, Graphic Design Blog, Homeware, Logo Designs, Logotypes, Modernist Brand Identities, Packaging Company, Packaging Design Resource, Retail Logos, Sans-serif Logotypes, Spot Colours, The Best Packaging of 2017, The Very Best of BP&O, Typography
1 Comment »
Opinion by Richard Baird.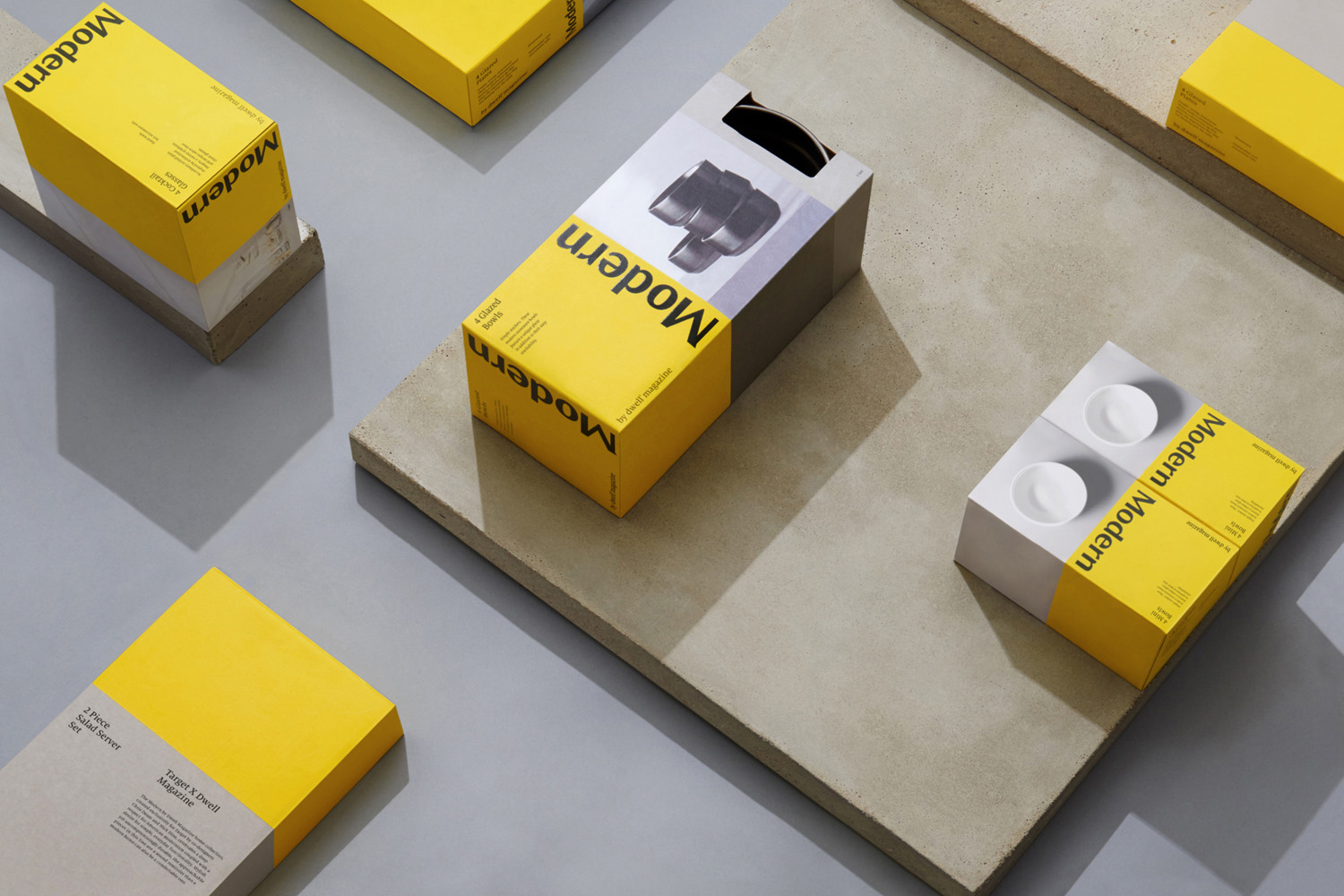 Modern by Dwell Magazine is a new range of home decor products, tablewear and furnishings for those who want to create a welcoming space with a modern aesthetic. It is a collaborative project between design and architecture magazine Dwell, designers Chris Deam and Nick Dine of Deam+Dine, and the American retailer Target.
The range features over 120 products. From chairs, tables and glassware to kitchen utensils, bowls and cocktail shakers. These all balance an everyday functionality with what is described as a high-quality material beauty and share a modernistic design foundation, good design for everyone, only truly made a reality with more recent improvements to mass manufacturing.
New York-based design company Collins, working with the Target Creative Team, drew on a similar modernistic approach taken by Modern's designers to create brand identity and packaging. This can be seen in structure and high quality materials, and throughout the range's graphic expression, a balance of high-impact colour, typographical detail and a practical grid-based layout.
---
Posted: February 27, 2017
Filed under: Fonts in Use, Food and Drink, Graphic Design Reviews, Packaging Reviews
| Tags: Alcohol Packaging, Best Packaging Designs, Bottle Packaging, Cider & Cyder Packaging, Condensed Logotypes, Condensed Typography, Design For Print, Design Opinion, Designed in Helsinki, Finnish Design, Fonts in Use: Austin, Fonts in Use: Trade Gothic, Handcraft, Label Design, Logo Design Inspiration, Packaging Design, Packaging Design Blog, Packaging News, Packaging Opinion, Sans-serif Logotypes, The Best Packaging of 2017, The Very Best Packaging of 2017, Type Foundry: Commercial Type
Leave a comment »
Opinion by Richard Baird.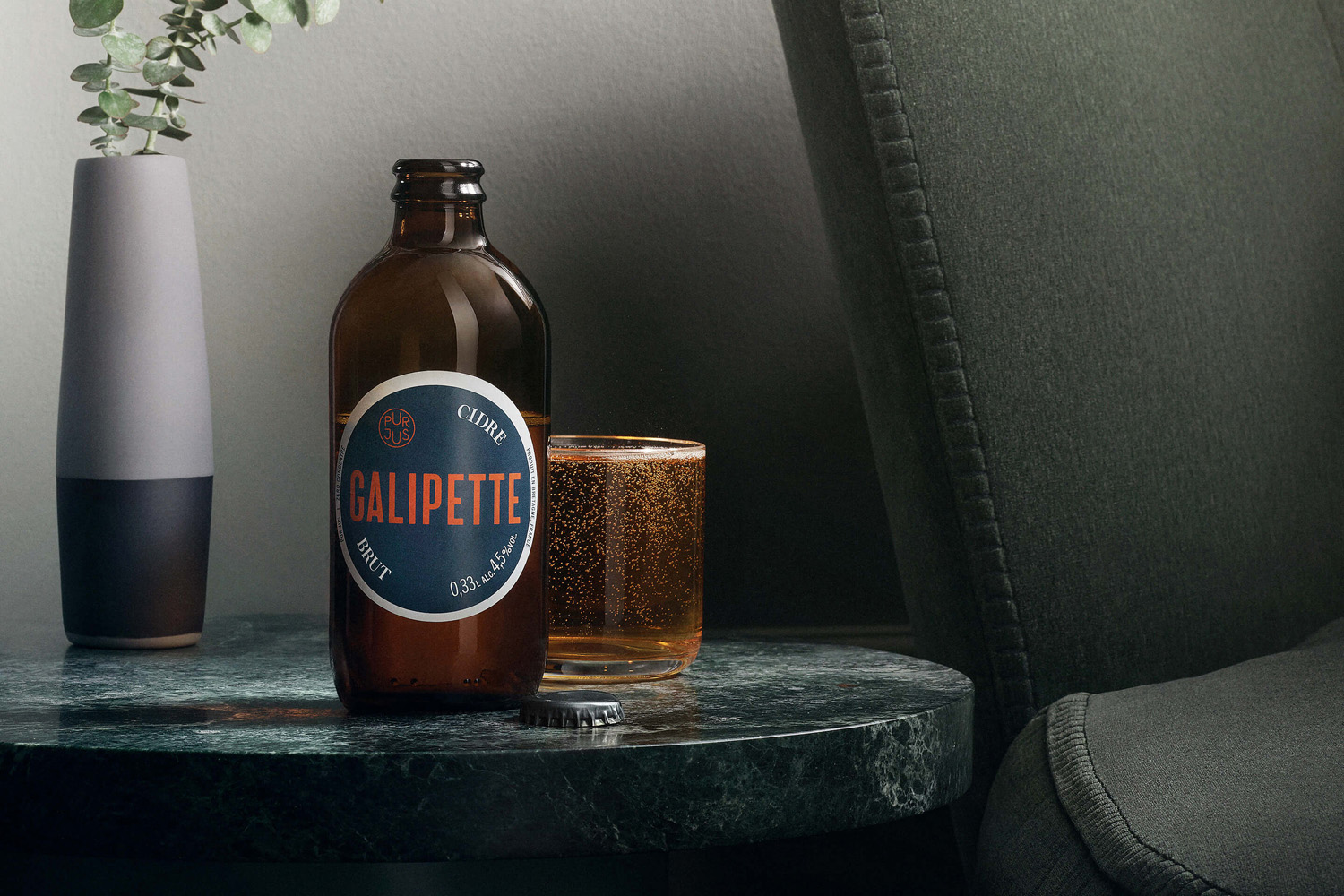 Galipette is a premium cidre made from 100% pure fermented apple juice (pur jus) pressed from apples that are hand picked from orchards in Brittany, Northwest France. Galipette is available as a Brut and a sweeter Biologique. These are free of gluten and added sugar and created for the international markets of Europe, North America and China by the Cider Supply Company, a businesses founded on the values of local craftsmanship and European cidre making heritage.
With the intention of engaging a market made up of urban, quality seeking people who appreciate freshness and the legacy of French Cidre, Scandinavian studio Werklig created a brand identity, packaging design and website that, rather than leveraging the rural aesthetic that proliferates the category, finds a comfortable balance between heritage cues and modernity, the familiar and the distinctive.
---