Posted: August 18, 2014
Filed under: Architecture and The Built Environment, Logo Reviews
| Tags: Architecture Logos, Brand Identity, Brand Identity Reviews, Branding, Branding Blog, Branding News, Brochure Design, Business Card Design, Coloured Paper, Design For Print, Design News, Design Opinion, Design Reviews, Designed by Inhouse, Designed in Auckland, From New Zealand, Graphic Design, Letterhead Design, Logo Design & Branding Blog, Logo Design Trends: Flexible Logos, Logo Opinion, Logotypes, Minimal Design, Minimal Logos, Pastel Coloured Papers, Sans-serif Logotypes, Stationery Design, The Best Architecture Logos, The Best Brand Identities of 2014, The Best Logo Designs of 2014, Typography, Visual Identity Design Blog
2 Comments »
Opinion by Richard Baird.
Space Division is an architectural studio established in 2010 with an office in Auckland, New Zealand. It looks to contribute to and positively impact on the lives and environments of its clients and the communities it serves by producing simple and succinct spaces.
The studio describe their projects as being inclusive and client-focused with physical constraints, budgets, time frames and compliance being carefully considered and incorporated into their work across commercial, urban infrastructure and residential architectural fields.
These values and project considerations, as well as Space Division's agile, dynamic and easily scalable approach, is reflected in their name and new brand identity, created by Inhouse. This included a flexible logotype, stationery set, business cards, print portfolio, project photography and website.
---
Posted: June 11, 2014
Filed under: Cafes, Bars and Restaurants, Logo Reviews
| Tags: Best Awards: Winners, Brand Identity, Brand Identity Design, Brand Identity Reviews, Branding, Branding Blog, Branding Reviews, Business Card Design, Coaster Design & Beer Mats, Design For Print, Designed by Inhouse, Designed in Auckland, Etched Illustration, From New Zealand, Logo Design & Branding Blog, Logo News, Logos, Restaurant Logos, Sans-serif Logotypes, Stationery Design, Stencil Cut Logotypes, Stencil Cut Serif Logotypes, The Best Logo Designs of 2014
3 Comments »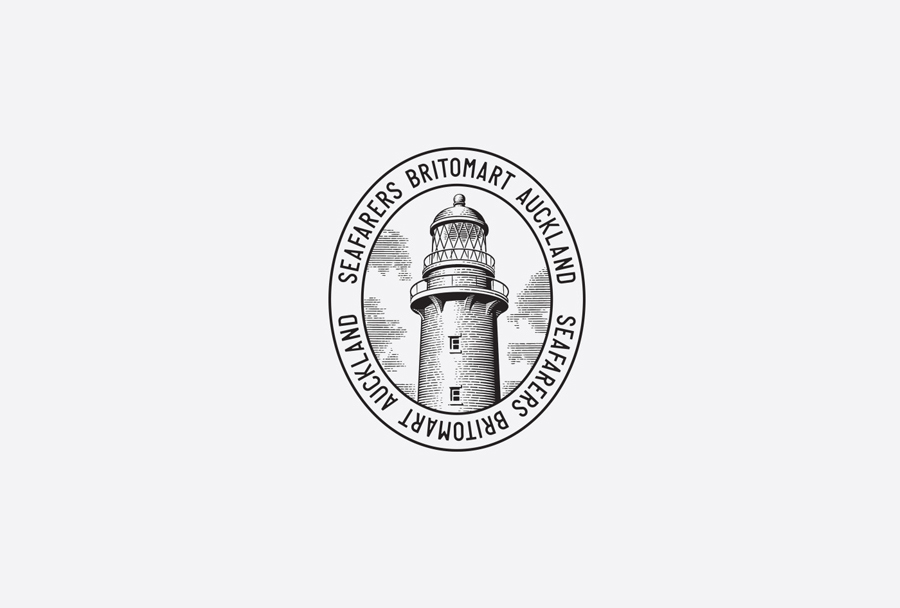 Seafarers is a recently rejuvenated seven floor habour front building located in Auckland's Britomart precinct that will house, over two floors, Michelin starred chef Josh Emett's flagship restaurant, due to open in stages throughout 2014, as well as brasserie and bar Ostro.
The brand identity for the building, restaurant and brasserie, developed by Inhouse, draws on the rich history of the space—once known as Auckland's Sailors Home—and its contemporary renovation through a variety of traditional and more recent typographical and nautical detail. This extends across menu design and signage, coasters, newspaper and membership brochure.
---