Posted: January 22, 2013
Filed under: Food and Drink, Logo Reviews
| Tags: Brand Identity, Brand Identity Reviews, Branding, Business Card Design, Design Reviews, Designed by Studio Brave, Designed in Melbourne, Food Logos and Packaging Design, From Australia, Graphic Design, Illustration, Ink Stamps, Logo Design & Branding Blog, Logo News, Logo Opinion, Logos, Logotypes, Monogram Design, Packaging Design, Packaging News, Sans-serif Logotypes, Stickers, The Best Brand Identities of 2013, The Best Logo Designs of 2013, Typography, Visual Identity Design Blog
2 Comments »
Opinion by Richard Baird.
Sweet Greek is a food store run by Kathy Tsaples, located in Melbourne's Prahran Market, that sells classic sweets and authentic, freshly baked, ready-to-eat Greek cuisine. The store's visual identity, created by Studio Brave and Elise Lampe, mixes the loose and personal qualities of a hand rendered logo-type and monogram with illustrations of meats, olives and laurel wreathes. Executed across a tactile, uncoated board with elements associated with craft such as string, stickers, the texture of a hand stamped print finish and a single, economical, cobalt blue—reminiscent of china dining sets and the Greek national flag—these elements convey a culinary honesty representative of authentic products made from simple, local and good quality ingredients.
---
Posted: November 28, 2012
Filed under: Film, Logo Reviews
| Tags: Brand Identity Reviews, Branding, Business Card Design, Design Reviews, From Australia, Graphic Design, Logo Design & Branding Blog, Logo Designs, Logos, Packaging Design, Sans-serif Logotypes, The Best Logo Designs of 2012, Typography, Visual Identity Design Blog
4 Comments »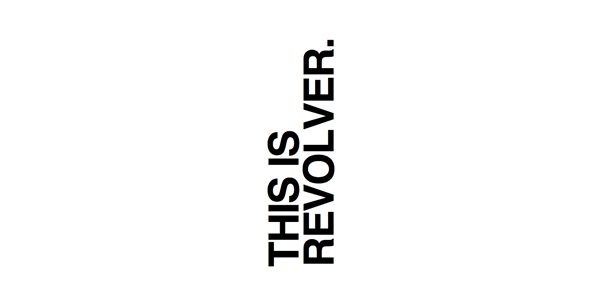 Revolver is an Australian film production company with a string of awards and a diverse collection of directors and producers. Their visual identity, refreshed by Sydney-based independent design agency Toko, is a simple, clean and coherent expanding logo-type solution – built from the single, well spaced, all uppercase sans serif Helvetica – that utilises a 'This Is' prefix to bind, through typographical consistency, a variety of communication and the directors. Its over-sized application alongside finer details, full bleed, bright neon spot highlights and the juxtaposition of both vertical and horizontal layouts across the collaterals introduce a creative and multi-perspective sensibility that keeps the solution from appearing too corporate.
---