Posted: November 12, 2014
Filed under: Food and Drink, Logo Reviews, Packaging Reviews
| Tags: Bakery Logos and Packaging, Best Packaging Designs, Brand Identity Design, Brand Identity Reviews, Branding, Branding News, Branding Reviews, Business Card Design, Colour in Use: Pastels, Creative Packaging, Designed by Anagrama, From Latin America, Graphic Design Blog, Logo Design & Branding Blog, Logotypes, Luxury Logos and Packaging Design, Mexican Design, Monogram Design, New Logo, Packaging Company, Packaging Design, Packaging Design Resource, Packaging News, Sans-serif Logotypes, Silver Block Foil, Snack Packaging Design, Stationery Design, The Best Brand Identities of 2014, The Best Packaging of 2014
Comments Off

on Neat Confections designed by Anagrama
Opinion by Richard Baird.
Neat Confections is a San Pedro-based pastry shop creating handmade biscuits and cakes using organic spices and fruits, are absent decoration and specifically developed as a wine or tea accompaniment. Neat Confectionery's brand identity and packaging solution, designed by Anagrama, draws its inspiration from the theme of perfection and craft, which is then visualised through what the studio describe as a "pureness" of their structural design solution and material choice. A mirrored card box, the standout choice and defining quality of the project, was selected to emphasise the detail of the confectionery while pastel inks across white stickers add a warmth and functionality that divide varieties.
---
Posted: August 12, 2014
Filed under: Cafes, Bars and Restaurants, Food and Drink, Logo Reviews, Packaging Reviews
| Tags: Bakery Logos and Packaging, Best Packaging Designs, Brand Identity Design, Brand Identity Reviews, Branding, Branding Reviews, Business Card Design, Copper Block Foil, Custom Typography, Designed by Anagrama, Fonts in Use: Futura, From Latin America, Logo Design & Branding Blog, Logotypes, New Logo, Packaging Design, Packaging News, Sans-serif Logotypes, Stationery Design, The Best Brand Identities of 2014, The Best Logo Designs of 2014, The Best Packaging of 2014
Comments Off

on Violeta designed by Anagrama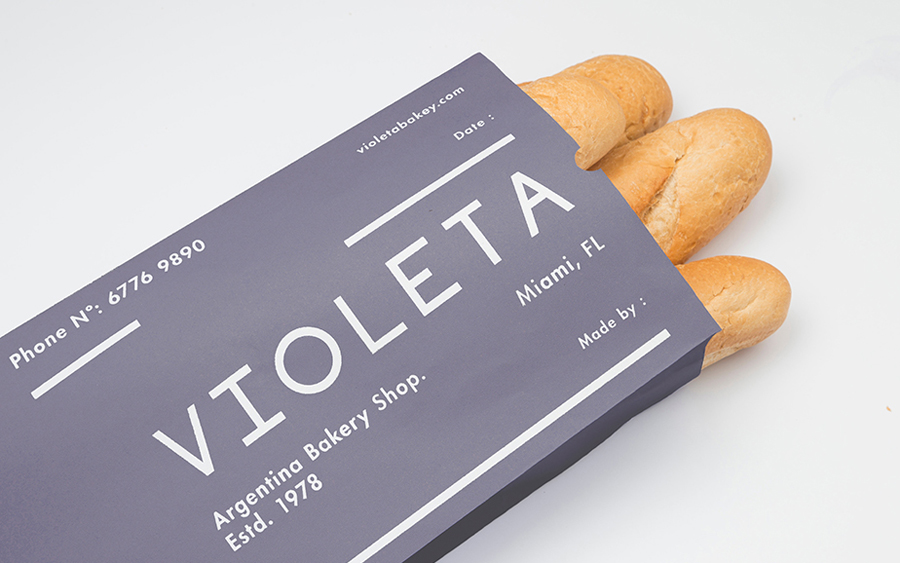 Violeta is described by Anagrama, the design studio behind its new brand identity and packaging treatment, as an Argentinian bakery, named after its founder, that creates hand-crafted breads, cakes and pastries from its location in the Buenos Aires district of Las Lomas de San Isidro. Following more than 30 years of business and in lieu of a plan to begin franchising in the US, the bakery commissioned Anagrama to develop a new visual identity which included logotype, packaging and stationery design.
Utilising a distinctive, slightly awkward retrospective and generously spaced custom sans-serif logotype alongside Futura Heavy, a striped pattern detail, shield, limited colour palette, stickers and gold foil print finish, Anagrama's approach effectively balances an everyday accessibility with a high-quality, sophistication and heritage in a visually concise way. The project included business cards, packaging and menu design.
---