Posted:
Filed under: Logo Reviews, Photography
| Tags: Black and White, Brand Identity, Brand Identity Design, Brand Identity Reviews, Branding, Branding Blog, Branding Reviews, British Design, Business Card Design, Design For Print, Designed by Birch, Embossed Paper, Logo Design & Branding Blog, Logo News, Logos for Photographers, Logotypes, Minimal Design, Minimal Logos, Monochromatic Brand Identities, New Logo, Newsprint, Stationery Design, Website Design
Comments Off

on Harry Watts designed by Birch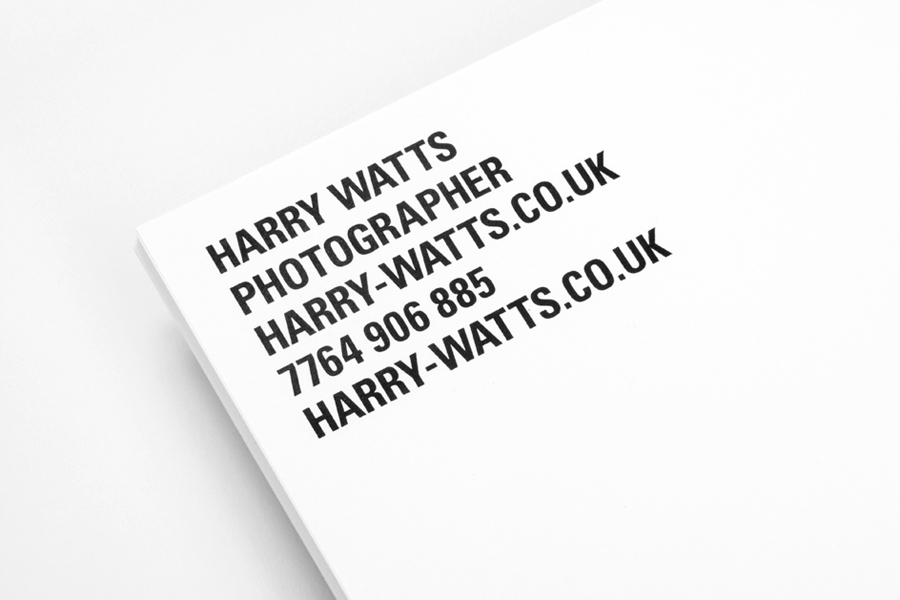 Harry Watts is a British photographer who takes a systematic approach to location and explores the relationship between people and objects. His work has been exhibited nationally and internationally and was selected by Italian Vogue for solo exhibitions in London and Madrid.
Harry's brand identity, developed by London based studio Birch, is representative of his unique process of removing excess information through the simple combination of a single bold, uppercase and condensed sans-serif typeface, black ink and plenty of unprinted white space, and utilises an unconventional structure, 'ruthlessly' pushing text off edges, to draw distinction from these. Elements such as surface texture and newsprint are introduced to reinforce project specific concepts such as high quality materials, discarded objects and mass communication whilst retaining the non-essential philosophy. The result is an unwavering consistent austerity that successfully draws out photographic detail and conveys, without undermining, Harry's reductive process.
---