Posted: May 30, 2013
Filed under: Architecture and The Built Environment, Logo Reviews
| Tags: American Design, Brand Identity, Brand Identity Reviews, Branding, Design News, Design Opinion, Design Reviews, Designed by Perky Bros, Graphic Design, Graphic Design Trends: Monolinear Illustration, Line Craft, Logo Design & Branding Blog, Logo Designs, Logo Opinion, Logos, Logotypes, Sans-serif Logotypes, The Best Brand Identities of 2013, Typography
5 Comments »
Treadwell is a Kansas-based floor installation business that specialise in no-nonsense solutions that last. Perky Bros, the agency behind their name, visual identity and website, describe Treadwell's philosophy as about 'standing upright, walking the walk and empowering clients to move forward with confidence, secure in the knowledge that they've chosen the right product and the right people for the job'. The agency distilled this philosophy into an identity that unties the perceived strength of buffalos and geometry with the contemporary, on-trend restraint of a single consistent line weight and matching logotype.
---
Posted: May 29, 2013
Filed under: Business, Banking, Law and Finance, Logo Reviews
| Tags: Brand Identity, Brand Identity Reviews, Branding, Design News, Design Opinion, Design Reviews, Designed by Anagrama, From Latin America, Gold Foil, Graphic Design, Logo Design & Branding Blog, Logo Designs, Logo Opinion, Logos, Logotypes, Monogram Design, Serif Logotypes, The Best Brand Identities of 2013, Typography
8 Comments »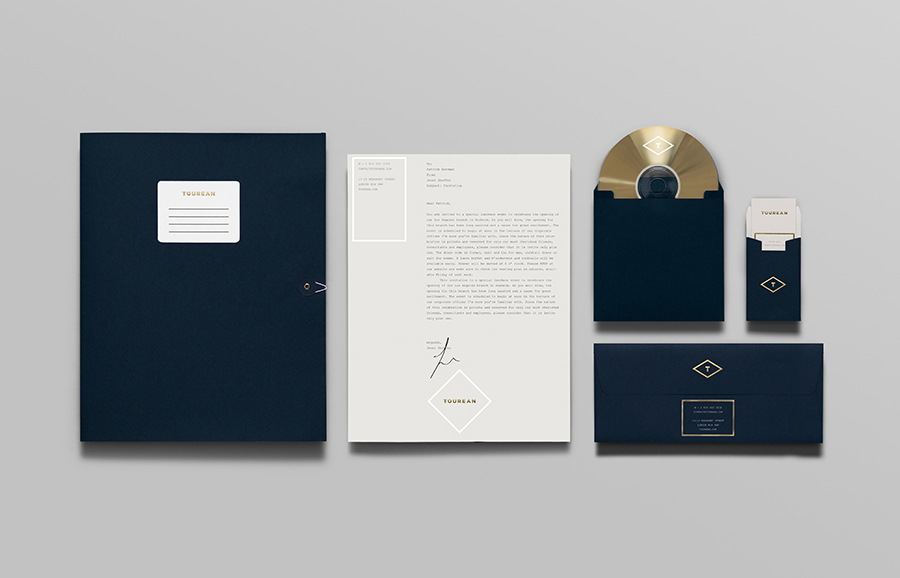 Tourean is a British multinational venture capital firm that manages a variety of lifestyle subsidiaries within the music, design, events, social media and fashion industries. Their new visual identity, developed by design agency Anagrama and drawing inspiration from the Tourean name – a compounding of the words taurean and tour created to convey the values of strength, fortitude, courage and integrity as well as the company's worldwide reach – fuses Gotham Black and Copperplate Gothic into a single logo-type described by the agency as 'modern and earnest' and sets it within the context of a 'serious and somber' colour palette and the high qualities of heavy paper with debossed surface textures and gold foil detailing.
---