Posted: April 10, 2015
Filed under: Art and Design, Fashion, Logo Reviews
| Tags: Blind Emboss, Brand Identity Reviews, Branding Blog, Branding Reviews, Business Card Design, Coloured Paper, Custom Typography, Design For Print, Design Opinion, Design Reviews, Designed by Bunch, From the United Kingdom, Graphic Design, Graphic Design Blog, Label Design, Logo Design & Branding Blog, Logo Design Inspiration, Logo Design Resource, Logo Designs, Logotypes, Minimal Design, Minimal Logos, Monolinear Typography, Sans-serif Logotypes, Stencil Cut Logotypes, The Best Brand Identities of 2015, The Best Business Cards of 2015, The Best Custom Logotypes, The Very Best of 2015, Typography, Unbleached Materials, Uncoated Papers & Cards
Comments Off

on Decontoured by Bunch, United Kingdom
Opinion by Richard Baird.
Decontoured is a Milan based, by appointment only, fashion label that provides a bespoke service for redesigning existing garments. Its philosophy is firmly rooted in an aesthetic sustainability and value that transcends seasonal fashion trends, and acknowledges a shift in consumer behaviour from the mass-market towards conceptual products and personalised practices. The label's approach is one of collaboration, craft, innovation and sustainability, and celebrates beauty in imperfection. These values are drawn together and conveyed throughout its new brand identity treatment designed by Bunch, using custom typography, garment detail, photography, material choice, print finish and contrast. The project also included labels, business cards, posters and website.
---
Posted: June 13, 2014
Filed under: Logo Reviews, Television and Radio
| Tags: Blind Emboss, Brand Identity, Brand Identity Reviews, Branding, Branding Blog, Branding Reviews, Business Card Design, Coloured Paper, Design For Print, Design News, Designed by Bunch, Emboss Detail, Graphic Design, Letterhead Design, Logo Design & Branding Blog, Logo Designs, Logo Opinion, Logos, Logotypes, Monogram Design, PR Logos, Public Relations Logos, Sans-serif Logotypes, Spot Colours, Stationery Design, The Best Business Cards of 2014
Comments Off

on Rush Talent designed by Bunch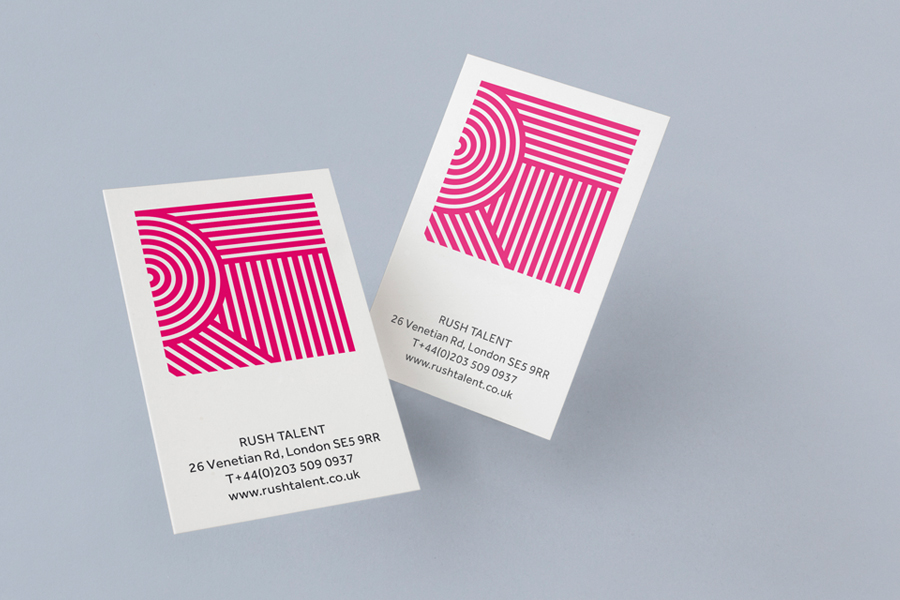 Design studio Bunch worked with Rush Talent, a London based public relations company, to develop a visual identity, this included monogram, logotype and stationery design. Rush Talent describes itself as at forefront of the factual and lifestyle television scene and represents emerging UK broadcasters working within the fields of fashion history, sports, science, architecture, food and art, and includes the likes of Amber Jane Butchart, Fern Riddell and Chris Naunton.
---