Posted: February 18, 2016
Filed under: Graphic Design Reviews, Logo Reviews, Photography
| Tags: Brand Identity, Brand Identity Reviews, Branding, Branding Agency, Branding Blog, Branding News, British Design, Brochure Design, Colour in Use: Purple, Coloured Paper, Custom Typefaces & Logotypes, Custom Typography, Design For Print, Design News, Design Opinion, Design Reviews, Designed in Leeds, From the United Kingdom, Logo Design & Branding Blog, Logo Design Inspiration, Logo Design Resource, Logo Opinion, Logos for Photographers, Lookbook, Minimal Design, Minimal Logos, Sans-serif Logotypes, Stationery Design, The Best Brand Identities of 2016, Uncoated Papers & Cards, Visual Identity Design Blog, White Block Foil, White Ink
Comments Off

on Richard Moran by Journal, United Kingdom
Opinion by Richard Baird.
Richard Moran is a lifestyle and portrait photographer with over 25 years of experience. He has worked with international businesses such as GSK, Pizza Express and Grey Goose Vodka, and secured a reputation as a passionate, straight-talking professional with a meticulous attention to detail and a portfolio of high-quality and emotive work. With a desire to communicate this and with the intention of building on his success, Richard worked with Leeds based graphic design studio Journal to develop a new brand identity. This included portfolio, business cards and stationery, linked by a white and purple colour palette, plenty of material texture, custom logotype and high-quality print finish. Journal also designed and built a responsive website that gives Richard's time-sensitive clients multiple ways to view his work.
---
Posted: February 7, 2013
Filed under: Art and Design, Logo Reviews
| Tags: Brand Identity, Brand Identity Reviews, Branding, Branding News, British Design, Business Card Design, Colour in Use: Purple, Design News, Design Opinion, Design Reviews, Designed by Karoshi, Designed in London, Event Planning Logos, Flowers, Foil Blocking, Graphic Design, Handcraft, Label Design, Logo Design & Branding Blog, Logo News, Logo Opinion, Logos, Logotypes, Luxury Logos and Packaging Design, Monogram Design, Serif Logotypes, The Best Brand Identities of 2013, The Best Logo Designs of 2013, Typography, Uncoated Papers & Cards, Visual Identity Design Blog
Comments Off

on NB Flowers designed by Karoshi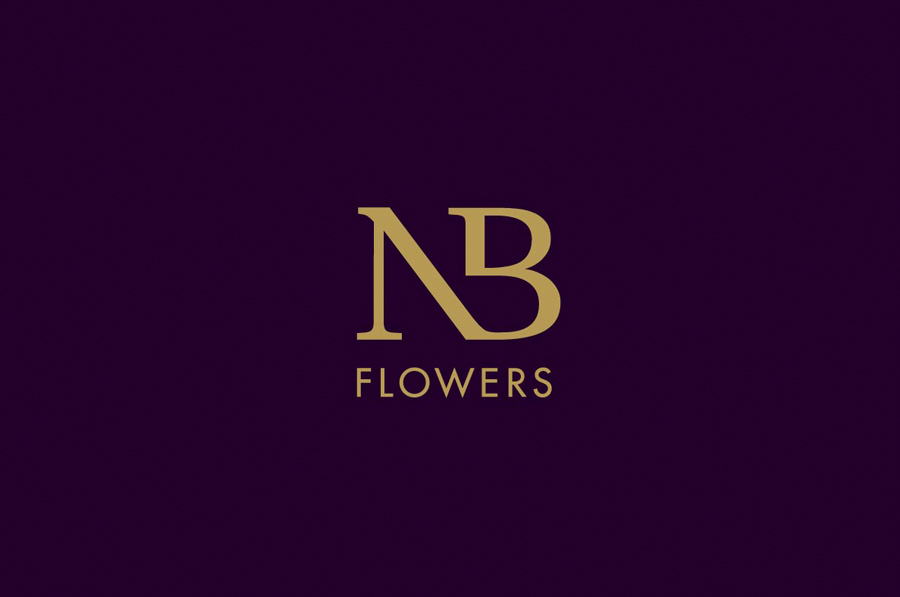 NB Flowers is a florist – founded by Neil Birks and located at London's New Covent Garden Market – that specialises in corporate and private events, delivering value through a combination of 'beautiful flowers, creativity, and a personable service'.
Multi-disciplinary design agency Karoshi were commissioned to 'rebrand and reposition NB Flowers as one of London's leading luxury event florists and capture the essence of the brand – classic with a contemporary twist'. In response the agency created a visual identity solution that, through a serif monogram, sans-serif by-line, purple and white substrates and a block foil print finish, delivers a simple and consistent communicative contrast that successfully draws out the organic detail of the photography utilised across NB's collateral and website.
---