Posted:
Filed under: Food and Drink, Logo Reviews, Publishing
| Tags: Brand Identity, Brand Identity Reviews, Branding, Business Card Design, Coloured Paper, Designed by ThoughtAssembly, Designed in Melbourne, Fonts in Use: Domaine, Graphic Design, Logo Design & Branding Blog, Logos, Serif Logotypes, Stitch Detail, The Best Brand Identities of 2013, The Best Logo Designs of 2013, Type Foundry: Klim Type Foundry, White Ink
Comments Off

on Alquimie designed by Thought Assembly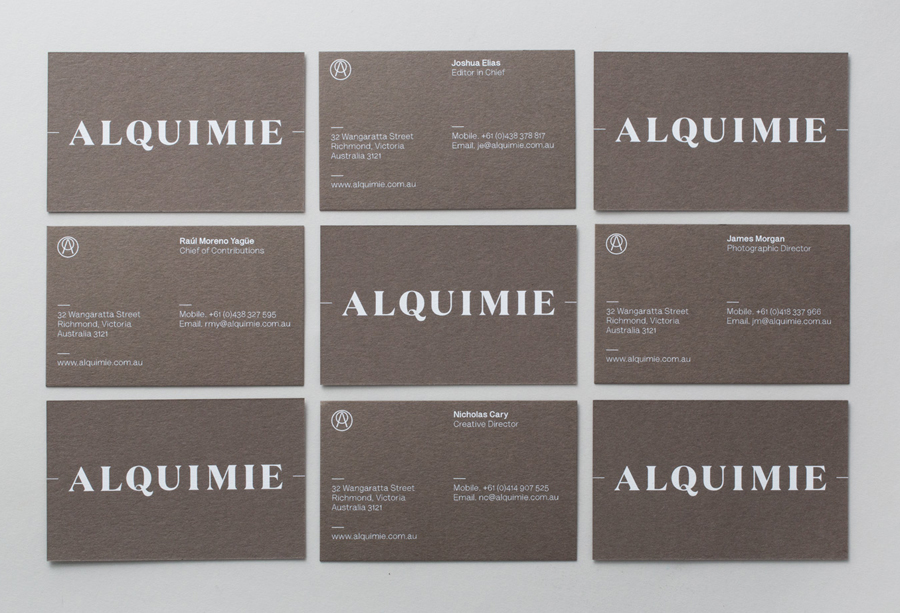 "Released quarterly as a printed magazine, Alquimie is a written emulsion of alcoholic and non-alcoholic drinks. Covering wine, beer, spirits, bitters, coffees and other solutions of interest; Alquimie explores the liquids themselves — their origins and stories. Working with photographer James Morgan, the inaugural edition of Alquimie included over 160 images across 152 pages." – Alquimie
Melbourne based graphic design and visual communications studio ThoughtAssembly, responsible for developing and managing Alquimie's name, brand identity, print and art direction, utilise the thick white ink and warm concrete grey substrate of the business cards, a traditional, open, hand-sewn detail of the magazine, tinted photography and the well spaced uppercase serif characters of the logotype to hint at the history and craft the publication looks to uncover, its authority and high quality.
---
Posted:
Filed under: Cafes, Bars and Restaurants, Logo Reviews
| Tags: Bag Design, Brand Identity, Brand Identity Reviews, Branding, Business Card Design, Cafe Logos, Coaster Design & Beer Mats, Coffee Cup Designs, Coloured Paper, Design For Print, Designed by RoAndCo, Logo Design & Branding Blog, Logo Designs, Logo News, Logos, The Best Brand Identities of 2013, The Best Logo Designs of 2013, Typography, White Block Foil
Comments Off

on Weekend designed by RoAndCo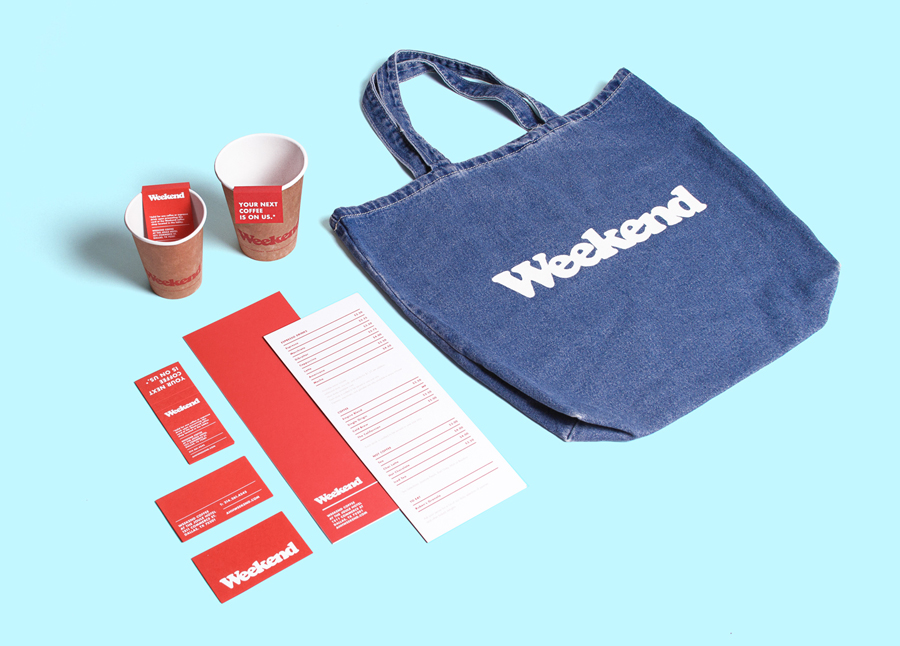 Inspired by 'cartoonish film titles from the 1980's', design agency RoAndCo recently developed the brand identity for Dallas coffee shop Weekend, an extension of their retail store "which has become a relaxing everyday haunt for vacationers". Based around a tightly spaced Cooper Black logotype, a "minimal and refined typographic system" and a striking but restrained red and white colour palette, Ro&Co created a solution that they say conveys "the bright, bold and cheerful spirit of the brand."
---