Posted:
Filed under: Fitness, Health and Beauty, Logo Reviews
| Tags: Best Packaging Designs, Brand Identity Reviews, Branding, Cosmetic Packaging, Design News, Design Opinion, Design Reviews, Designed by BVD, Designed in Stockholm, From Scandinavia, Graphic Design, Logo Design & Branding Blog, Logo Designs, Logo Opinion, Logos, Logotypes, Minimal Package Design, Sans-serif Logotypes, Swedish Design, The Best Brand Identities of 2013, Typography, Visual Identity Design Blog
Comments Off

on Apolosophy designed by BVD
Based around their phi­los­o­phy of health and well-being, Swedish drug store chain Apotek Hjärtat have recently developed Apolosophy, a new, carefully formulated cosmetic line that includes products from the skin and hair care, makeup and sunscreen categories.
The range's visual identity and packaging solution, created to be perceived as tactile, timeless and trustworthy by design agency BVD, unites the on-trend accessibility of a near consistent single line weight, soft curves, rounded terminals, all lower-case and well spaced letter-forms and a simple repetition of form through the 'a', 'o' and 'p', with the classic sensibilities of a black and white colour palette, the quality of a matt surface texture and the restraint of a logotype only solution across the packaging. The result, while pared-down, really emphasises, complements and unites the colours and textures of the products with a subtle utility often associated with professional grade cosmetics.
---
Posted:
Filed under: Fitness, Health and Beauty, Packaging Reviews
| Tags: Best Packaging Designs, Bottle Packaging, Box Packaging, Cosmetic Packaging, Design For Print, Design Opinion, Design Reviews, Designed by Pentagram, Graphic Design, Packaging Design, Packaging Design Blog, Packaging News, Pastel Colours, Sans-serif Logotypes
Comments Off

on Healgel designed by Pentagram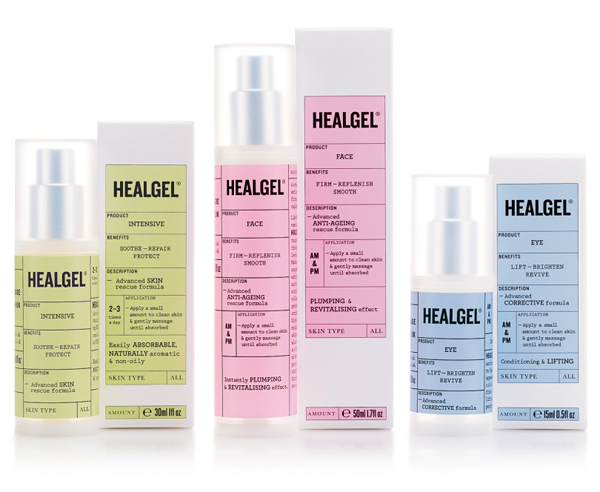 HealGel is a range of high quality skin care products, originally created to aid the repair of post-operative scarring, developed by actress Natascha McElhone – a dermatological biochemist – and a team of cosmetic surgeons. Taking its cues from what looks like medical forms and stat charts, international design agency Pentagram, led by Domenic Lippa, developed a new packaging treatment that delivers a sense of 'pure information', fact and clinical effectiveness through grid-based layouts, boxes, a geometric sans serif and slab serif combination softened by a pastel colour palette across a white substrate. It is a distinctive and unique design solution that avoids cosmetic conventions in favour of hard science, a direction that manages to resolve the themes of technological and scientific systems, medical processes and everyday routine with a reductionist, communicative and utilitarian functionality.
---