Posted:
Filed under: Food and Drink, Packaging Reviews
| Tags: Alcohol Packaging, Beer Packaging, Best Packaging Designs, Bottle Label Design, Bottle Packaging, Colour in Use: Pastels, Craft Beer Logos, Craft Beer Packaging, Craft Brewery Logos, Craft Brewery Packaging, Creative Packaging, Design For Print, Design Opinion, Designed by Snask, Designed in Stockholm, Food Logos and Packaging Design, Food Packaging, From Scandinavia, Handcraft, Logo Design Inspiration, Microbrewery, Packaging Company, Packaging Design, Packaging Design Blog, Packaging News, Packaging Opinion, Reviewed by Robert Holmkvist, Swedish Design, The Best Packaging of 2014
Comments Off

on PangPang Summer Beer designed by Snask
Opinion by Robert Holmkvist.
PangPang is a Stockholm based microbrewery that was established by oddball Fredrik Tunedal in 2011. Fredrik, only 23 at the time, tattooed PangPang across his knuckles to celebrate the founding of what he believes to be Sweden's first microbrewery. These knuckles now form the basis of the brewery's logotype.
Swedish design studio Snask were commissioned to develop a strategy for PangPang's 2014 summer series of hand brewed beers that would help them to compete within a growing craft beer sector and with the increasing number of microbreweries. This would be achieved by creating a playful visual identity and packaging solution that would stand out on shelves stacked with beer labels that often lacked individual character. The design and naming was built around the theme of tiki — a choice that felt suitable for summer beers and would create an ideal opportunity for interesting, distinctive and cheeky names. These included Cocojambo, Playa del Drevviken, Waikiki, Libertango and Tiki Tango.
---
Posted:
Filed under: Food and Drink, Logo Reviews
| Tags: Botanical Illustration, Brand Identity, Brand Identity Design, Brand Identity Reviews, Branding, Business Card Design, Craft Beer Logos, Craft Beer Packaging, Craft Brewery Logos, Craft Brewery Packaging, Graphic Design, Illustration, Logo Design & Branding Blog, Logo Opinion, Logos, Logotypes, Script Logotypes, The Best Brand Identities of 2013, The Best Logo Designs of 2013
Comments Off

on The Hop Review designed by Jack Muldowney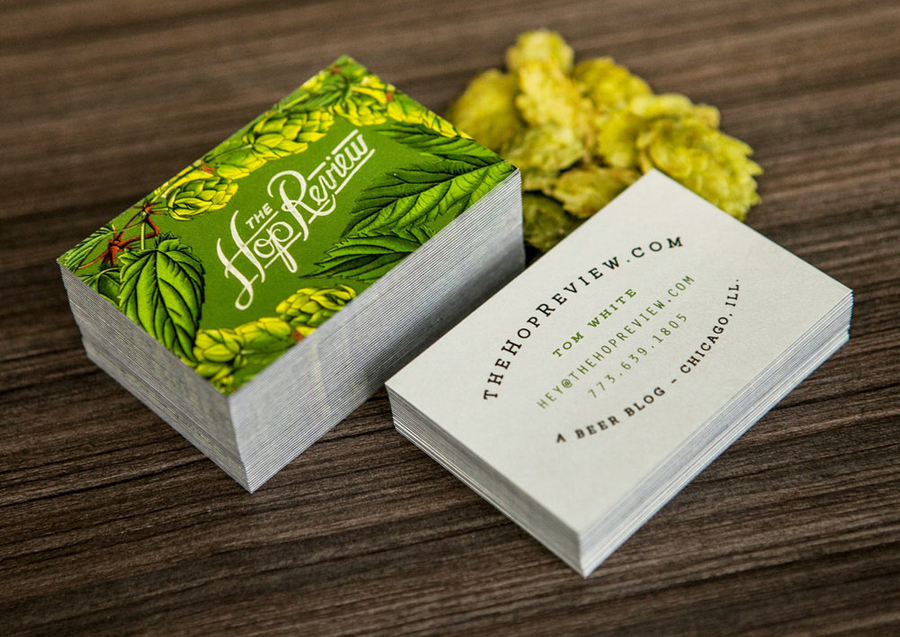 The Hop Review is a blog that brings together opinion, pictures and interviews with brewers, store and bar owners to provide readers with a perspective on Chicago's growing craft beer industry. The blog's visual identity, which includes a hand drawn logotype and illustrative detail created by graphic designer Jack Muldowney and executed across their website, business cards and stickers, infuses the blog format with a personal and clear craft sensibility.
---