Posted:
Filed under: Cafes, Bars and Restaurants, Food and Drink, Logo Reviews, Packaging Reviews
| Tags: Bakery Logos and Packaging, Best Packaging Designs, Brand Identity Design, Brand Identity Reviews, Branding, Branding Reviews, Business Card Design, Copper Block Foil, Custom Typography, Designed by Anagrama, Fonts in Use: Futura, From Latin America, Logo Design & Branding Blog, Logotypes, New Logo, Packaging Design, Packaging News, Sans-serif Logotypes, Stationery Design, The Best Brand Identities of 2014, The Best Logo Designs of 2014, The Best Packaging of 2014
Comments Off

on Violeta designed by Anagrama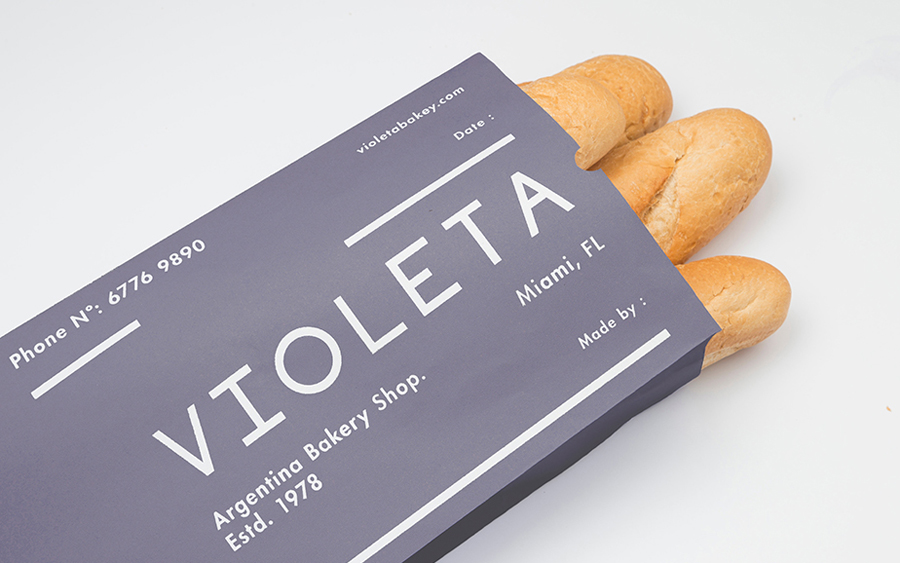 Violeta is described by Anagrama, the design studio behind its new brand identity and packaging treatment, as an Argentinian bakery, named after its founder, that creates hand-crafted breads, cakes and pastries from its location in the Buenos Aires district of Las Lomas de San Isidro. Following more than 30 years of business and in lieu of a plan to begin franchising in the US, the bakery commissioned Anagrama to develop a new visual identity which included logotype, packaging and stationery design.
Utilising a distinctive, slightly awkward retrospective and generously spaced custom sans-serif logotype alongside Futura Heavy, a striped pattern detail, shield, limited colour palette, stickers and gold foil print finish, Anagrama's approach effectively balances an everyday accessibility with a high-quality, sophistication and heritage in a visually concise way. The project included business cards, packaging and menu design.
---