Posted: October 23, 2014
Filed under: Art and Design, Logo Reviews
| Tags: Art Gallery Logos and Brand Identities, Blind Emboss, Brand Identity Reviews, Branding, Branding Blog, Brochure Design, Coaster Design & Beer Mats, Design For Print, Design Reviews, Designed by Marks, Exhibition Logos & Brand Identities, Festival and Event Brand Identities, Graphic Design, Graphic Design Blog, Logo Design & Branding Blog, Logo Design Inspiration, Logo Designs, Poster Design, Stitch Detail, Swiss Design, The Best Brand Identities of 2014, Typography, Wine Label Design
Comments Off

on Rendez-vous des créateurs 2014 by Marks
Opinion by Richard Baird.
Rendez-vous des créateurs 2014 was an event that took place in September at experimental meeting, performance and exhibit space Flux Laboratory in the Swiss town of Carouge. The exhibition was an opportunity for those servicing the graphic design chain to show off finishes, materials and techniques under the title "onomatopoeia of printing". Participants included silk screen printer Atelier Fuerm, binder Bubu, hot stamper H+M, material manufacturer Winter & Company and electro-static flocking specialist Bastcolor amongst others. The exhibition's brand identity, which extended across invitations, flyers, posters, brochures, coasters, wine labels, shopping bags, signage and website, was developed by graphic design studio Marks.
---
Posted: March 21, 2013
Filed under: Art and Design, Logo Reviews, Self-Initiated
| Tags: Brand Identity, Brand Identity Reviews, Branding, Business Card Design, Design News, Design Studio Logos, Designed by Marks, Graphic Design, Handcraft, Logo Design & Branding Blog, Logo Designs, Logo Opinion, Logos, Logotypes, Sans-serif Logotypes, Stationery Design, Swiss Design, The Best Brand Identities of 2013, The Best Logo Designs of 2013, Typography, Uncoated Papers & Cards, Visual Identity Design Blog, White Block Foil
Comments Off

on Marks designed by Marks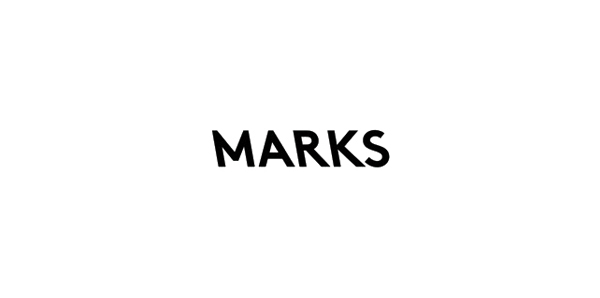 Marks is a Geneva-based multidisciplinary design studio that specialises in delivering contemporary graphic communication solutions to corporate business, institutions and the luxury goods and industrial art sectors. Their visual identity, a reverse, uppercase, italic logo-type with a consistent line weight, humanistic sans-serif build, square terminals, decent spacing and neat parallel diagonal strokes, now features across a new stationery set that, through a really nice combination of weighty, warm and cold concrete grey, uncoated material choices with a contrasting, high quality, glossy black and white foil print treatment, large point size and plenty of space, deliver an urban and subtle craft backdrop to the confident consistency and slightly unconventional qualities of the type and its layout across the collateral.
---