Posted: January 30, 2015
Filed under: Fonts in Use, Food and Drink, Logo Reviews, Packaging Reviews
| Tags: Best Packaging Designs, British Design, Colour in Use: Pink, Creative Packaging, Designed by Robot Food, Designed in Leeds, Foil Blocking, Fonts in Use: Niveau Grotesk, Gold Foil, Graphic Design Blog, Handcraft, Logo Design Inspiration, Logo Design Resource, Logo News, Logotypes, Luxury Logos and Packaging Design, Marble Patterns, Monogram Design, New Logo, Packaging Company, Packaging Design, Packaging Design Blog, Packaging Design Resource, Packaging News, Sans-serif Logotypes, Stickers, The Best Brand Identities of 2015, The Best Logo Designs of 2015, The Best Packaging of 2015, The Very Best of 2015, Uncoated Papers & Cards
5 Comments »
Opinion by Richard Baird.
Yvonne Costello and Ori Hellerstein are a husband and wife team making artisanal chocolate truffles using high quality ingredients and the processes acquired by Ori working as a pastry chef at well-respected restaurants. These skills were then refined whilst running his business The Artisan Bakery creating and supplying fine patisserie and chocolates to trade. Costello + Hellerstein's philosophy is built around the complete sensory experience, one that goes beyond taste to include aroma, touch and visual appeal. This extends to their brand identity and packaging treatment, designed by Leeds based Robot Food, which went on to help them secure a spot at London department store Harrods.
---
Posted: March 20, 2014
Filed under: Fonts in Use, Food and Drink, Packaging Reviews
| Tags: Best Packaging Designs, British Design, Creative Packaging, Designed by Robot Food, Designed in Leeds, Foil Blocking, Fonts in Use: Verlag, Food Logos and Packaging Design, Gold Foil, New Logo, Packaging Company, Packaging Design Blog, Packaging News, Packaging Opinion, Sans-serif Logotypes, Spot Colours, The Best Brand Identities of 2014, The Best Packaging of 2014
1 Comment »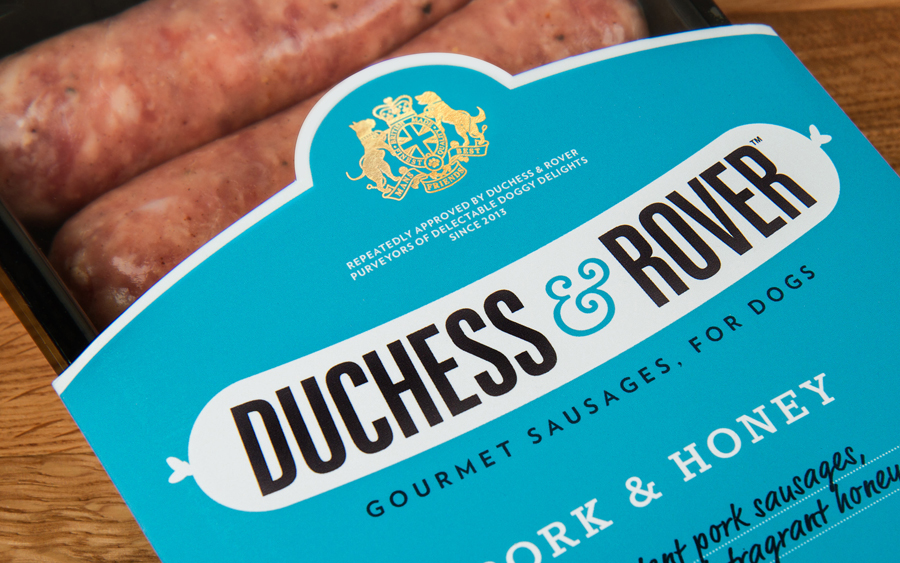 The raw meat sector within the dog food industry continues to grow and innovate, reflecting owner's increasing support and understanding that it can provide a fresh, natural and convenient way for their dogs to receive the nutrients they need. 
Recognising how unpleasant raw meat can be and looking to take advantage of the expanding market, design studio and now product development specialist Robot Food created, branded and packaged their own more appealing sausage range, flavoured using ingredients good for canine health, under the name Duchess & Rover.
---