Posted: January 7, 2015
Filed under: Fonts in Use, Logo Reviews, Theatre
| Tags: Brand Identity, Brand Identity Reviews, Branding, Branding Blog, Branding News, British Design, Brochure Design, Business Card Design, Colourful Business Cards, Design For Print, Design News, Design Opinion, Design Reviews, Designed by Spy, Graphic Design Blog, Logo Design & Branding Blog, Logo Design Inspiration, Logo Design Resource, Logo Opinion, Sans-serif Logotypes, Stationery Design, The Best Brand Identities of 2015, The Best Logo Designs of 2015, The Very Best of 2015, Theatre Logos, Uncoated Papers & Cards, Visual Identity Design Blog
10 Comments »
Opinion by Richard Baird.
Theatre Royal Plymouth (TRP) is the largest and best attended regional producing theatre in the UK and leading promoter of theatre in the South West. It runs a diverse programme of performances, activities and events, and has a 1300 seat auditorium capable of delivering West End musicals, opera and ballet, as well as a smaller 175 seat theatre for experimental productions. The building, located on Plymouth's Royal Parade, also houses a café, restaurant and community performance space.
In response to increased competition TRP looked to diversify its audience, retain current visitors and to improve the uptake of its outreach programmes through a new visual identity system as part of a wider regeneration project. Developed by London based Spy, the visual identity system was created to reflect the dynamic nature and joy of experiencing live performance and to connect with a broader audience. This was achieved through a vibrant colour palette of shifting planes, patterns and light, and a holistic approach that, alongside logo and print, included animation, signage and wayfinding.
---
Posted: January 15, 2014
Filed under: Architecture and The Built Environment, Logo Reviews
| Tags: Animated Logos, Architecture Logos, Black Block Foil, Brand Identity, Brand Identity Reviews, Branding, British Design, Business Card Design, Coloured Paper, Designed by Spy, Foil Blocking, Logo Design & Branding Blog, Logo News, Logos, Stationery Design, The Best Architecture Logos, The Best Business Cards of 2014, The Best Logo Designs of 2014, Unbleached Materials, Uncoated Papers & Cards, Website Design, White Block Foil
1 Comment »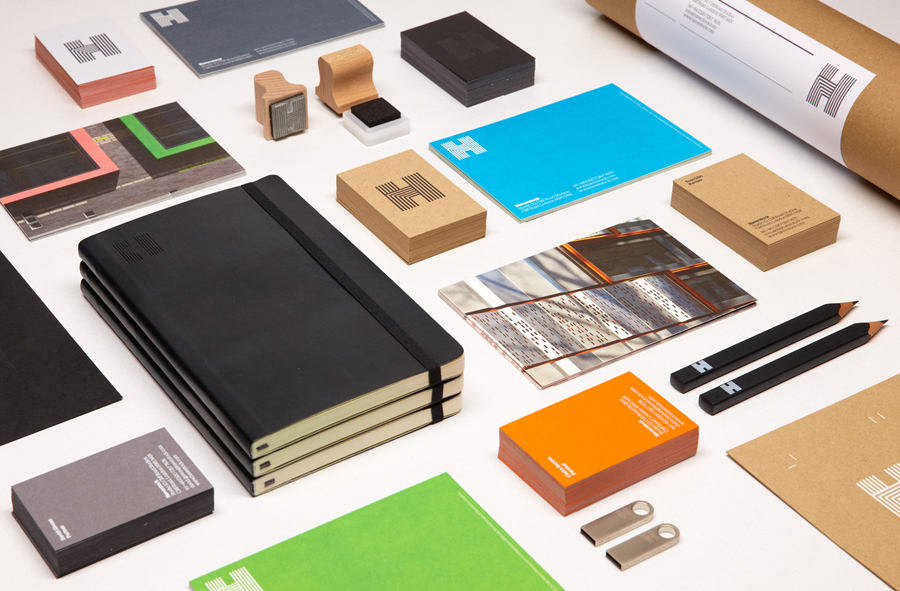 Haverstock is a UK based architectural practice that specialises in public-sector projects with a strong humanistic approach that enables "clients and the people who use the buildings to have a voice, and to shape the way their building ends up". Following the retirement of Haverstock's founding partners design studio Spy was commissioned to develop a new brand identity for the firm—which included a new logo, logo animation, website and stationery set—that would reflect a new era now led by "younger partners with fresh ambitions and perspectives".
---