Posted:
Filed under: Food and Drink, Packaging Reviews
| Tags: Back of Pack Design, Best Packaging Designs, Branding, Coconut Water Packaging, Creative Packaging, Designed by Marx, Drinks Packaging, Packaging Company, Packaging Design, Packaging Design Blog, Packaging News, Pastel Colours, The Best Packaging of 2014
Comments Off

on The Coconut Collective designed by Marx Design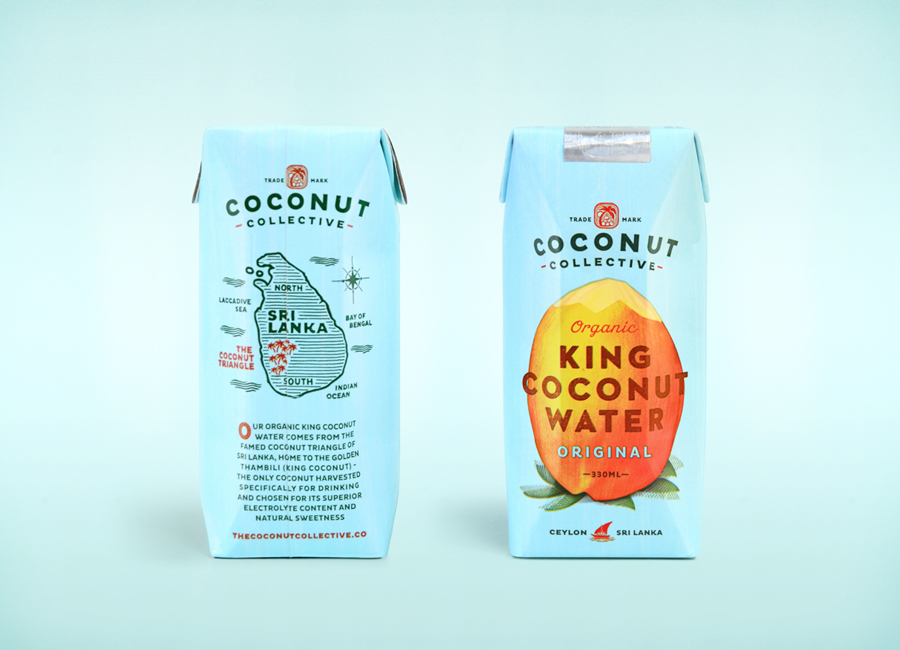 The Coconut Collective is a new Australian brand of organic, flavoured, coconut waters drawn from Sri Lanka's king rather than green coconut, a first for the market. Soulfresh, the company behind the brand, describe the water from the king coconut as having a 'cleaner taste profile', one that should appeal to a broader consumer base.
The Coconut Collective's brand identity and packaging treatment was recently developed by New Zealand-based studio Marx Design. Their approach, a communicative mix of subtle sun bleached and tinted wood backgrounds, large coconut imagery, bold uppercase typography, an unusual but distinctive pastel colour palette, map and boat illustration, ingredient story, and stamp texture, neatly deliver a tropical, exported sensibility with a contemporary eye for colour that draws attention to a new coconut variety and its unique provenance.
---
Posted:
Filed under: Food and Drink, Packaging Reviews
| Tags: Best Packaging Designs, Bottle Packaging, Drinks Packaging, Foil Blocking, Food Logos and Packaging Design, Fruit Juice and Smoothie Packaging, Health Food Packaging, Packaging Design, Packaging Design Blog, Packaging News, Packaging Opinion, Russian Design, Script Logotypes, The Best Packaging of 2013
Comments Off

on Be True Smoothies designed by Studio In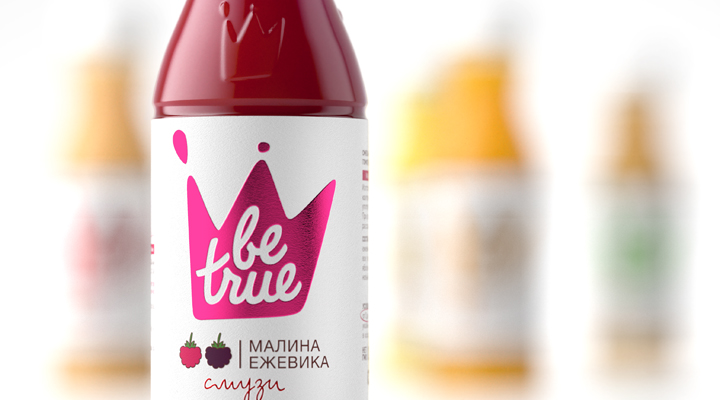 Studio In have recently completed the rebranding and repackaging of Russian smoothie brand Be True. The new design solution rightfully drops the Innocent-esque sketch and similar bottle choice in favour of a coloured foil splash and crown logo executed across a textured paper and a plastic structural design with raised surface detail. This combination of paper, print and structure, a union typically seen in the spirit category where spend is higher, is fused with the established and communicative industry conventions of organic form, a well rendered script logotype, hand drawn illustrative detail, bright contemporary colour and energy – enhanced by plenty of white space – as well as a neat, playful, die cut tree element to effectively convey honesty, natural ingredients and premium quality with a more proprietary finish.
---