Posted: September 19, 2012
Filed under: Food and Drink, Packaging Reviews
| Tags: Best Packaging Designs, Chip Packaging, Crisp Packaging, Food Logos and Packaging Design, Graphic Design, Packaging Design, Packaging Design Blog, Packaging News, Packaging Opinion, Snack Packaging Design, Swedish Design, Typography
Comments Off

on Delikatess Chips designed by Silver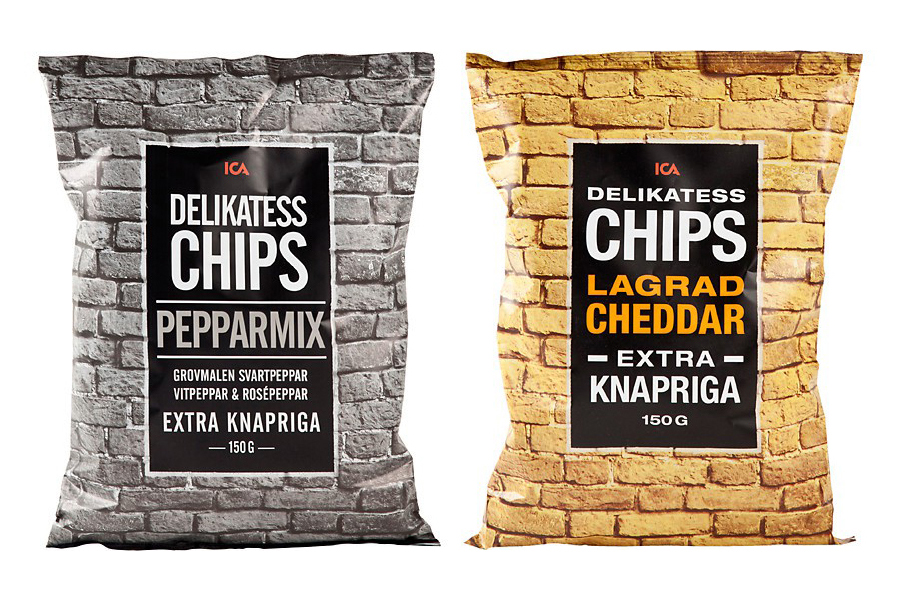 As part of a wider, multi-product rebrand and packaging exercise, Stockholm-based design agency Silver developed the name, visual identity and pack solution for Delikatess Chips, a new four flavour, own brand range of crisps from Swedish retailer ICA, one of Northern Europe's leading retail companies.
Based around the organic and geometric juxtaposition of a weathered brickwall and poster concept, featuring tall heavy type, a limited colour palette and simple line detail, the design manages to communicate a sense of hearty flavour and decent crunch with a slightly rustic, traditional and down-to-earth undertone. A contemporary and high quality matt varnish follows the current gourmet snack trend alongside a more conventional series of tints which reinforce flavour from a distance. The typesetting is not perfect but the tall character choice is stacked well and deliver a vertical contrast to the horizontal movement of the bricks.
---
Posted: September 6, 2012
Filed under: Food and Drink, Packaging Reviews
| Tags: Best Packaging Designs, Food Logos and Packaging Design, Logo Designs, Logo News, Logotypes, Packaging Design, Packaging Design Blog, Packaging News
Comments Off

on Jolly Nice designed by Taxi Studio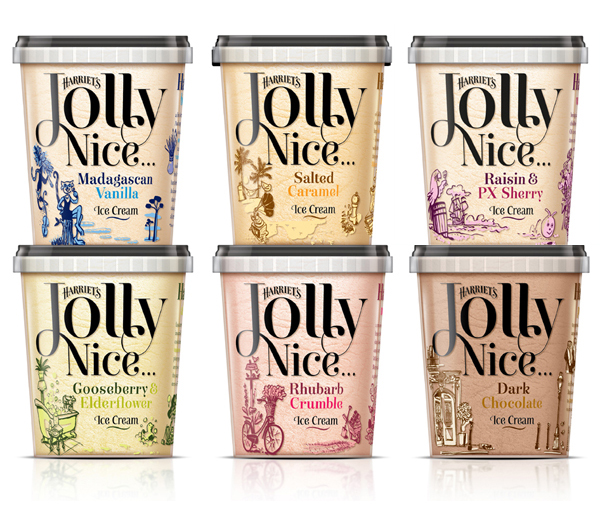 Following a recent name change, design agency Taxi Studio has developed a new typographic and illustrative treatment for Gloucestershire-based entrepreneur Harriet Wilson's ice cream brand Jolly Nice with the intention of positioning the product in direct competion with more established luxury ice cream brands. Taxi Studio was responsible for complete brand strategy which included positioning, naming, tone of voice, packaging design, the visual identity and copywriting.
---