Posted:
| Author: Richard Baird
|
Filed under: Cafes, Bars and Restaurants, Logo Reviews
| Tags: Bakery Logos and Packaging, Brand Identity, Brand Identity Design, Brand Identity Reviews, Branding, Branding & Interior Design, Branding Blog, Cafe Logos, Coffee Cup Designs, Custom Typefaces & Logotypes, Design For Print, Designed by Kokoro & Moi, Designed in Helsinki, Finnish Design, Food Packaging, From Scandinavia, Gold Ink, Logo Design & Branding Blog, Logo Designs, Logo News, Logo Opinion, Logotypes, Metallic Spot Colours, New Logo, Sans-serif Logotypes, Spot Colours, Stickers, The Best Brand Identities of 2014, The Best Custom Logotypes, The Best Logo Designs of 2014, Visual Identity Design Blog
|
Comments Off

on Fazer Café designed by Kokoro & Moi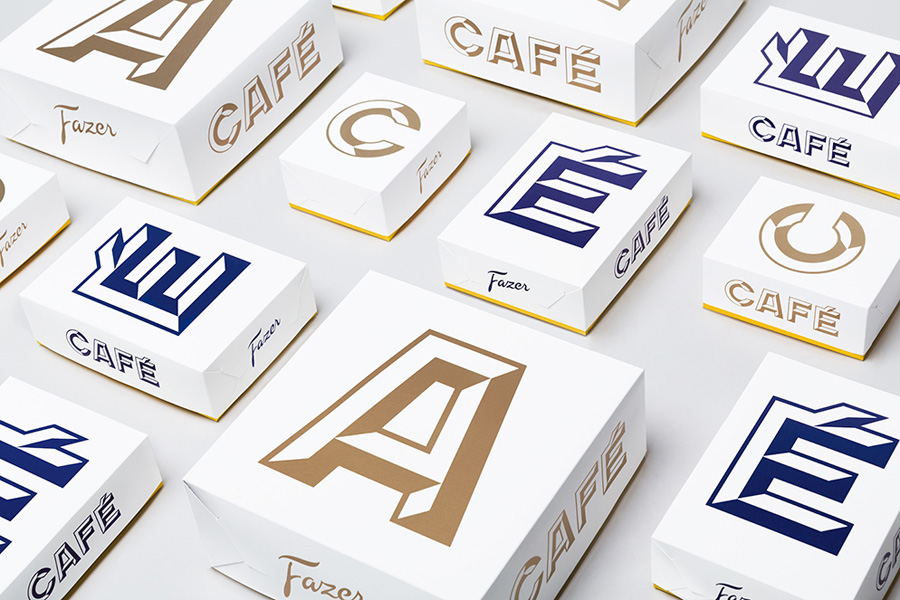 Established in 1891 by Karl and Berta Fazer and located in Helsinki district of Kluuvikatu, Fazer began life as a French-Russian conditory that has grown to become one of Finland's largest food companies, working within the bakery, confectionery, and work-place restaurant sectors. Summer 2013 saw the return of Fazer's café chain to Helsinki with locations in the centre of the city and in the districts of Munkkivuori and Tampere with more to follow.
Scandinavian graphic design studio Kokoro & Moi worked with Fazer to develop a new brand identity for its café chain—which included logo, print, packaging, signage, interior design and a clothing range—based around the custom typefaces Fazer Grotesk and Fazer Chisel drawn from signage that hung above Fazer Café's original Kluuvikatu location.
---