Posted:
Filed under: Food and Drink, Packaging Reviews
| Tags: Best Packaging Designs, Character Design, Designed by Pentagram, Food Logos and Packaging Design, Graphic Design, Illustration, Logo Designs, Packaging Design, Packaging Design Blog, Packaging News, Typography, Unbleached Materials
Comments Off

on Nuts.com designed by Pentagram
Originally established in 1929 as the Newark Nut Company, Nuts.com is a family owned on-line retailer of nuts, dried fruit, snacks, chocolate, tea and coffee. Following a recent url change, international design agency Pentagram, lead by partner Michael Bierut, created a new visual identity and packaging solution 'that would help establish Nuts.com as a distinctive brand'.
Based around a bright and distinctive colour palette, organic, heavy line-weight character illustrations (their hidden arms giving them a childlike cheek but innocent personality), a loose, 'hand rendered' proprietary typeface alongside an uncoated unbleached material choice, the design solution successfully mixes the playful, conversational and tactile to capture the brand's youthful, personal and wholesome sensibility.
---
Posted:
Filed under: Architecture and The Built Environment, Art and Design, Logo Reviews
| Tags: Brand Identity Reviews, Branding News, Designed by Face Creative, From Latin America, Graphic Design, Grids and Guides, Industrial Design, Logo Design & Branding Blog, Logo Designs, Logo News, Logotypes, Mexican Design, The Best Architecture Logos, The Best Logo Designs of 2012, Typography
Comments Off

on Kinetica designed by Face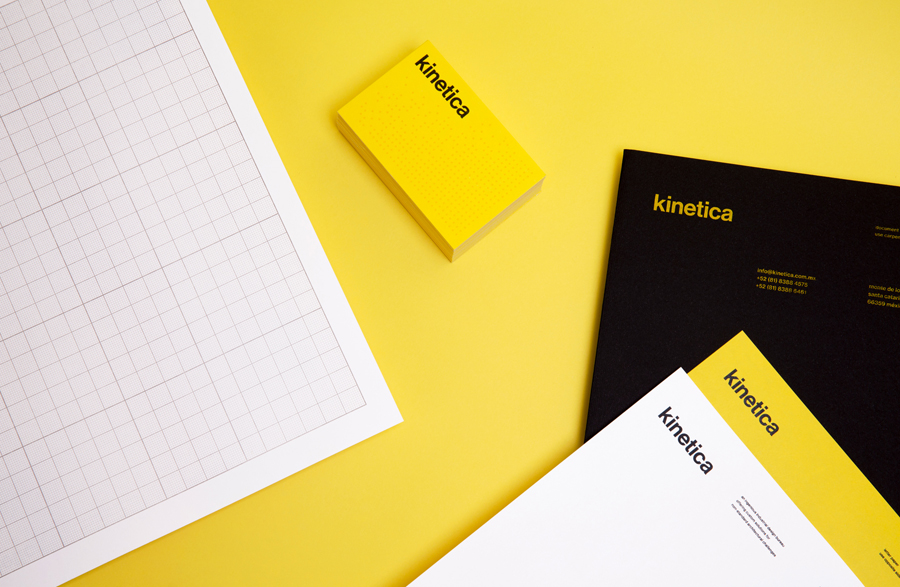 Kinetica is an international industrial design studio located in Santa Catarina, Mexico, that specialises in non-standard architectural projects. Their new visual identity, created by 'supermodernist' design agency Face, utilises a bold black and yellow colour palette, a straightforward sans-serif logo-type, plenty of space and a grid based collateral layout to establish a restrained and contemporary interpretation of heavy industry infused with subtle architectural cues.
---