Posted: January 19, 2015
Filed under: Food and Drink, Logo Reviews, Packaging Reviews
| Tags: Brand Identity Design, Brand Identity Reviews, Branding, Branding Blog, Branding News, Branding Reviews, Business Card Design, Coffee Logos and Packaging Design, Creative Packaging, Design For Print, Designed by Fork, Graphic Design Blog, Handcraft, Heat Treated Detail, Logo Design & Branding Blog, Logo Design Inspiration, Logo Design Resource, Logo News, Logotypes, Monogram Design, New Logo, Newsprint, Packaging Company, Packaging Design Resource, Script Logotypes, Stationery Design, The Best Brand Identities of 2015, The Best Logo Designs of 2015, The Best Packaging of 2015, Uncoated Papers & Cards
Comments Off

on Torrefacto designed by Fork
Opinion by Richard Baird.
Torrefacto is a Russian coffee roasting business founded in 2011 in response to what they describe as the difficulty of sourcing freshly roasted coffee beans in Moscow, and the time and trouble associated with importing it. Torrefacto prides itself on batch production and hand roasting processes, good consumer relations – which sees its owners personally answering letters and addressing website comments – and a combined roasting and delivery service that reduces the time between roasting, which takes place each Saturday, and receipt.
Created by design studio Fork, Torrefacto's new brand identity, which included logotype, packaging and stationery, reflects some of the convenience of door-to-door service, individual consumer-focused values and the craft associated with selecting and roasting coffee beans, through typography, structural design, paper choice, colour and finish, in a way that introduces character to, and increases the perceived value of, what has become an everyday experience.
---
Posted: June 24, 2014
Filed under: Art and Design, Interior Design, Logo Reviews
| Tags: Brand Identity Reviews, Branding Blog, Branding Reviews, Brochure Design, Business Card Design, Catalogue Design, Design Opinion, Design Reviews, Designed by Bedow, Designed in Stockholm, Folder Design, Fonts in Use: Dala Moa, Fonts in Use: Futura, From Scandinavia, Graphic Design, Heat Treated Detail, Homeware, Ink Stamps, Letterhead Design, Logo Design & Branding Blog, Logo Designs, Logomarks, Manufacturing Logos, Minimal Design, Minimal Logos, Sans-serif Logotypes, Swedish Design, The Best Brand Identities of 2014, Type Foundry: Commercial Type, Typography, Unbleached Materials, Uncoated Papers & Cards
Comments Off

on Essem Design by Bedow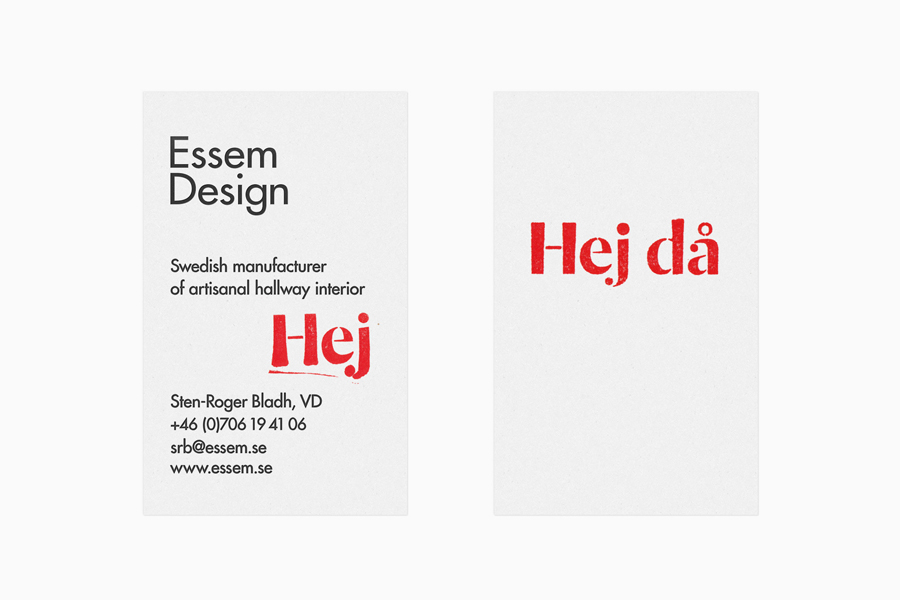 Bedow worked with Essem Design, a Swedish manufacturer of 'artisanal hallway interiors' to develop a new brand identity treatment. This included logotype, advert, catalogue, product sheet and stationery design based around "Hej—Hej då", hello and goodbye in Swedish, a reference, Bedow explain, to the most common phrase used in the hallway.
---