Posted:
Filed under:
Logo Reviews
| Tags: Agriculture Logos and Packaging, Bag Design, Brand Identity Reviews, Branding, Brochure Design, Business Card Design, Design For Print, Design News, Design Opinion, Design Reviews, Designed by lg2boutique, Designed in Montreal, Designed in Québec, Fonts in Use: Brothers, Fonts in Use: FF Kievit, Fonts in Use: Vitesse, Graphic Design, Heritage, Logo Design & Branding Blog, Logo Designs, Packaging Design, Serif Logotypes, The Best Brand Identities of 2013, The Best Logo Designs of 2013, Tinted Photography, Typography
Comments Off

on F. Ménard designed by Lg2boutique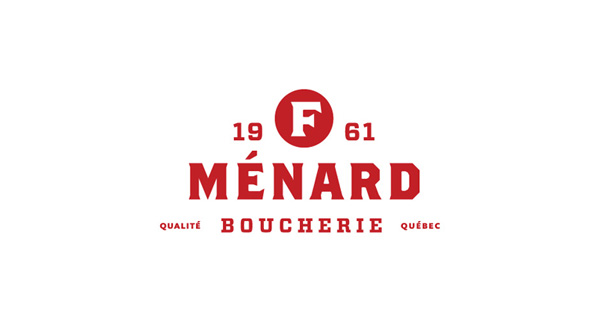 F. Ménard is a Canadian pork producer and butcher with a family heritage that dates back fifty years. Their visual identity, developed by brand and packaging design specialist lg2boutique, creates a seamless fusion of a past and present – traditional service values alongside contemporary high standards – through the union of vintage and contemporary photography, the utilisation of digitised, early 20th century typeface and a flat, economical colour palette cohesively executed across a variety of collaterals.
---
Posted:
Filed under: Food and Drink, Packaging Reviews
| Tags: Alcohol Packaging, Best Packaging Designs, Bottle Packaging, Designed by Inhouse, Designed in Auckland, Drinks Packaging, Foil Blocking, From New Zealand, Gold Foil, Graphic Design, Heritage, Label Design, Monochromatic Brand Identities, Packaging Design, Packaging Design Blog, Packaging News, The Best Logo Designs of 2012, Typography, Wine Design, Wine Label Design, Wine Packaging
Comments Off

on Expatrius Estate designed by Inhouse
Expatrius is a limited edition range of wines created from grapes grown on the eastern end of Waiheke Island, New Zealand, by winemaker Luc Desbonnets. The wine's label and case, created by print and digital design agency Inhouse, contrast the fine detail and traditional heraldic cues of a hand-etched illustrative crown, a gold block foil emboss and tactile substrate alongside geometric, abstract letter-forms, solid fills and a striking monochromatic colour palette to communicate the heritage, high quality, craft and exclusivity of the wine and a very distinctive and contemporary brand character.
---