Posted:
| Author: Richard Baird
|
Filed under:
Packaging Reviews
| Tags: Best Packaging Designs, Fluorescent Ink, Icon Design, Illustration, Packaging Design, Packaging Design Blog, Packaging News, Packaging Opinion, The Best Packaging of 2013
|
Comments Off

on Fruitilyzer DIY Kit designed by Resort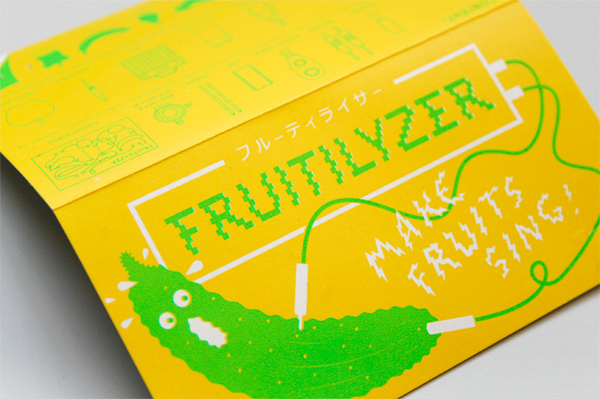 The Fruitilyzer is an 'electronic-organic' music making kit that utilises the electrical energy stored within fruit and vegetables to create an instrument. The kit was developed by Tim & Puma Mimi, a "quirky electro duo from Zurich and Tokyo" who have played live shows around the globe using an electrified cucumber.
Designed by Swiss studio Resort, the Fruitilyzer's packaging unapologetically utilises the very obvious combination of bright fluorescent spot colour, digital and lightening inspired type and an amusing and well illustrated shocked cucumber illustration to reflect the oddity of the instrument and recognises its playful, creative but limited nature. The iconography adds a contemporary single line weight technicality to the reverse making the front, which could be perceived as perhaps a little retro-cheap, appear all the more considered and intentional.
---