Posted:
Filed under: Food and Drink, Packaging Reviews
| Tags: Alcohol Packaging, Back of Pack Design, Best Packaging Designs, Bottle Label Design, Bottle Packaging, British Design, Cider & Cyder Packaging, Condensed Typography, Copper Block Foil, Design For Print, Design Opinion, Designed by Buddy, Foil Blocking, Handcraft, Illustration, Laid Paper, Logo Design Inspiration, Microbrewery, Negative Space Logos, Packaging Design, Packaging Design Blog, Packaging News, Packaging Opinion, Sans-serif Logotypes, The Best Packaging of 2014, Uncoated Papers & Cards
Comments Off

on Awestruck Hard Cider designed by Buddy
Opinion by Richard Baird.
Awestruck is a premium hard cider range from Gravity Ciders. It was created to offer America's craft brew fanatics a refreshing alternative to beer. Awestruck is made from 100% fresh-pressed New York State apples and infused with unique flavours that reflect the company's enthusiasm for experimentation. The range includes Lavender Hops, Hibiscus Ginger and Eastern Dry. Design studio Buddy were commissioned by Gravity Ciders to communicate Awestruck's 'surprising flavours' and 'delicious punch' through a bold and iconic brand identity and packaging treatment.
---
Posted:
Filed under: Food and Drink, Packaging Reviews
| Tags: Alcohol Packaging, Amber Glass and Plastic Packaging, Beer Packaging, Best Packaging Designs, Craft Beer Logos, Craft Beer Packaging, Craft Brewery Logos, Craft Brewery Packaging, Design News, Design Opinion, Design Reviews, Drinks Packaging, Graphic Design, Label Design, Microbrewery, Packaging Design, Packaging Design Blog, Packaging News, The Best Packaging of 2013, Typography
Comments Off

on Sample Brew designed by Longton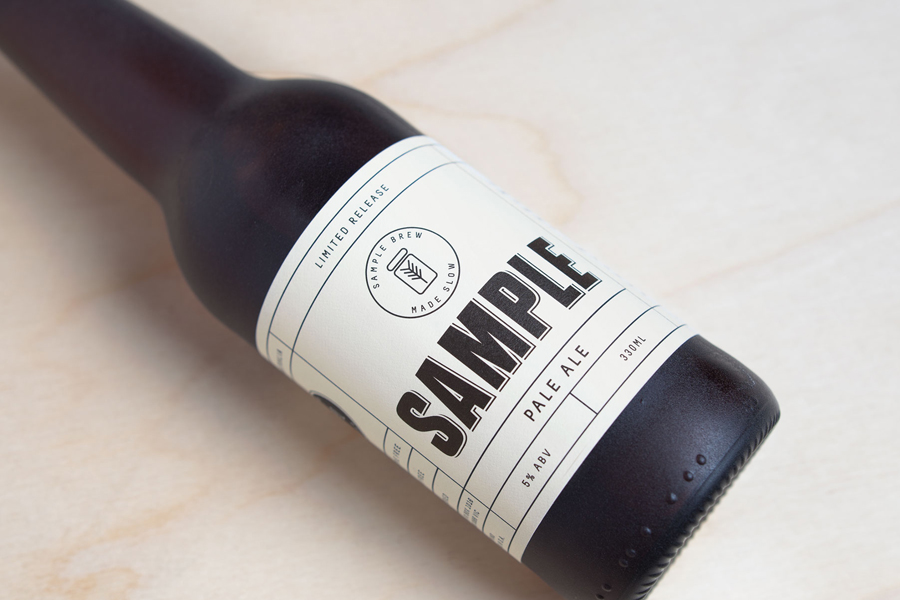 To standout in an increasingly saturated market, boutique brewer Sample commissioned Melbourne-based design agency Longton to brand and package their American-inspired pale ale, slow brewed to the standards of the 1516 German purity law.
Longton's solution reflects this approach, a purity of ingredients and the brewery's name with a distinctive and reductionist 'sample pack' aesthetic that balances a sense of small-scale, traditional batch production with a contemporary and on-trend utility through a contrast of type-block, grids, single line weight illustrative detail, generously spaced uppercase sans-serif typography, a monochromatic colour palette, the tactile qualities of a rough glass surface treatment, the website's fusion of modern and responsive design practice and the functionality of Courier New. It is simple but well resolved with very little superfluous detail and a focus on communication, and while it is perhaps bordering on what some might describe as hipster, this feels appropriate for the craft beer market.
---