Posted: March 26, 2013
Filed under: Logo Reviews, Technology
| Tags: Blind Emboss, Brand Identity Reviews, Branding, Designed by ThoughtAssembly, Embossed Business Cards, Graphic Design, Logo Design & Branding Blog, Logo Design Trends: Clever Logos, Logo Designs, Logo Opinion, Logos, Logotypes, Minimal Design, Minimal Logos, Sans-serif Logotypes, The Best Brand Identities of 2013, The Best Logo Designs of 2013, Triplex Business Cards, Typography
Comments Off

on Addition designed by Thought Assembly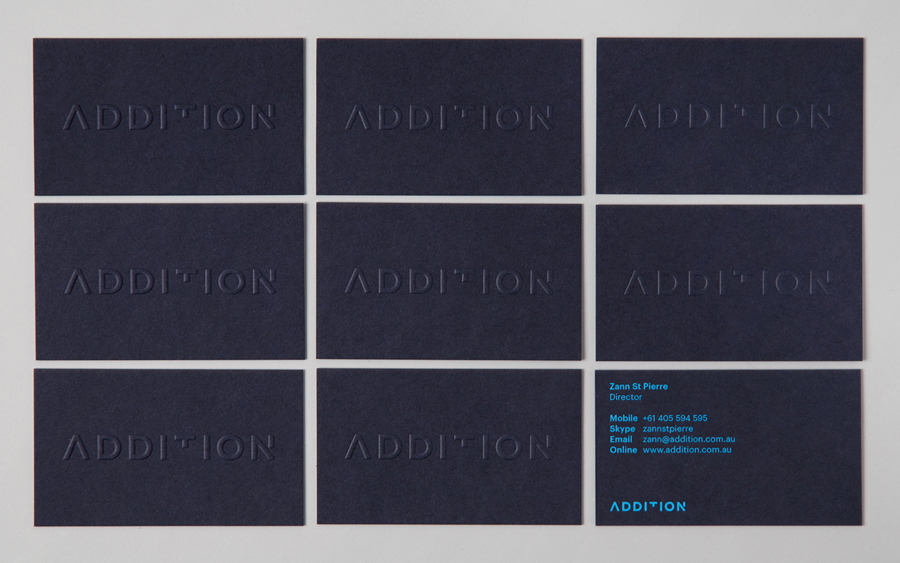 Addition is a new Australian digital development group who recently commissioned graphic design studio Thought Assembly—formally Studio Verse, the agency behind Addition director Zann St Pierre's personal logo-mark reviewed on BP&O back in 2011—to develop a visual identity and business card solution.
Based around a generously spaced logo-type built from consistent, single line weight sans-serif characters with unusual cuts and omissions—an abstraction that leaves room for 'addition'—the logotype delivers a proprietary twist to a familiar neutrality with a underlying sense of construction that, alongside the finer technicality of a grid detail, could form the basis of something a little more expansive in the future. A neat triplex business card made from a tactile, uncoated, navy blue material choice with a white centre and a blind emboss, tempers the 'unfinished' and conceptual nature of the logotype with a corporate professionalism and the technological subtlety of an electric blue print treatment on the reverse.
---
Posted: February 25, 2013
Filed under: Art and Design, Logo Reviews
| Tags: Brand Identity, Brand Identity Reviews, Branding, Branding News, Business Card Design, Design News, Design Reviews, Foil Blocking, Graphic Design, Logo Design & Branding Blog, Logo News, Logo Opinion, Logos, Logotypes, Minimal Design, Minimal Logos, Monochromatic Brand Identities, Sans-serif Logotypes, The Best Brand Identities of 2013, The Best Logo Designs of 2013, Typography, Visual Identity Design Blog
2 Comments »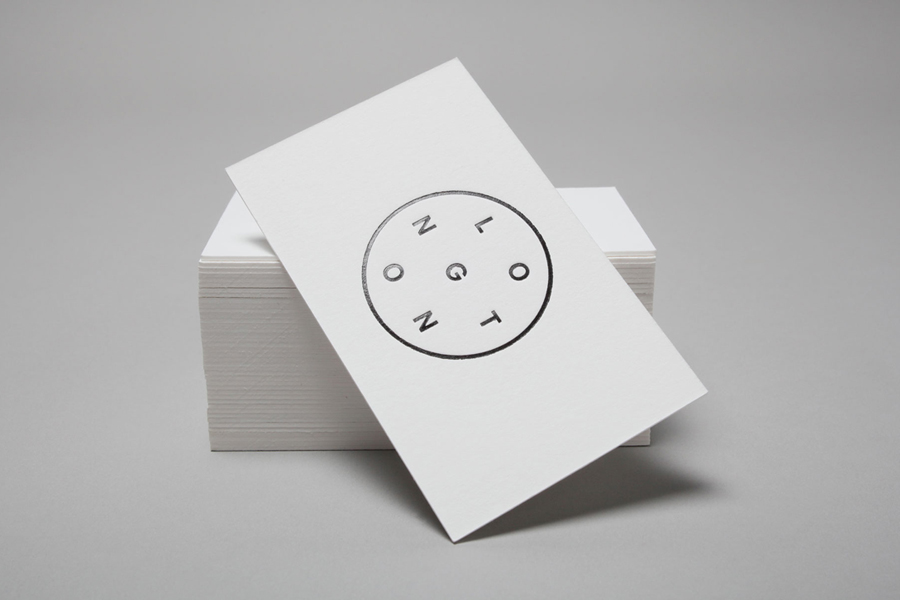 Longton is a Melbourne-based multidisciplinary design studio, established in 2012 by Michael Longton, that offers its clients holistic design solutions built on Michael's past experience—under his previous agency And—with large, international businesses such Sony Music, Billabong, Stussy and Warner Music.
The studio's brand identity—an unusual, modernistic arrangement of neutral sans-serif characters, recurring circular forms and a single consistent line weight forming a logo—has a reductionist quality with the underlying qualities of a logic game or mind map. Its expanded letter-forms –  isolated by generous spacing but collectively united by the container—establish a simple, proprietary value that perhaps reflects the arrangement or coming together of external sources—be that information or experience—into a single and cohesive resolution.
---