Posted:
Filed under: Architecture and The Built Environment, Logo Reviews
| Tags: Brand Book, Brand Guidelines, Brand Identity Reviews, Branding Blog, Branding Reviews, Brochure Design, Business Card Design, Colour in Use: Grey, Coloured Paper, Corporate Identity Design, Design For Print, Design Opinion, Design Reviews, Dutch Design, Engineering Logos, From Europe, Graphic Design, Graphic Design Blog, Logo Design & Branding Blog, Logo Design Inspiration, Logo Design Resource, Logo Designs, Minimal Logos, Serif Logotypes, Silver Ink, Stationery Design, The Best Brand Identities of 2015, The Best Business Cards of 2015, The Best Logo Designs of 2015, The Netherlands, The Very Best of 2015, Typography, Uncoated Papers & Cards, White Ink
Comments Off

on VBMS by Studio Dumbar, Netherlands
Opinion by Richard Baird.
Visser & Smith Marine Contracting is the market leader for subsea power cable installation in Europe. It provides and lays grid-to-grid connections for offshore wind farms and similar facilities. Following investment from and partnership with dredging and marine experts Boskalis, Studio Dumbar worked with VMSC, now named VBMS (VolkerWessels Boskalis Marine Solutions), to provide strategy, brand identity design and creative direction that would help launch this new partnership onto the international market place. This included brochures, business cards, stationery and signage.
---
Posted:
Filed under: Food and Drink, Packaging Reviews
| Tags: Alcohol Packaging, Best Packaging Designs, Brand Identity, Design Opinion, Designed by Anagrama, Die Cut Design Detail, Dutch Design, From Latin America, Packaging Design, Packaging Design Blog, Packaging News, Postal Services, Serif Logotypes, Stationery Design, The Best Packaging of 2013, The Netherlands, Wine Design
Comments Off

on Winecast designed by Anagrama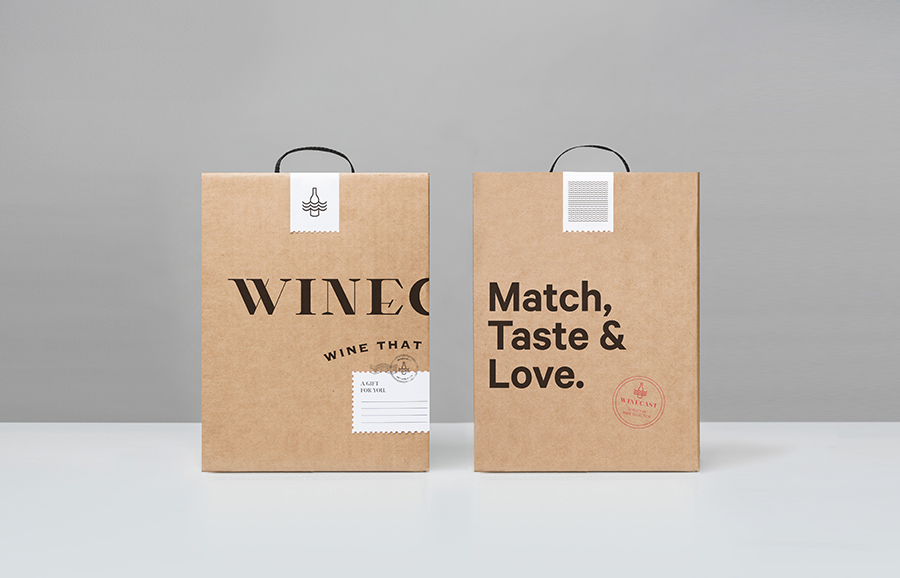 Winecast is a Dutch 'online wine-tasting', curation and delivery service that takes the likes, dislikes and habits of subscribers and provides them with a personalised and customisable collection of six wines that are then sent out each month.
Winecast's brand identity, which consists of a logo-type, packaging, stationery and website solution developed by multidisciplinary design agency Anagrama, draws on the unbleached boards and papers of the postal service, the perforations and rippled edges of postage stamps, the efficiency of a sans-serif, and the contemporary on-trend sensibilities of a single line weight logo-mark and unites them as die cut stickers, stamps and screen prints across the uncoated surfaces of the wine boxes.
These utilitarian cues are intelligently juxtaposed alongside the detail and flourish of an old style serif logo-type to add a more conventional but clearly communicative sense of heritage and high quality to the wine's mail-ordered convenience and its modern, algorithmic selection.
---