Posted: July 5, 2013
Filed under: Art and Design, Logo Reviews, Self-Initiated
| Tags: Blind Emboss, Brand Identity, Brand Identity Reviews, Branding, Design For Print, Design Opinion, Design Reviews, Design Studio Logos, Embossed Business Cards, Handcraft, Logo Design & Branding Blog, Logo Opinion, Logos, Logotypes, Pastel Coloured Papers, Sans-serif Logotypes, Stationery Design, The Best Brand Identities of 2013, The Best Logo Designs of 2013
Comments Off

on BTP designed by BTP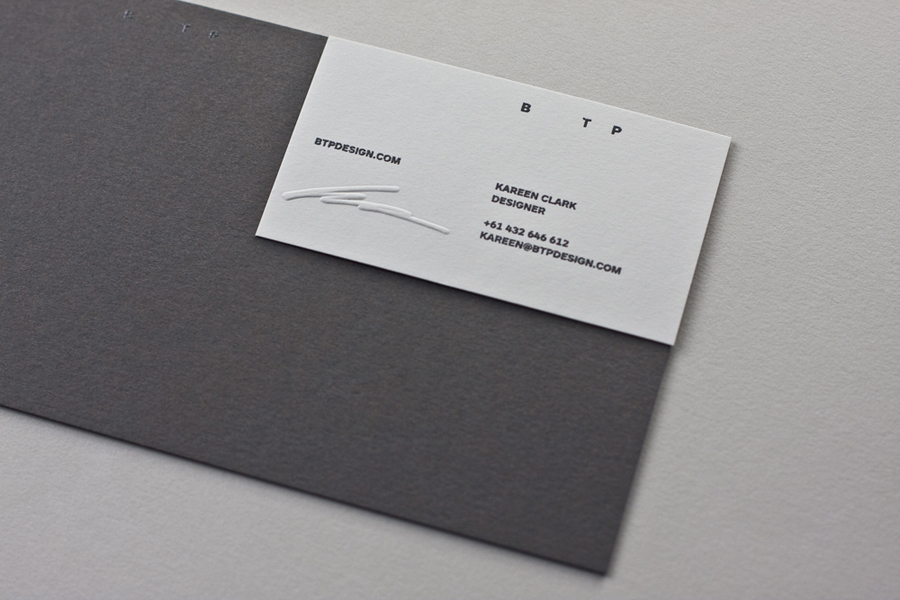 BTP, formerly Beyond The Pixels, is a Melbourne-based design studio who take an interdisciplinary approach that blends the practices of design, technology and branding to create modern interactive products, and describe themselves as having a reputation for "delivering progressive brands and websites".
Their recent rebrand, in pursuit of a "simplified vision", reduces their identity to a three character sans-serif logo-type set alongside embossed signature detail executed by hand and across dyed, uncoated substrates.
---
Posted: July 3, 2013
Filed under: Business, Banking, Law and Finance, Logo Reviews
| Tags: Brand Identity, Brand Identity Reviews, Branding, Business Card Design, Design For Print, Design News, Design Opinion, Design Reviews, Designed by Work In Progress, Embossed Business Cards, Graphic Design, Letterpress, Logo Design & Branding Blog, Logo Designs, Logo Opinion, Logos, Notebook Design, Sans-serif Logotypes, Stationery Design, The Best Brand Identities of 2013, The Best Logo Designs of 2013, Typography
Comments Off

on Bedre Kommunikasjon designed by Work In Progress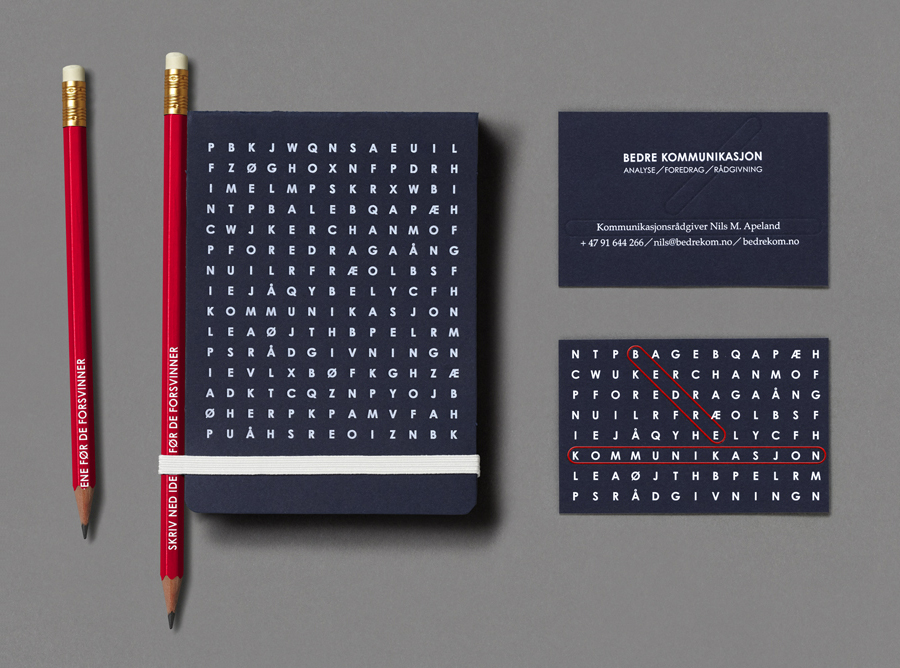 Bedre Kommunikasjon is a oslo-based consulting firm, run by communication specialist Nils M. Apeland, that offers personal, professional and independent advice to business, drawn from 20 years of analysis, strategy, promotion, media relations and crisis management experience.
Multidisciplinary design agency Work In Progress recently worked with Nils to develop a new visual identity solution which included a logo, business card and stationery design that, through a concept that plays on the name Bedre Kommunikasjon, Norwegian for "better communication", and visualised through a word-puzzle device with hidden messages highlighted by the recipient across a notebook and business card, conveys the themes of communication and analysis in a distinctive way.
---