Posted: November 27, 2012
Filed under: Logo Reviews, Retail
| Tags: Accessories Logo and Packaging, Brand Identity Reviews, Branding, Business Card Design, From Australia, Graphic Design, Jewellery Logos, Letterpress, Logo Design & Branding Blog, Logo Designs, Logos, Serif Logotypes, The Best Logo Designs of 2012, Typography, Visual Identity Design Blog
1 Comment »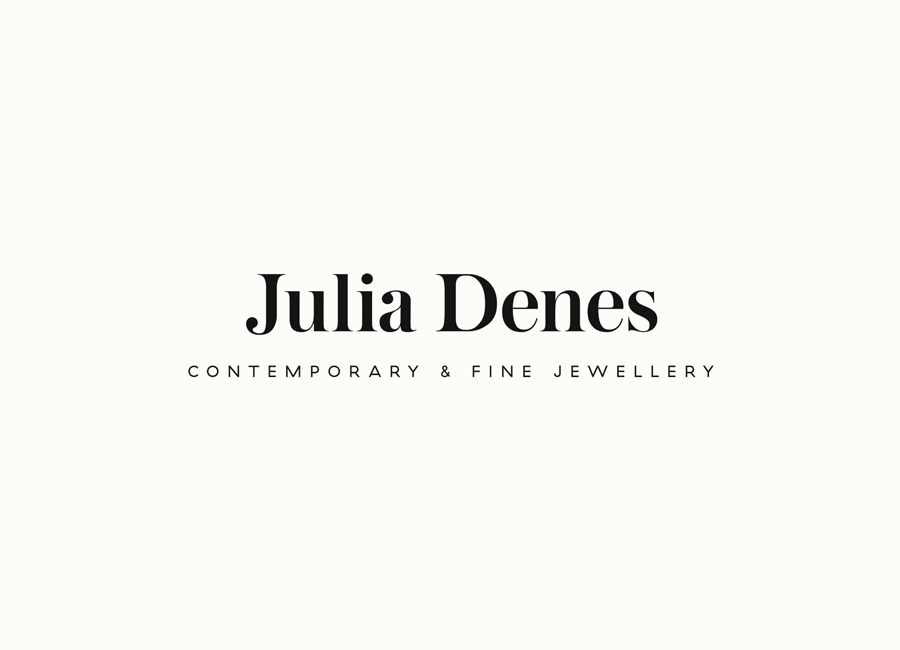 Julia Denes is a designer of handmade contemporary fine jewellery created from high-grade materials. Her visual identity, developed by Australian design agency Studio Sammut, is incredibly simple but delivers a nice balance between classic and craft-technique, contemporary aesthetics, detail, consistency and quality through the well spaced characters of Austin, its smart contrast of sharp and circular serifs, heavy vertical and light horizontal strokes – drawn out by the fine line border of the business card – and the light, geometric and broadly spaced sans-serif letter-forms of the secondary typeface below. A black letter-pressed print treatment delivers a light depression across the surface of a weighty uncoated cream substrate adding craft texture and a tactile quality to the high fashion cues of the typography.
The result has a reductionist sensibility that cleverly communicates the key propositions of material, quality and design across a few simple but communicative assets that appropriately frame the intricacies and organic detail of the jewellery.
---
Posted: October 19, 2012
Filed under: Logo Reviews, Packaging Reviews, Retail
| Tags: Bag Design, Best Packaging Designs, Branding, Design For Print, Designed by Salad Creative, Graphic Design, Illustration, Logo Design & Branding Blog, Packaging Design, Packaging Design Blog, Packaging News, Retail Logos, Sans-serif Logotypes, Typography
1 Comment »
Classic Bag is a UK-based cost-effective packaging solutions business that prints and manufactures carriers, boxes and bags for a variety of retailers, hotels and fashion brands including Browns, Vivienne Westwood and The Dorchester. Independent graphic design studio Salad was commissioned by Classic Bag to develop an identity and a series of 'innovative and exclusive' retail bag concepts under the new label BritBag. Utilising a simple combination of monogram, sans-serif logo-type, limited colour palette and illustrated pattern work with a familiar Britishness, the solution mixes the playful and iconic with a high-street fashion quality.
---