Posted: November 4, 2013
Filed under: Logo Reviews, Photography
| Tags: Brand Identity, Brand Identity Reviews, Business Card Design, Die Cut Design Detail, Edge Painted Detail, Fluorescent Ink, German Design, Handcraft, Letterpress Business Cards, Logo Design & Branding Blog, Logo Opinion, Logos for Photographers, Notebook Design, Pastel Coloured Papers, Pastel Colours, Sans-serif Logotypes, Stationery Design, Stickers, The Best Brand Identities of 2013, The Best Logo Designs of 2013, Unbleached Materials
Comments Off

on Frederik Laux Photography designed by LSDK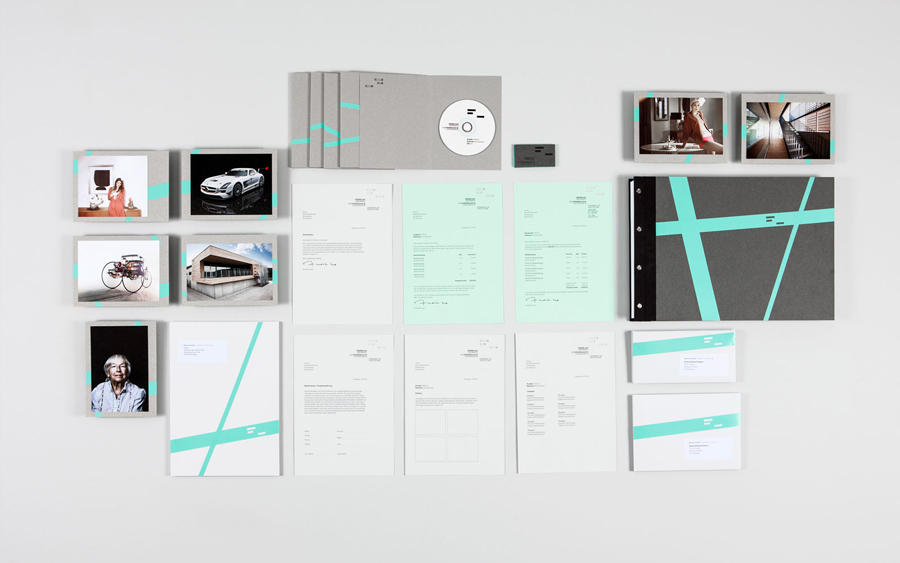 Frederik Laux is an award winning German portrait, fashion, lifestyle and editorial photographer with a client list that includes Alliance and Mercedes-benz. His new visual identity, developed by Stuttgart based design agency LSDK, takes a competently spaced but generic condensed, sans-serif logotype and executes it as a redacted three-line mark  die cut by hand across a print solution that mixes the cool and dark greys of uncoated unbleached boards, a pastel green paper, bright fluorescent stickers that cut diagonally through the stationery, the quality and authoritative weight of a letterpress business card with hand painted edges and the unusual detail of a portfolio case with a strap made from bike inner tubes.
---
Posted: October 4, 2013
Filed under: Cafes, Bars and Restaurants, Fonts in Use, Food and Drink, Logo Reviews
| Tags: American Design, Blind Emboss, Brand Identity, Brand Identity Reviews, Cafe Logos, Coffee Logos and Packaging Design, Coloured Paper, Designed by Perky Bros, Drinks Packaging, Gold Foil, Illustration, Ink Stamps, Letterpress Business Cards, Logo Design & Branding Blog, Logo Designs, Logos, Packaging Design, Packaging News, Pastel Coloured Papers, Sans-serif Logotypes, Stickers, Tea Packaging, The Best Brand Identities of 2013, The Best Logo Designs of 2013, Typography
Comments Off

on No. Six Depot designed by Perky Bros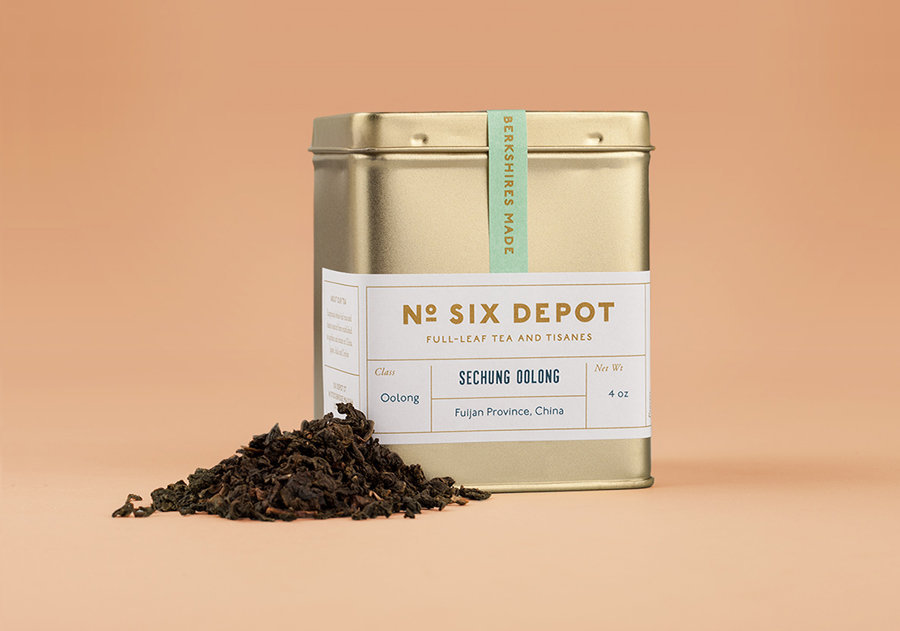 "No. Six Depot is a family owned, small-batch coffee roaster and café nested in the beautiful Berkshires. Located in a historic train station on 6 Depot St, they serve teas, salts and coffee from small farms and roast on location. Their identity [designed by Perky Bros] juxtaposes a mix of unique rural and modern elements — drawing inspiration from their own backyard railroad and unique approach to keeping it simple and making it true." – Perky Bros.
---