Posted: November 7, 2016
Filed under: Art and Design, Logo Reviews, Packaging Reviews
| Tags: Brand Identity, Brand Identity Reviews, Branding, Branding Agency, Branding Blog, Branding News, Coloured Paper, Design For Print, Design News, Design Opinion, Design Reviews, Designed by Folch, Designed in Barcelona, Fonts in Use: Maax, Logo Design & Branding Blog, Logo Design Inspiration, Logo Design Resource, Logo Opinion, Minimal Design, Minimal Logos, Minimal Package Design, Minimalist Brand Identities, Paper Craft, Retail Logos, Sans-serif Logotypes, Spanish Design, Structural Package Design, The Best Brand Identities of 2016, Toy Packaging, Uncoated Papers & Cards, Visual Identity Design Blog
Comments Off

on DOIY by Folch, Spain
Opinion by Richard Baird.
DOIY is product design company creating playful objects that move between the useful and the more whimsical. These include items such as icepop socks, bicycle pizza slicer and unicorn scent. Much of this is firmly tongue-in-cheek but good quality, retailing in high-end and design-focused stores as well as larger chains.
With the introduction of materials such as ceramics, woods, metal and porcelain across its new ranges, and a desire to reach a wider market whilst retaining its current customers DOIY worked with Barcelona-based studio Folch to mature its brand identity. This included packaging and print communication that share a new and distinctive approach to photography; a collaboration between Folch, paper and set designer Raya Sader Bujana and photographer Leo García Mendez.
---
Posted: July 16, 2014
Filed under: Education, Packaging Reviews
| Tags: Best Packaging Designs, Brand Identity, Brand Identity Design, Brand Identity Reviews, Branding, Branding Blog, Branding Reviews, Business Card Design, Creative Packaging, Designed by Studio Lin, Faces, Graphic Design, Logo Design & Branding Blog, Logo News, Logotypes, New Logo, Packaging Company, Packaging Design, Packaging Design Blog, Packaging News, Pastel Coloured Papers, Sans-serif Logotypes, Stationery Design, The Best Business Cards of 2014, The Best Logo Designs of 2014, The Best Packaging of 2014, Toy Packaging, Uncoated Papers & Cards
Comments Off

on Kid O designed by Studio Lin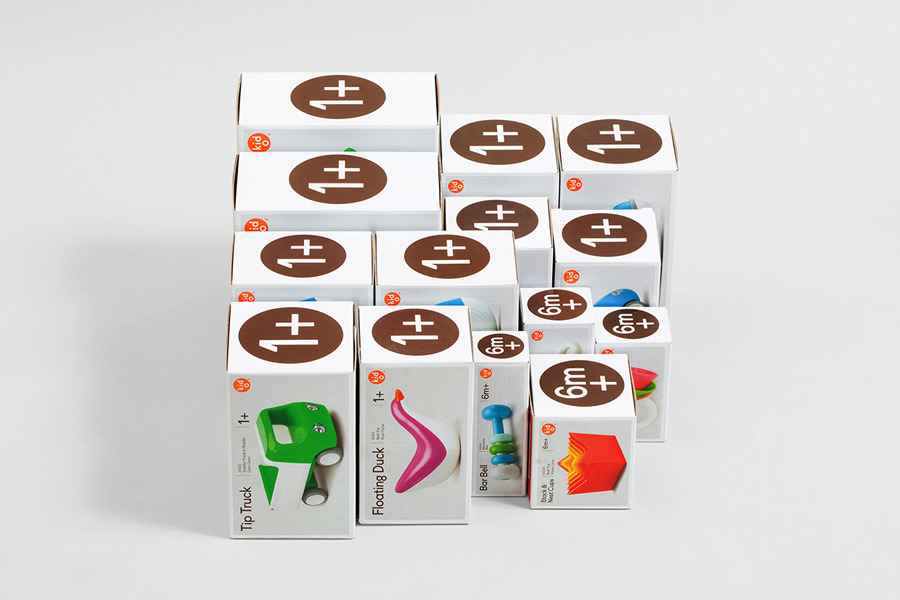 Kid O is a modern American toy company that creates products that engage and stimulate children through a rich variety of shapes, colours, and sizes. Designed by Studio Lin, Kid O's new packaging  treatment — which included over 50 boxes — takes the vivid colours of the industry, reduces these down to four, contains them within geometric boundaries and pairs them with a generous use of white and panels of brown, in a way that draws distinction from convention. Alongside good consistent product photography, the bold fill and light line weight of the illustrations, playful yet restrained logotype, a single consistent typographical approach and simple structural choices the solution delivers a brightness and a contemporary moderation that draws out the products, their age group and quality, and resonates with their elemental forms and colours.
---