Posted: December 7, 2016
Filed under: Art and Design, Fashion, Graphic Design Reviews, Logo Reviews
| Tags: Art Direction, Brand Identity Reviews, Branding Agency, Branding Blog, Branding Reviews, British Design, Colorplan Papers and Boards, Colour in Use: Grey, Coloured Paper, Condensed Logotypes, Design For Print, Design Opinion, Design Reviews, Designed by Bond, Designed in London, From Europe, From the United Kingdom, G.F Smith Papers & Boards, Graphic Design, Graphic Design Blog, Jewellery Logos, Logo Design & Branding Blog, Logo Design Inspiration, Logo Design Resource, Logo Designs, Logotypes, Luxury Logos and Packaging Design, Minimal Design, Minimal Logos, Minimalist Brand Identities, Sans-serif Logotypes, The Best Brand Identities of 2016, The Best Graphic Design Work of 2016, Typography, Uncoated Papers & Cards, White Block Foil, White Ink
6 Comments »
Opinion by Richard Baird.
Tilly Sveaas is a London-based jewellery designer, and the designer behind Silver Service Jewellery. This year sees the launch of her first collection under her own name. This features a brand identity created by the London office of international design studio Bond, and included art direction, postcards, business cards and packaging. Through typographic form, colour, material, print finish and image, Bond's brand identity for Tilly Sveaas intends to distil down and express the signature style of the brand, one described as being luxury with a progressive edge.
---
Posted: June 17, 2014
Filed under: Fashion, Logo Reviews
| Tags: Black Block Foil, Brand Identity, Brand Identity Reviews, Branding, Branding Blog, Branding Reviews, British Design, Business Card Design, Colorplan Papers and Boards, Coloured Paper, Design For Print, Design News, Duplex Business Cards, Fonts in Use: GT Sectra, Fonts in Use: GT Walsheim, Graphic Design, Jewellery Logos, Logo Design & Branding Blog, Logo Designs, Logo Opinion, Logos, Logotypes, Lookbook, Sans-serif Logotypes, Stationery Design, The Best Brand Identities of 2014, The Best Business Cards of 2014, The Best Custom Logotypes, The Best Logo Designs of 2014, Type Foundry: Grilli Type, White Block Foil
1 Comment »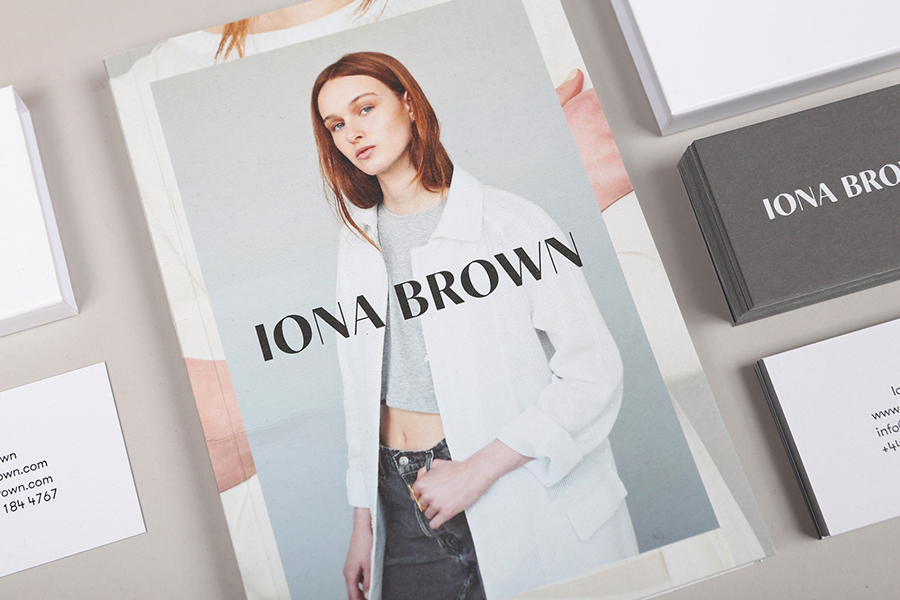 Iona Brown is a London based contemporary jewellery designer who favours classic simplicity, understated detail, precise finishes and minimalist lines, shapes and materials. Graphic designer and art director Sam Flaherty recently worked with Iona to develop a new visual identity for her expanding collection. Built around a customised logotype and a simple print and packaging treatment that uses few but good quality and contrasting paper and print choices, the solution reflects the key aesthetic and design values that run throughout Iona's work.
---